Masters XC Champs review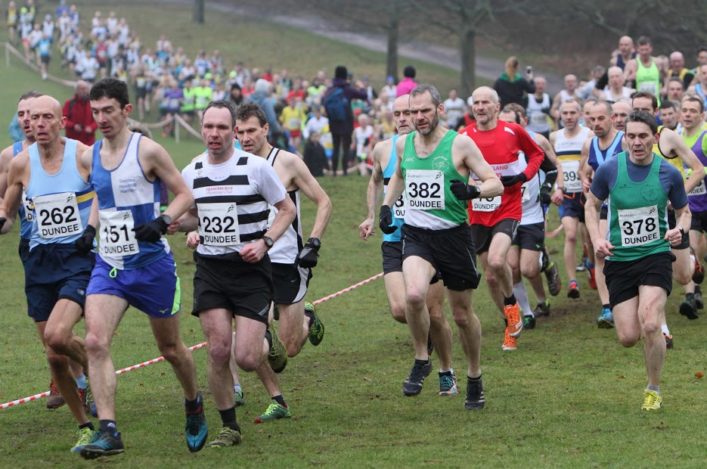 Action from the Men's V40s race at Dundee – Photos by Pete Bracegirdle
Lindsays Trophy up for grabs at Falkirk
Record fields contested the Scottish Masters XC Champs at Camperdown Park, Dundee.
Dave Hanlon and his army of Dundee Hawkhill Harriers are to be thanked for hosting the event. They were rewarded with a total number of finishers of 446 which is a record by about 150.
The weather was not so kind varying between dry spells and showers but the snow did not start until the last runner crossed the line. Surprisingly given the low temperature the day before, the underfoot conditions were soft to good.
The Championships got underway with the Woman's race of 6km that is run in conjunction with the Men's over 65 age group races.
Immediately Jennifer MacLean, EAC, who has won this Championship twice when there was a W35 category, decided to test her competitors by opening up a 20m gap.
However defending champion Lesley Chisholm, Garscube, also had eyes on the win and they were closely followed by ultra specialist Joasia Zakrzewski, Dumfries RC, and triathlon specialist Catriona Morrison, Stirling Tri Club, who has won individual medals from the National Cross Country.
By the end of the 1st lap, the leaders were clear with Lesley and Dianne Lauder having a 5m advantage of Joasia and Jennifer and Catriona a further 10m in arrears. It took a determined sprint finish from Lesley to retain her title winning by six seconds from Dianne and a closing Joasia only one second further back.
The W45 championship was won by Karen Kennedy, PH Racing Club, in their first championship, from far-travelled Karen Lyons, Highland HR, and Fiona Dalgleish, Gala Harriers.
Last year's W45 champion triumphed again in the W50 race winning by some distance from the multiple Masters and National medallist Susan Ridley, EAC, who was closely followed by her team-mate Jill Morrow.
A very tight finish in the W55 race saw Lynne Stephens, Fife AC, take her first title by two seconds from last year's champion Sonia Armitage, Aberdeen AAC, with Fiona Carver, Corstorphine just six seconds  behind that.
The 2015-6 W55 runner up, Isobel Burnett, Carnegie H eased to the W60 title this year followed by the Fife AC pair Innes Bracegirdle and Margaret Martin.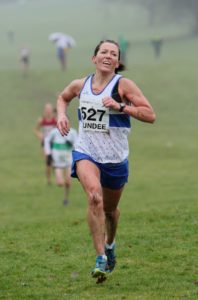 Deirdre Hoyle, Bellahouston H was the only finisher in the W65 race and thereby became champion. Anne Docherty, Forres H, out-paced Elizabeth Gilchrist, Ferranti AAC, to retain her W70 title. Jane Askey, Fife AC the W65 runner up in 2008-9 became the first ever W75 title holder.
The Women's open team title was retained by Gala H with Dianne Lauder, Fiona Dalgleish and Anya Campbell with a total of 28 points, with Edinburgh AC second with 38 points and Fife AC third with 86 points.
After removing W40 and W45 athletes and open team medallists and rescoring the W50+ team results showed a win for Carnegie H with 50 points from EAC with 51 points and Dundee RR with 61 points.
The most amazing aspect of the Men's O65 race was the number of medals presented.
Three medals were awarded at the M80 level for the 3rd year is a row with James Pittillo, Teviotdale H, who has been 2nd for the last two years moving up to the champion's spot from Arnott Kidd and William Drysdale, Law & District AAC.
Multiple champion Stephen Cromer gave Dundee Hawkhill H their well-deserved title of the day in the M75 category. The perennial Robert Young, Clydesdale, regained the M70 from Patrick Kelly, Law & District AAC and Gibson Fleming, Westerlands XC Club.
In the M65 category, there was a win for Hamilton's Andrew McLinden from second-placed Alex Hamilton, Highland HR, and third-placed Tom Scott of Fife AC.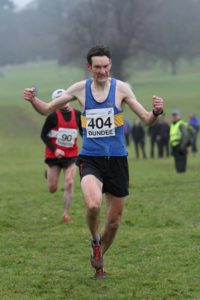 The men's 8km championship was just as exciting as the Women's race with the result in doubt until the last moment.
A small group consisting of Jethro Lennox, Shettleston H, Don Naylor, Hunters Bog T, Neil Smith, Anster Haddies and Michael Carroll, Perth RR contested the lead early on with Ruairidh Campbell, Montrose and District and Robert Gilroy, Cambuslang H looking as if they were playing a waiting game.
Close up was four-time National Cross Country champion Bobby Quinn, Kilbarcahan AAC, who was bidding for the M50 title to go with his previous M40 and M45 titles.
By the end of the first lap, Robert had moved up to the shoulder of Jethro while Ruairidh was gaining ground on the others contesting third place. Emerging from the woods at the top of the hill with about 1km to go it was clear there was a battle royal developing between Jethro and Robert.
Jethro kept surging in the last long straight and eventually broke Robert by three seconds with Ruairidh well clear in third position and winning the M45 championship from Don Naylor, who was fourth overall. Fifth-placed Neil Smith took the M40 bronze medal and Michael Carroll the M45 bronze.
Bobby Quinn achieved his goal of adding the M50 title to his previous M40 and M45 ones winning from Nick Milovsorov, Metro Aberdeen RC, and Stan MacKenzie, Cambuslang.
The M55 race was won by another perennial winner, Cambuslang's Colin Donnelly, with Patrick O'Kane, Strathearn, in second and William Jarvie, Portobello, in third.
The M60 race looked like a club trial with all three medallists Edward Stewart, Paul Thompson and Francis Hurley in that order representing Cambuslang.
The open team race was no less exciting with Cambuslang continuing to dominate but this time only just. Costorphine AAC the only team to beat Cambuslang in this event in the last 10 years equalled the Cambuslang total of 60 points but lost on the count back. Hunters Bot T were third with 99 points.
After rescoring and removing M40s and M45 and multiple medallists Cambuslang H took the M50+ title from Strathearn H with 41 points and Fife AC in 3rd with 91 points. The popularity of the event was emphasised by the fact that 31 M45-M50 teams and 21 M50+ teams finished.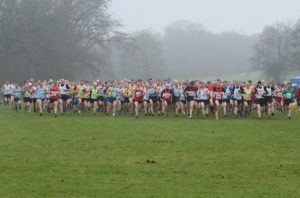 With thanks to Ron Morrison
Tags: Dundee, Dundee Hawkhill Harriers, Jethro Lennox, Lesley Chisholm, Masters XC