Maria, Sammi double their medal tallies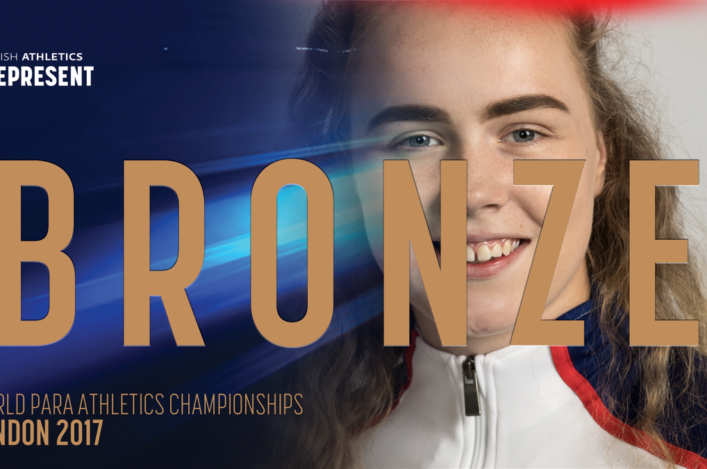 Maria video interview with British Athletics
The British team were back in the medals on day six of the World Para Athletics Championships as Maria Lyle and Sammi Kinghorn (Ian Mirfin) won marvellous bronze medals.
Lyle backed up her 200m bronze with another on Wednesday night in the T35 100m. The 17 year-old got a lightning start and put herself in podium contention from the outset.
Reigning Paralympic Champion Xia Zhou of China powered into a lead within 30m, though, only to be beaten in the final few strides by Isis Holt of Australia reversing the gold-silver positions from Rio. Lyle, third in Rio, kept her head and her form to motor in for bronze in 14.45.
Holt's winning time was a world record of 13.43 and a clearly delighted Lyle, only 17, lapped up the crowd's attention and revealed that just a few days ago she thought her Worlds were over before they started.
'Basically in the holding camp a couple of weeks ago my fascia became inflamed in between my shin bone and my calf so I've had a lot of injections and pain killers to try and calm it down so that I could manage to run,' said Maria.
'It's been really amazing to have the support of the British Athletics medical team to help me get to the start line.
'It was only this week that I was able to run again, last week I couldn't run at all, I could hardly walk. So it's been a really good turn-around as I was preparing myself not to be able to run. I managed to finish both races and get a medal and I couldn't ask for more.'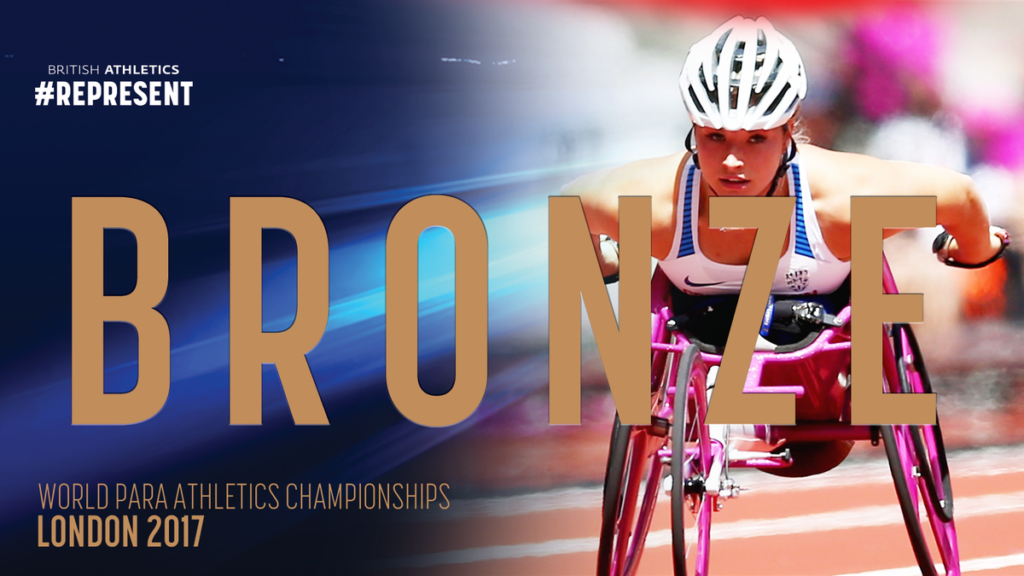 Later in the evening, 21 year-old Scottish athlete Kinghorn, who had already pocketed gold in the 200m on Saturday night,  set out in the 400m at a sizzling pace around the opening bend, maintaining her form and speed down the back straight.
That meant the wheelchair track race was in touch with reigning Paralympic Champion Zhou Hongzhuan of China as the race emerged from the final bend.
Whilst Zhou powered to victory in a Championship record of 55.22, Kinghorn was tracked and then overtaken by world record holder Chelsea McClammer and found herself in a battle for bronze with Angela Ballard of Australia. Bronze for Kinghorn in 55.71 was a great step-up from fifth at Rio Paralympic Games in 2016.
'My arms felt like they were going to fall off; I'm not going to lie, I didn't have much left towards the end,' said Sammi.
'I knew it was opportunity so I just had to keep going and going and throw my arms down as hard as possible. I can't believe that I've won another medal. I've raced really well all season, so I knew that I had the speed. I know that I struggle with endurance against other girls – they are more mature than I am, have been in the chair longer, so they're a little bit stronger come the end of the race.
'I knew my start would be fab, and I couldn't believe how close I was to the Chinese girl on the final bend – that gave me hope to power home.
'People under-estimate how much a home crowd makes a difference: when you're on the start line and you get the loudest scream, it does put the other athletes off. I kind of soak that up, give them a wave and try and make them scream a bit louder. I'm so thankful we have them here to support us.'
WR for Sammi and gold for Stef, too!
Maria Lyle added to the Scottish medal tally at the World Para Champs with a bronze medal on Sunday evening in her first event.
After battling back from a recent injury, the teenager from Dunbar proved she is made of a stern stuff with a superb run in the T35 200m.
Starting well, last year's Paralympic bronze medallist over 100m and 200m ran a smooth bend to come off on the shoulder of China's Xia Zhou in third place. With Australian Isis Holt scorching ahead for gold in what would be a championship record, Lyle dug in deep and held her form to clock 29.87 for bronze.
In truth, it was a phenomenal season's best time in light of recent struggles.
World Para preview with schedule for Scots
'I'm really lucky and grateful to have made the start line – I had a few issues with injuries at holding camp and had to have a lot of physio as well as not running,' said Lyle.
'A season's best is something I'm happy with; the crowd and noise were absolutely amazing. The field is a tough one: we're all around the same age but we're all at different points of development; I'm a bit bigger than the others and that plays a part.
'I have the 100m to look ahead to now – I will rest and reassess before then.'
+++
Tags: London, Maria Lyle, World Para Champs