Lynsey eyes Kelly's British record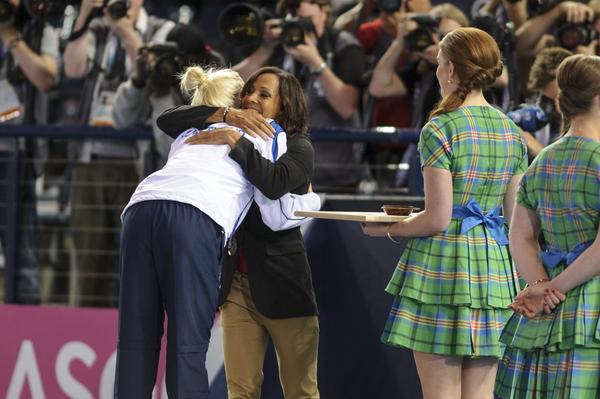 Lynsey celebrates Commonwealth silver with Dame Kelly Holmes – photo by Bobby Gavin
Lynsey Sharp had not long turned 14 when she celebrated her first British title success with a PB in the 800m final at U15 at the '3 AAAs' championships in Birmingham way back in August 2004 – with a run that dipped under 2 minutes 10 seconds at 2.09.98.
Eight days later, the Edinburgh schoolgirl's athletics heroine, one Kelly Holmes, took 800m gold at the Olympics on August 23 with 1.56.38 in the first leg of her unforgettable middle distance double.
Now the wheel is turning full circle with Lynsey's new Scottish National Record for the event in Berlin on Sunday – at 1.57.71 – taking her to third in the all-time British list behind Dame Kelly and proving the fastest 800m by any Brit since that Athens success in 2004 for the Englishwoman.
'I remember Kelly Holmes winning the Olympic double at Athens 2004 because around that time was when I won my first British title,' recalled Lynsey, with Holmes having set her British record of 1.56.21 back in 1995 and with Kirsty Wade second at 1.57.42.
'I was 14 at the time and there's no doubt that as an 800m runner she was a massive inspiration for me.
The Berlin run takes me that bit closer to her British record now and I'm delighted. It does not make up for the disappointment of missing out on the final of the World champs in Beijing – but it does give me a massive end of season boost ahead of Rio next summer.
Sharp's form this summer has been impressive and consistent – clocking under two minutes on more than half a dozen occasions – and she had insisted more than once that she felt in the best form of her life.
Losing out in the semi-finals in Beijing continues to hurt, but in the IAAF World Challenge meet in Berlin she beat new World champion Marina Arzamasova for the second time in four days after finishing second to Eunice Sum in Zurich last Thursday night.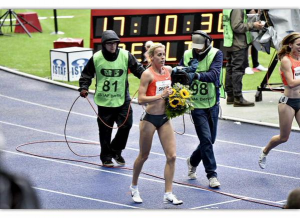 Celebrations in Berlin – photo via Twitter
'I know I should have done better in Beijing and Sunday proved that to me again, although without making excuses the semi-final draw at the Worlds was tough,' added the Edinburgh AC athlete.
'I just didn't want the season to end without a PB and a new Scottish record – because I have felt all along I was in good shape and fitness following all the hard work last winter and the preparation to try and peak at the Worlds.
'I probably could have bettered my 1.58.80 record in the heat in Beijing but was easing up a little towards the end (in a 1.58.98 run). I didn't know then what would happen the next day in the semi!
'But in Berlin I didn't focus too much on the time. In fact, I didn't look at the clock at the bell or again at 600m. I just concentrated on staying with the pacemaker and then getting in the right positions with 250m to go and 150m to go. When I came towards the finishing line, I did see the clock. I thought 'that can't be right, can it?' but I am delighted with 1.57.71.
'It gives me a great platform for the Olympics next summer. I think I will even get in better races now with 1.57 against my name. So I will enjoy my break now and then start the planning and work for the winter again.'
Rodger Harkins says Lynsey firmly on right road for Rio
Tags: Kelly Holmes, Lynsey Sharp, Rio, Rodger Harkins, Scottish record