Lindsays XC District Relays – full coverage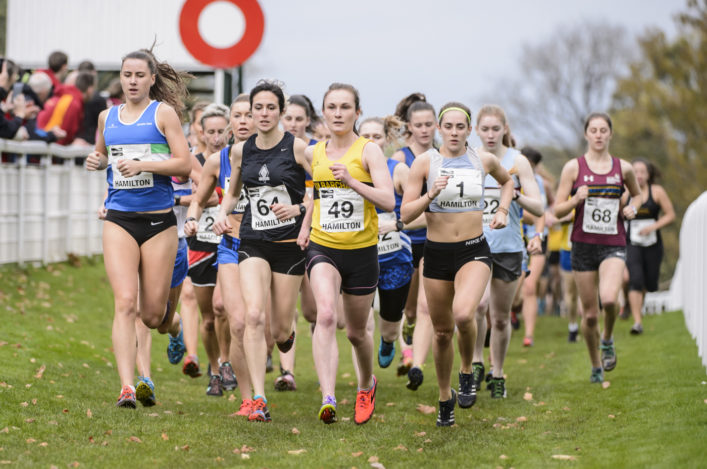 Above: West District, by Bobby Gavin
It was a packed weekend of cross country action as the Lindsays XC District Relays championships got underway, with events at Glamis Castle, Edderton and Hamilton Park Racecourse.
Thanks to our contributors for these reports. 
West District (based on provisional results)
It was a great day at the West District relays with mild and breezy weather conditions.  However, the course was heavy underfoot following the unrelenting rainfall over the last few weeks.  This didn't dampen the spirits of the youngsters with the Young Females/Males kicking off the relay races.
Giffnock North AC's junior girls put in strong performances claiming both the gold and silver team medals.  The gold team, comprising Eva Chong (U13), Kate Richardson (U15) and Lynn McKenna (U17) lead the way with an impressive lead over team mates Isla Scott (U13), Jill Carswell (U15) and Charlotte McKenna (U17).  The silver team were closely followed by bronze team medal winners Kilmarnock H&AC, consisting of Mhairi Chalmers (U13), Hannah Burn (U15) and Molly Murray (U17).
Next up were junior males with Giffnock North AC's Reuben Macdonald (U13), Ethan Carolan (U15) and Hamish Armitt (U17) claiming the team gold medal.   Kilbarchan AAC claimed the silver team medal following strong performances from team mates Matthew New (U13), Lewis Hannigan (U15) and Cameron Wright (U17).  Close behind, Garscube Harriers young males' Marcus Donnelly (U13), James Connelly (U15) and Lorn Webster (U17) took the bronze team medal.
Kilbarchan AAC senior ladies' Elspeth Curran, Chloe Simpson and Kerry MacAngus claimed team gold.  Mhairi Hendry, Philippa Millage and Lisa Doyle from Victoria Park Glasgow AC took silver and the bronze went to the Shettleston Harriers ladies Charlene Sophia Manley, Avril Mason and Ruth Joss.
In the senior men's race there were superb performances from East Kilbride AC's senior men who took the gold medal with Aidan Gilbride, Martin Lynas, John Fergusson and Grant Baillie. In pursuit were the Cambuslang Harriers senior men teams. They showed their strength claiming both the silver and bronze medals. The silver team comprised of Gavin Smith, Stuart Gibson, Benjamin Hukins and Craig Jardine with club mates Struan Paton, Bobby Bristow, Alistair Campbell and Kyle Mclellan rounding off the podium to take the bronze team medal. By Dawn Armitt
North District
Inverness Harriers led from start to finish in defence of their men's North District cross country relay title at Edderton, Easter Ross. The climax was a last lap battle between Inverness's John Newsom and Kenny Wilson of Moray Road Runners in his first race since news of his debut selection for Scotland in the Leeds Abbey Dash. In the end, both runners recorded 12:04 to tie for the fastest time, leaving Inverness (51:27) 65 seconds clear of their Moray rivals (52:32) with Inverness "B" third in 55:18.
A gripping finish to the women's race saw the eventual medallists emerge from third, fourth and fifth places in the last mile. A strong finish by Louise Cartmell clinched the title for Moray (48:38), with Rhona Grant claiming silver for Highland Hill Runners (49:03) and Hilary Cameron grabbing both overall bronze and veteran gold for Forres Harriers (49:24). Gemma Cormack, of fifth placed Inverness had the fastest time of 14:34.
A strong final lap from Hamish Hickey (8:15) gave the young males' title to Ross County (25:52) but Hickey was just pipped for the fastest time by Eoghan Gollan of East Sutherland (8:13). Inverness (26:04) and Moray (26:54) took silver and bronze.
A formidable final stage from Moray's hill running internationalist Grace Whelan brought them out of the pack to win the young female gold in 29:07 from Inverness (29:46) and host club East Sutherland (30:37). The Moray athlete also produced the fastest time of 9:07. By Charles Bannerman
East District
Corstorphine AAC claimed the senior men's title at the East District Cross-Country Relays amidst the scenic splendour of the Glamis Castle estate, Angus.
The Edinburgh club ended twelve years domination of the event by Central AC who placed third behind silver medallists Aberdeen AAC. Following a brief foray by Edinburgh Univ. over the opening leg of the 4 x 4km race Ewan Brown brought Corstorphine into pole position following the opening leg by Anthony Addison. Calum McKenzie and Dermot Cummins went on to open up a 23 seconds advantage over Aberdeen finishing in 49 minutes 59 seconds. Rory Stead, Will McKay, James Hoad and Michael Ferguson followed in 50.22 for Aberdeen with Aiden Thompson, Ruaridh Miller, Michael Wright and Alastair Hay taking bronze for Central in 50.58.
The Fife AC quartet of Sam Fernando, Tristan Rees, Simon Anetts and Logan Rees improved throughout the race with fastest of the day Logan Rees (12.07) closing rapidly on Central AC over the anchor leg to place 4th team, fifty-four seconds shy of the bronze medals.
It was a double celebration for Corstorphine taking the veterans title – Tom Ferrington, Moray Anderson, Graeme Fletcher and Ross Milne timed at 56.15. The Metro Aberdeen quartet of Jim Tole, Cameron Robertson, Brian Robb and Steve Buchan placed second in 57.25 with Malcolm Lang, Alan Knowles, Brian Lees and Colin Partridge securing bronze to Lothian RC – 57.38.
For Corstorphine there was a show of longevity among its medal winners – Calum McKenzie had taken junior gold in 2001, and Moray Anderson picked up the club's first ever district relay gold as a junior 25 years ago.
Edinburgh University, second in 2016, romped away with the women's 3 x 4km title leading from the start. Stephie Pennycook (Edinburgh Univ.) posted the fastest time of 14.06 over the opening stage, finishing strongly to hold off the chasing Claire Stewart (Banchory & Stonehaven U20) second fastest 14.12. Thereafter it was one-way traffic with Anya McFadyen and Mhairi MacLennan taking the students out of sight to finish in 42.38. Central AC Fanny Gyurko, Natakie Milne and Kate Gallagher followed home in second place clocking 44.33 while Fife AC took team bronze for the second year running – Halina Rees, Alison McGill and Annabel Simpson – 44.54. Simpson clocked the third fastest time of 14.15.
Jennifer Forbes, Gilian Duncan and Kate Jenkins won team gold for Gala Veterans in 49.06 ahead of Falkirk Vics. Lorna Kennedy, Nicky Flynn and Fiona Matheson – 50.11. Team bronze went to Claire Ward, Phyllis O'Brien and Megan Wright of HBT – 50.30.
Edinburgh AC repeated their junior double in both the girls and boys 3 x 2.5km championships.
Edinburgh. Under 13 athlete Katie Johnson opened a leading 9.35 followed by sister Emma Johnson and Pippa Carcas leading throughout the girl's race. Isla Thoms for Fife AC completed the opening stage in 8th, Anna Dalglish improving to 4th at the changeover. Anna Hedley swept into second place with the second fastest time of 9.09 to finish just ten seconds down on the capital club. Aberdeen claimed bronze – Phoebe Armstrong, Caitlin Purcell, Kirsty Oldham. Cera Gemmell brought Team East Lothian into 4th with the fastest time of 9.08.
Boy's winners Edinburgh AC (Ross Dewar, Hugh Morrow, Joe Ewing) clocked a total 26.20 nineteen seconds ahead of Lasswade (Ross Wolfendale, Harry Hendrikson, Christian Graham)
Under 17 Graham posted the fastest time of 8.07 for Lasswade while Ben Sandilands was the fastest Under 15 athlete clocking 8.32, improving Fife AC seventeen places over leg 2. Dewer posted the fastest U13 time of 9.11.
Thanks go to Forfar Road Runners for setting out and marshalling the course and all the officials. By Graham Bennison