Lindsays District XC Champs will be centre stage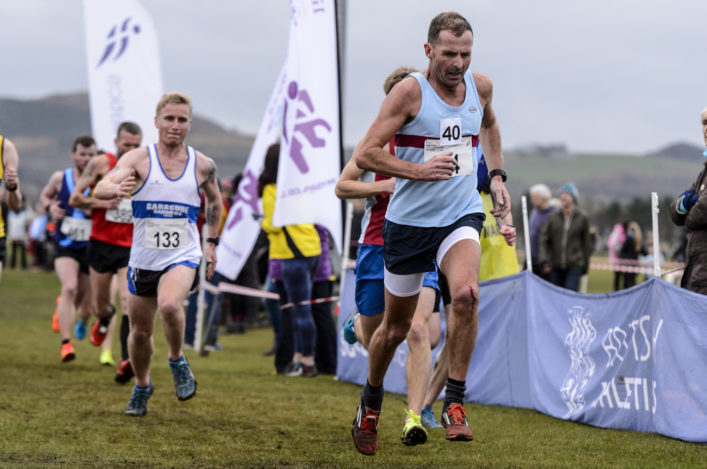 West District CC Champs 2018 Summary Results
All roads lead to cross country this weekend with three eagerly-awaited contests coming up in the Lindsays District XC Champs.
The East head to Aberdeen, with North clubs gathering at Gordonstoun and the West event happening at Kilmarnock, with all three events taking place on Saturday.
And start-lists and information for each of those events are now lodged on the specific page for each fixture on our Events section.
East District XC Champs at Aberdeen
North District XC Champs at Gordonstoun
West District XC Champs at Kilmarnock
Team medals really are the main emphasis on weekends such as this and it looks like there will be some terrific battles with more than 2000 names on those start-lists.
At Senior level, it is six to count for the men and four to count for the women and, looking through many of the names, there should be some real quality cross country runners in action, particularly in Aberdeen where the East event looks strong at the top end.
Big thank-you in advance to our three hosts Moray Road Runners, Kilmarnock Harriers and the North East Scotland Athletics Partnership. 
All three of these clubs/groups have been involved in staging events in recent years so their commitment to do so again so soon is to be admired.
VIDEO: our playlist from Lindsays Short Course Champs at Lanark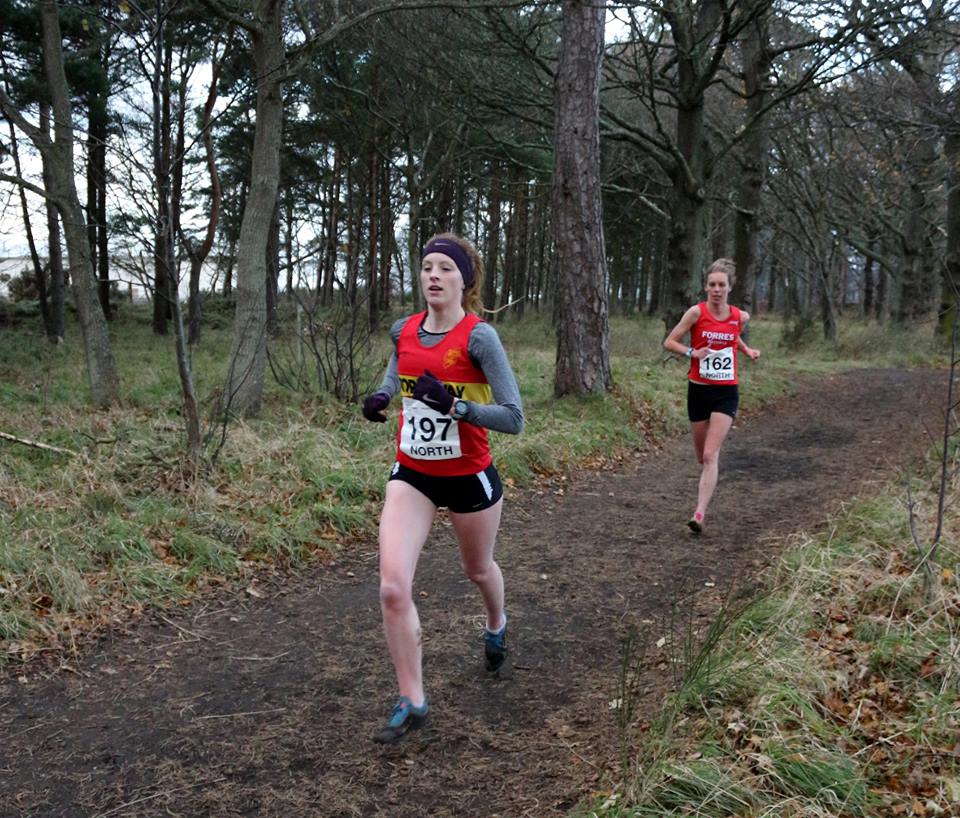 Eilidh MacKenzie takes the North Women's gold last year
Without wishing to pick out too many names in advance, the Senior Men's race at the East really does seem 'stacked' with the contenders likely to include Jamie Crowe and Alastair Hay of Central, Robbie Simpson of Deeside, Jacob Adkin of Moorfoot Runners, Michael Ferguson of Aberdeen and Cameron Strachan of Metro Aberdeen.
Fife AC women will certainly look to use Saturday to help them in their preparations for the Euro Clubs Cross Champs coming up in Portugal in Falkirk when they will represent Britain.
In the North, we're seeing names like Kenny Wilson of Moray and John Newsom of Inverness and that duo had a great battle at Gordonstoun last year. Stornoway's Eilidh MacKenzie took her third title in five years in 2017 and is on the start-lists again.
In the West, there looks to be a strong Inverclyde presence in the Senior men's race with Sean Fontana, Craig Ruddy and Andy Douglas listed – likewise Shettleston's Lachlan Oates and Cambuslang's Grant Sheldon.
On the Women's side, Shettleston's Fionnuala Ross is at the Euro Cross with Ireland so Kilbarchan's Elspeth Curran looks favourite.
+++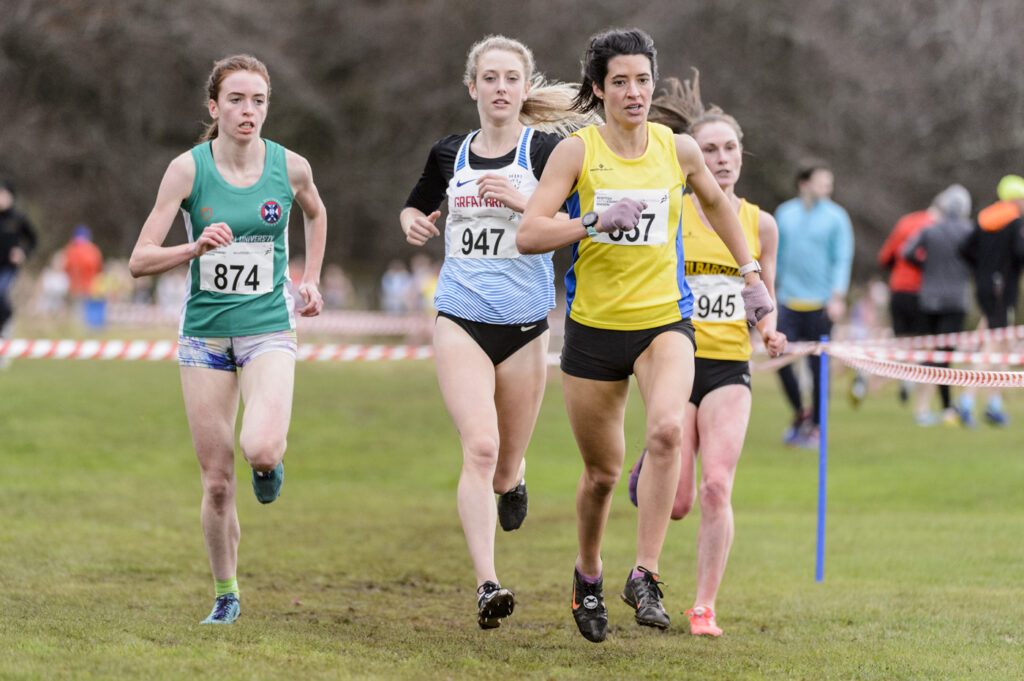 Morag Millar (Central) and Steph Pennycook (Edinburgh Uni) are set to clash at the East as they chase Cross Country GP points (photo by Bobby Gavin)
There's £4000 up for grabs in the scottishathletics Cross Country Grand Prix over six events this winter.
Two have been completed following Lanark and the British Cross Challenge event at Liverpool and the third event is this weekend at the Lindsays District XC Champs.
Morag Millar of Central AC and Steph Pennycook of Fife AC/Edinburgh Uni Hare and Hounds share the lead in the women's points table at the moment with both on 79.
Rebecca Burns of Edinburgh AC is third on 57 and Jemma Reekie of Kilbarchan and Mhairi Maclennan of Edinburgh Uni Hare and Hounds are joint fourth on 50 points (with each having only raced once).
Adam Craig of Inverclyde AC is out in front in the men's division with 86 points with Lachlan Oates of Shettleston and Andy Douglas of Inverclyde joint second on 66 points.  Sol Sweeney of Glasgow Uni Hare and Hounds and Kris Jones of Dundee Hawkhill are fourth equal on 50 points, (with each having only raced once).
More details on the Cross Country GP
*Memberships: a reminder that those who have memberships up for renewal should do so ASAP in order to be eligible to compete at the Lindsays District XC Champs at the three venues.
Remember that with a change over to a new system we've emailed everyone in order to update their membership profile. If you are having difficulties with this, please email membership@scottishathletics.org.uk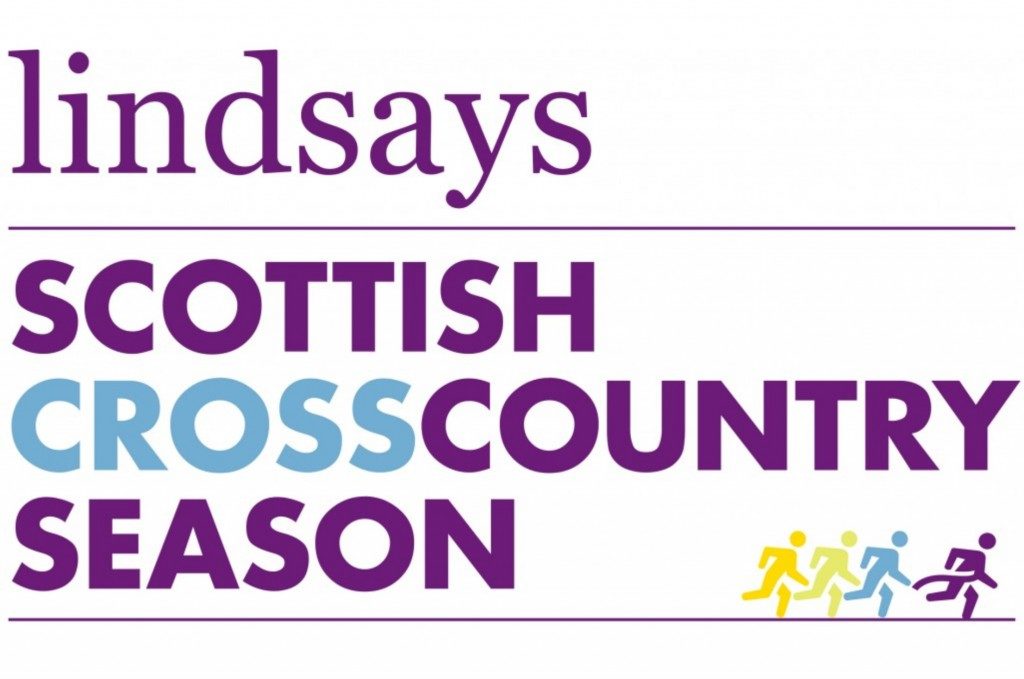 Tags: Aberdeen, Gordonstoun, Kilmarnock, Kilmarnock Harriers, Lindsays District XC Champs, Moray Road Runners, North East Scotland Athletics Partnership