Lemoncello to run in Edinburgh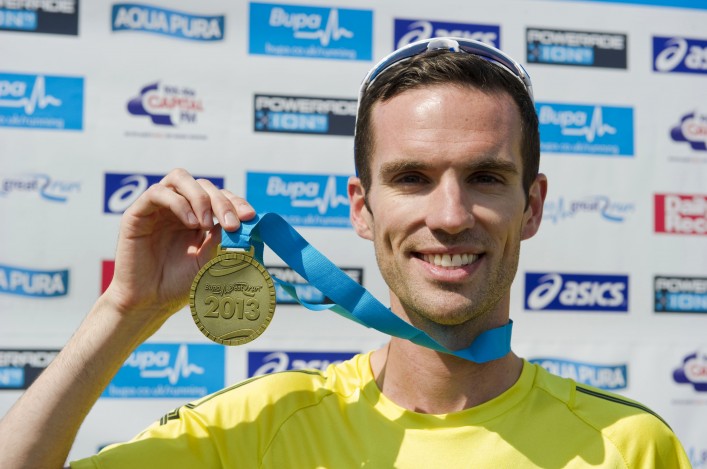 Andrew Lemoncello will attempt to regain the Morrisons Great Edinburgh Run title on Sunday 19 April when he returns to Scotland to lay the foundations for an Olympic marathon bid.
The Arizona-based Scot has recovered from the injury that forced him to miss the Berlin Marathon last September and intends to return home for his first race on Caledonian soil since the Commonwealth Games last summer.
Lemoncello has yet to return to racing since finishing 12th in the Commonwealth 10,000m final at Hampden Park in Glasgow on 1 August last year but has targeted the Morrisons Great Edinburgh Run as he prepares to hit the comeback trail.
The 32-year-old won the 2013 Great Edinburgh Run but that was when the event was in its final year as a 10km race. The step up in distance to ten miles, which took effect last year, will suit the 2008 Olympic steeplechaser as he looks towards challenging for marathon selection for the Great Britain team at next year's Olympic Games in Rio de Janeiro.
'It's an exciting time,' said Lemoncello, speaking from his home and training base in Flagstaff, Arizona.
'Things have been going well in training and I'm looking forward to coming back over for the Morrisons Great Edinburgh Run. I love Edinburgh. It's an amazing city. If I was ever to move back to Scotland, that's probably where I would want to live.
'It's a great opportunity for me to race in Scotland again and it will give me a good feel for where I am fitness-wise. It'll really kick off the season for me.
'I had to take three months off after the Commonwealth Games and things have been coming along really well since I started back in the new year. The plan is to try to give myself two opportunities to qualify for the Olympic marathon – hopefully one in September/October time this year and then maybe London next April.'

Lemoncello is waiting to hear from British Athletics about the qualifying time he will require to make the team for Rio. His best marathon time is 2.13.40, which he clocked when finishing an excellent eighth on his debut at the 26.2 mile distance in London in 2010.
Andrew has not run a marathon since failing to finish the Fukuoka race in Japan in December 2012 but is confident that his three-year run of injuries is behind him now.
'I had to have complete rest after this last one, osteitis pubis,' he said. 'That was tough, because my days are usually based around my training, but I had three months of doing normal things – drinking beer when I wanted to and tons of time with my daughter.
'But taking that full rest was really essential because my body was fully recovered when I got back to training. I was feeling really fresh.  I took the first month very easy but after that I was able to ramp up training and things are coming along really well. I didn't think I'd be in this kind of shape already, having missed so much training, but I'm feeling great and really enjoying it again.
'It kind of makes you appreciate your running when you have to take time out like that.'
Entry for the Morrisons Great Edinburgh Run is online.