Legacy? 814 enter National Open
Six months after the curtain came down on the Commonwealth Games at Hampden and there are clear, early signs of a legacy impact on athletics in Scotland.
The National Open at the Emirates Arena on Saturday 17 January has attracted a huge entry – with more than 800 athletes signed up to compete and with demand so high that races at three distances had to have numbers capped.
It follows a hectic first weekend of January at the indoor venue in Glasgow which saw record entries for the GAA Miler Meet and shot put competition and a big Indoor League meeting the following day.
No fewer than 814 athletes have entered for the National Open in what is yet another record field for a scottishathletics event, a trend which has been a feature over the past 18 months in cross country and track and field.
There's a physical legacy with the track surface from Hampden and Lesser Hampden laid now at Grangemouth and being laid at Crownpoint in Glasgow's east end.
And there's other, circumstantial evidence of legacy happening: big numbers at club and community races over the Festive break, a Christmas Day Park Run in Pollok which drew more than 400 runners, and capped limits for events such as the Alloa Half Marathon (2200 runners) selling out weeks before they take place.
Chief executive Nigel Holl believes the double inspiration of London 2012 and Glasgow 2014 is sweeping through clubs – with 353 of the athletes entered for the National Open in the U17 and U20 age groups.
'I am extremely confident that athletics in Scotland can and will have a better 2015 than the amazing 2014 just finished,' said Nigel.
'It may lack the stunning Hampden spectacle of a home Commonwealth Games, but the 'buzz' across the sport tells me that we will continue to see great things happen.
'As always,  the impact in both participation and performance terms is driven by what happens at athletics clubs the length and breadth of the country.
'To help prove my point, it hasn't taken long in 2015 for records to start tumbling – the entry level for the National Open being the prime example.
We have seen this event grow in the past three years since the Emirates Arena opened. We'd 669 athletes entered in 2013 and that was a massive leap on the previous year at the old Kelvin Hall venue in Glasgow.

That went to 700 last year and now it is jumping up again to more than 800 people and, while that naturally poses a lot of challenge to us as event organisers, it really is great news.
'We had to introduce maximum entry numbers in some popular events (60m, 200m and 800m).  This is of course a difficult decision – our underpinning ethos is that if an athlete wants to compete, then they should be able to compete.
'Entry caps work against that, obviously. But we had a pretty comprehensive debate to address how we might ensure and retain a quality experience for those athletes competing and lengthening an already long day was not the way to go about it.
'Let's not forget our officials and volunteer helpers without whom events would not be possible. We thank them in advance for their patience and commitment on days like the one looming on January 17. The help should be much appreciated by every athlete, coach and parent.
'So let's focus on the positives. Every year more and more athletes and coaches are recognising the benefits of this event and others at the Emirates Arena.
'Perhaps we are also now seeing the 'tidal wave' of young athletes that joined clubs back in 2012 on the back of the London Olympics starting to really come through to competition. If we are, that is wonderful and a great testament to clubs and their coaches in keeping that athlete motivation high and coming back week on week.
'I'm looking forward immensely to the National Open – I hope you are too. See you there!'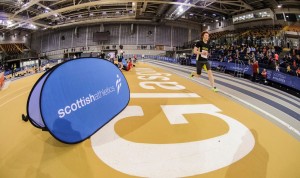 *Senior Indoors is on Sunday 1 February at the Emirates Arena and we are taking online entries until midnight on Wednesday 14 January.
Tags: