Law GB joy as six picked for Euro Teams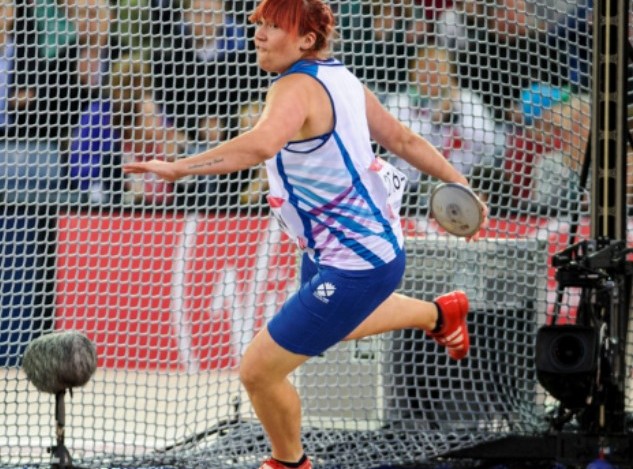 Kirsty Law in action at Hampden – photo by Bobby Gavin
Eightlane website report on Andrew Butchart
Six Scots have been named today by British Athletics for the European Team Championships in Cheboksary in Russia.
The event takes place on June 20 and 21 and GB and NI will take a 47-strong team which features Eilidh Child, Lennie Waite, Kirsty Law, Andrew Butchart, Jax Thoirs and Guy Learmonth.
It is a first ever GB Senior call-up for discus thrower Law and, at 28, a tremendous reward for an athlete who has worked hard over a number of years.
'I represented GB at U20 and a European U23 event but that was a few years ago so I am delighted to be selected for Russia,' Kirsty told scottishathletics.
'There have been times in the recent past when I thought about not carrying on but after Glasgow 2014 I decided to do another year and, so far, that is working out quite well.'
Thoirs was named last summer for the European Championships with GB but had to pull out injured after the Commonwealth Games and now has another chance at wearing his first Senior GB vest.
Butchart, for his part, will race this weekend at the European 10,000m Cup in Italy and has been named for Russia for 3000m as the Central AC athlete's star continues a spectacular rise. Andrew will race over 3000m in Russia.
Child is now vastly experienced in these meetings while Waite wins her reward for a recent 3000m steeplechase PB in America, having featured in the Euro Team Champs in the past.
The selections include new British 100m record holder Dina Asher-Smith;  world and European indoor 60m champion Richard Kilty and a welcome return to GB representation for Olympic high jump bronze medallist Robbie Grabarz in the sixth edition of the revamped team competition.
At the 2014 European Team Championships in Braunschweig, GB and  NI finished fifth overall with a total points score of 281.5.
Rodger Harkins, the scottishathletics Director of Coaching, said:  'I am delighted we've a number of athletes selected for the Euro Team Champs with GB and NI by British Athletics.
'We congratulate those involved and their coaches and it is pleasing, again, to have good Scottish representation in a GB selection for an international event.
'The more people we can have competing at this level then the better it is for their development and I'm delighted for all six athletes.
'For the likes of Jax and Kirsty it will be a first taste of being involved with a GB team and travelling to a European event, while for Andrew that happens this weekend for the 10,000m. Eilidh and Lennie have experienced that before, of course, while Guy went to Prague for the European Indoors for his first such championship.
'One or two of our more established athletes are not involved on this occasion, so what the GB selection for Russia proves again is that we are gradually growing the number of athletes we have as contenders for British vests and who can be competitive at a higher international level.
'I think Andrew Butchart is probably a good example of that; he is making an impact and being rewarded with selections. All of that is very positive for athletics in Scotland and the motivation is there for those further down the pathway at our clubs to try and follow suit at some stage in the future.'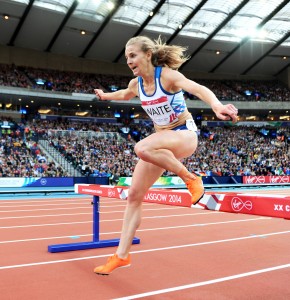 Lennie Waite at Hampden – by Mark Shearman
British Athletics Performance Director Neil Black said:  'The European Team Championships provides a good opportunity for us to develop and explore the pool of talent we have in this country.
'At this time of the season good decisions have to be made and we have selected a team with the aim of being competitive whilst giving some crucial debut opportunities to new names.'
GB and NI team for the European Athletics Team Championships:
MEN:
100m: Richard Kilty (Linford Christie)
200m: Danny Talbot (Dan Cossins)
400m: Jarryd Dunn (Keith Holt)
800m: Guy Learmonth (Rob Denmark)
1500m: Ross Murray (Craig Winrow)
3000m: Andrew Butchart (Derek Easton)
5000m: Andy Vernon (Nic Bideau)
3000m SC: Zak Seddon (Jeff Seddon)
110mH: Lawrence Clarke (Malcolm Arnold)
400mH: Jack Green (Loren Seagrave)
High Jump: Robbie Grabarz (Fuzz Ahmed)
Pole Vault: Jax Thoirs (Pat Licari)
Long Jump: Dan Bramble (Frank Attoh)
Triple Jump: Nathan Douglas (Aston Moore)
Shot: Zane Duquemin (John Hillier)
Discus: Brett Morse (Nigel Bevan)
Hammer: Nick Miller (John Baumann)
Javelin: Bonne Buwembo (Mike McNeill)
4x100m: James Ellington (Christie), Richard Kilty, Andy Robertson (Cossins), Danny Talbot, Chijindu Ujah (Jonas Tawiah-Dodoo)
4x400m: Dan Awde (Chris Zah), Jarryd Dunn, Jack Green, Conrad Williams (Christie), Rabah Yousif (Carol Williams)
WOMEN:
100m: Asha Philip (Steve Fudge)
200m: Dina Asher-Smith (John Blackie)
400m: TBC
800m: Alison Leonard (Bud Baldaro)
1500m: Rhianwedd Price (Houston Franks)
3000m: Kate Avery (Tony Simmons)
5000m: Lily Partridge (Mick Woods)
3000mSC: Lennie Waite (Steve Sisson)
100mH: Serita Solomon (Michelle Bovell)
400mH: Eilidh Child (Malcolm Arnold)
High Jump: Isobel Pooley (Fuzz Ahmed)
Pole Vault: Sally Peake (Scott Simpson)
Long Jump: Jazmin Sawyers (Alan Lerwill)
Triple Jump: Laura Samuel (Aston Moore)
Shot: Rachel Wallader (self-coached)
Discus: Kirsty Law (Jim Edwards)
Hammer: Sophie Hitchon (Tore Gustafsson)
Javelin: Laura Whittingham (Mike McNeill)
4x100m: Margaret Adeoye (Linford Christie), Dina Asher-Smith, Asha Philip, Bianca Williams (Lloyd Cowan), Jodie Williams (Christine Bowmaker)
4x400m: Margaret Adeoye, Meghan Beesley (Nick Dakin), Eilidh Child, Laura Maddox (Colin Bovell), Kelly Massey (Stephen Ball), Jodie Williams
Kirsty's road to the Euro Team Champs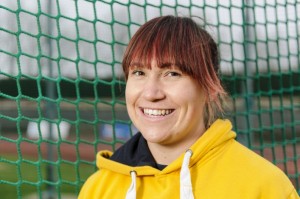 Kirsty Law had to choose between athletics and football over a decade ago as she juggled a promising career as a goalkeeper with her talent for the throws.
The then teenager with Inverness Ladies won Scotland U18 honours at football but has had no cause to regret putting all her focus on the discus around that age.
Now, a decade or so later, a first GB Senior vest looms at the Euro Team Champs in Russia later this month.
Here, in a special blog post for scottishathletics, Kirsty explains how perseverance has paid-off and while it is important for the wider public to remember that not all top-level athletes can commit all their time to sport.
'I was very keen on football as a youngster and played as a keeper and as a midfielder for Inverness Ladies.
'Scotland U18s called me as a goalkeeper and I loved that experience even though I was throwing at the time, as well. It came to a head around that time, though, because more often than not I was breaking a finger or hurting my wrist or ankle playing football. I had to choose sports and focus on one or the other.
'It was a difficult choice because I love playing football so much but I was a good junior athlete, as well, and starting to make GB teams at U20 level. I also won U23 honours with GB but the selection for the Euro Team Champs is my first at Senior level.
'I am delighted because less than two years ago I was certainly thinking over whether to carry on.
'I have always tended to throw great in training, throw great in warm-up and then not so well in competition. It was coming to head prior to Glasgow 2014 because I didn't know if I would qualify.
'Thankfully I did do so and after Hampden I then decided to have another go for the next year.  I've been in America and am in the process of changing coach but this selection certainly gives me another big boost. I still want to see what I can do in the sport.
'But I'm not a full-time athlete in the professional sense – like some who will be with me in Cheboksary. I work in nursing care and often train in the morning after completing a night-shift.
'I missed a few calls on the day of the GB team announcement because I was sleeping after working the night before!
'It can be tiring, yes, but I am lucky in the sense that I work for a nursing agency so I can pick and choose a wee bit. I admit that I fit the work in around the training as best I can!
'Winning a GB senior vest is great and, as I support Inverness Caley Thistle, it has been a good few days. I wanted to be at Hampden for the Scottish Cup final but it didn't quite work with me competing at the Bedford International Games on the Sunday.
'So instead I managed to persuade the bar-staff in a pub in Loughborough to put the Cup final on the TV. There was a big rugby match with Bath involved so they ended up with that on one telly and Caley Thistle v Falkirk on the other!'
Tags: Andrew Butchart, British Athletics, Eilidh Child, Euro Team Champs, Guy Learmonth, Jax Thoirs, Kirsty Law, Lennie Waite, Russia