Keeping Track . . . our new column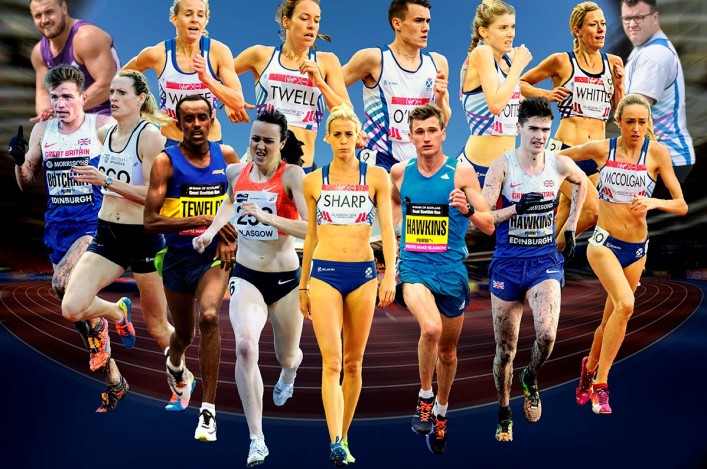 Bobby Gavin's photo-montage #SALfab15 captured the Scottish selections for the Olympics
*This is the third edition of our new website column by Peter Jardine, Communications Manager at scottishathletics. Email any feedback or comments to peter.jardine@scottishathletics.org.uk. Thanks
The race to the London World Champs is really starting to heat up with four weeks to go to the British Champs and London trials event in Birmingham.
It's clear that for Scotland to match the #SALfab15 who were selected for the Olympic Games in Rio would probably be a little unrealistic.
However, with four places already assured, the potential for seven, eight, nine or into double figures definitely remains 'live' at time of writing.
Athletes seeking the qualification marks asked for by British Athletics to make London are really stepping up to the plate – with performances in Britain, Europe and the United States putting names in the frame.
And while the tension will undoubtedly rise over the next month for athletes, their families and their coaches, it certainly looks absorbing for everyone else looking in from the outside.
Laura Muir's overall Diamond Race win at 1500m last summer effectively confirmed her place in that event for London. Callum Hawkins was then pre-selected for the marathon in December – off the back of his top 10 finish in Rio.
Since then, Robbie Simpson and Beth Potter have been added to the qualified list via their (top two finish) runs at the London Marathon and the British 10,000m Champs respectively.
After that, it starts to get interesting ahead of the trials on July 1/2 – and particularly in the Women's distance events.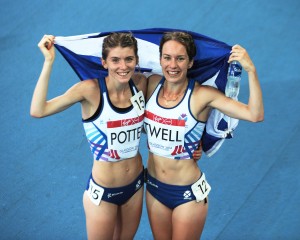 Steph Twell and Beth Potter at Glasgow 2014
Steph Twell was second to Beth Potter at the Highgate Night of the 10Ks but didn't make the 10,000 qualifying mark of 32.15. Eilish McColgan has made that time, with a run of 32.10, but didn't race at the trials. Charlotte Taylor is third in the rankings at the moment with 32.11.
Both Beth and Eilish, though, are also looking at the 5000m where Laura Muir and Laura Weightman are currently first and third in the British rankings with 14.49 (Laura's indoor run in Glasgow back in January) and 15.08. Eilish is lying second with a run of 15.07.
So, with Muir doubling up for the 1500m and the 5000m, there is a very real prospect of a Scottish 1-2-3 in the 5K while Beth leads the 10,000m selections. All will be revealed on the track at the Alexander Stadium on July 2.
Similarly, the men's 1500m in Birmingham could be truly cut-throat with a Scottish trio Chris O'Hare, Jake Wightman and U23 athlete, Josh Kerr, having all made the qualification time (so far).
Olympian Charlie Grice, presumably, will be very much in the hunt, so there may be a squeeze. Other events will offer other contenders a chance, with those who have the standard required able to qualify with a top two finish in Birmingham (as happened last year for Rio).
'Josh Kerr is no longer just a fast kid and he will have a lot of confidence going into the trials so it will be great,' Chris told The Herald last week.
'I would imagine at least four of us will have the time (for London World Champs), which changes the dynamic of the trials a bit, but hopefully all three Scots can make the team.'
Scotland's best representation within a GB and NI squad for a World Champs was seven athletes – for Beijing two years ago and for Helsinki, in 1983, when the global event was staged for the first time.
Topping that tally would be a reasonable aspiration for us to hold for the Class of 2017 . . .
World Champs representation on scotstats.net
+++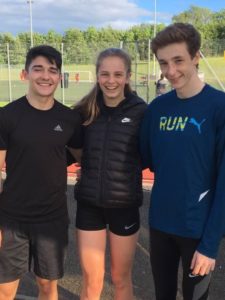 Would you Adam and Eve it? If we can be forgiven the rhyming slang (Would you believe it?) then there really is something remarkable about the story of Adam Clayton, a young sprinter from Giffnock North AAC.
The 16-year-old was this week among the 11 track and field athletes named by Team Scotland for the Commonwealth Youth Games in the Bahamas next month.
Yet, only a year ago, Adam was pretty much competing for the first time when he went to the Scottish Schools Champs at Grangemouth as a footballer who did a wee bit of athletics training.
Now, via his Scotland vest at the Loughborough International and a guest race against Dwain Chambers, he's ready to compete with the best young sprinters in the Commonwealth.
Let Giffnock coaches Garry Paterson and Gerry Duggan (courtesy of the GNAAC website) take up the story: 'Adam joined our training group just over a year ago. It was one of our other athletes who attends the same school as Adam who advised him to give athletics a go after seeing him run at the School sports day.
'Adam turned up at training not really knowing much about athletics as he was a keen footballer. Clearly, football's loss is a gain for athletics – a view with which his dad, Rob, now agrees.
'Straight away we noticed that Adam had natural talent, all he needed was the right support, guidance and opportunity to develop and grow as an athlete . Right from his first race he gave the best U17 athletes in Scotland a fright. Within a couple of races he was leading the Scottish rankings, and now he is UK leading. WOW
'His appetite, as well as that of both his parents, Rob and Alison, for this sport grew as he became very comfortable in his new surroundings and with his new training group.
'Adam's appetite to improve was infectious. His willingness to listen, work hard, compete and push himself in every training session is a testament to the athlete he has become.'
It's a 'talent transfer' story which has a number of angles . With the 'dropout' rate high at SPFL football clubs – Dumbarton this week ditched their youth academy – could there be other strong atheltics talents out there?
We did hear tell that Inverness Harriers are seeking to 'take advantage' of Caley Thistle relegation from the SPFL top-flight to investigate whether the knock-on effect may be young players being released in their mid-teens and perhaps seeking to stay within sport?
+++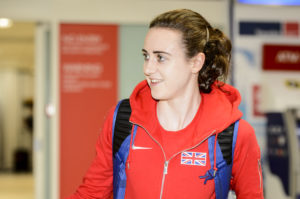 Scotsman article – Liz McColgan hails World Class Scots
Watching our top Scottish athletes starting to (finally) land the media profile their performances merit is one of the perks of the job in scottishathletics.
A daily summary of all press cuttings relating to the sport helps us keep track of these and this week it was good to see a big interview with Laura Muir by the Daily Telegraph's athletics correspondent, Ben Bloom.
BBC Scotland reporter, Rhona MacLeod, the former long jumper who is no stranger to coaching at Central AC, was recently in Arizona at a training camp in Flagstaff and, thanks to the co-operation of British Athletics, came home with interviews with Andy Butchart, Chris O'Hare and Lynsey Sharp.
Susan Egelstaff has been doing some great work with The National and The Herald, also, and regularly features a female athlete from track and field in a Friday slot in The National. This week, it was hammer thrower Rachel Hunter.
Liz McColgan-Nuttall's presence in Scotland for the Stirling Scottish Marathon allowed us an opportunity to promote her views on the current crop of athletes competing at the very top echelons of the sport.
The Herald followed that up with Doug Gillon writing in very favourable terms – while drawing a few parallels with the past.
It's worth noting that in our interview with Liz there was no direct comparison of eras. And, indeed, we don't really see any need to do so.
The context was quite simply that current athletes measure up well in global rankings at the moment. That's not in dispute and the more column inches and air-time they command, the better. It is fully merited.
Tags: #SALfab15, Laura Muir, Liz McColgan-Nuttall, London World Champs, Rio