Joy for Giffnock North and Edinburgh AC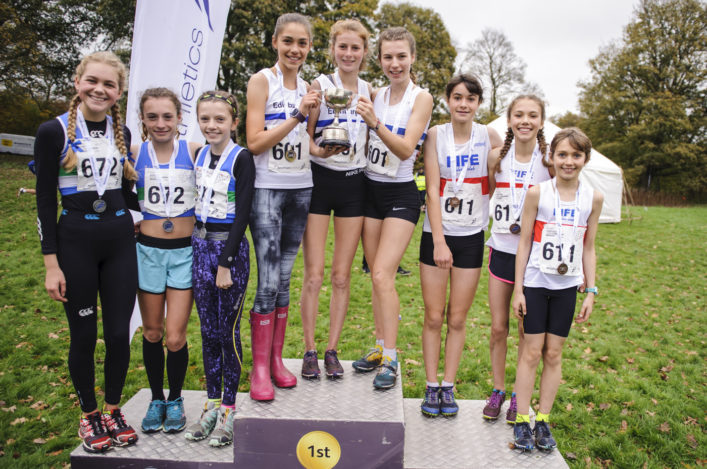 The podium at the Junior Females race as Edinburgh AC lift the trophy once again (photo by Bobby Gavin)
Photos by Bobby Gavin on Facebook
British summertime may have officially ended early on Sunday – but a few hours before Eilidh Doyle had turned the clock back with an appearance at the Lindsays XC National Relays.
Scotland's most decorated track and field athlete was a winner in this event some 16 years ago when it was staged at Cumbernauld for the first time in 2001.
Pitreavie AAC didn't make the podium on this occasion but Eilidh was on hand to help present medals to the three teams in the Young Males race as she attended with her husband/coach Brian (and their dog, Ben).
Edinburgh AC for their part turned back time only 12 months as they reprised their win in the Young Females race with U17 athlete Eloise Walker leading them home exactly as she had done in 2016.
VP-Glasgow made a strong challenge to Edinburgh on the first two legs and Walker only had a minor lead when challenged by Lily-Jane Evans-Haggerty.
'I was a little nervous with a small advantage against Lily-Jane because I know how well she has been racing for the past couple of years,' said Eloise, who was backed up by Katie Johnson and Pippa Carcas.

Start of the Young Females race at Cumbernauld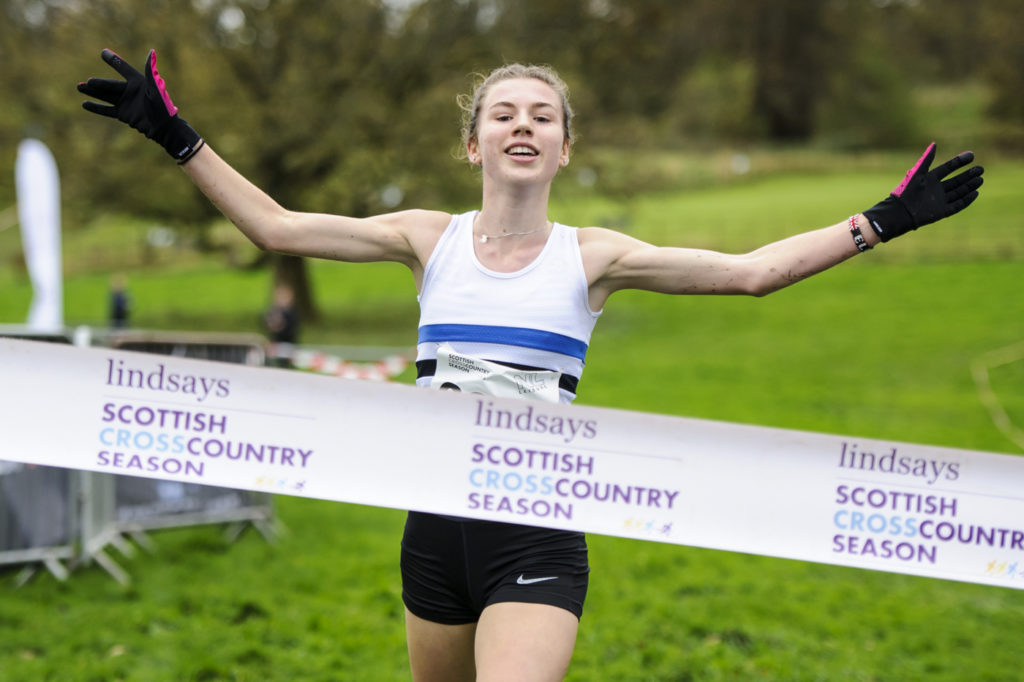 Eloise Walker helps EAC repeat their Young Females win of the previous year
'We set off almost together but on the way up one of the hills I managed to get a bit of a lead – I think hills are my strength.
'I had a look back about halfway through the race to see the gap and then just tried to keep pushing on to make sure.
'I'm so pleased to be part of a gold-medal winning Edinburgh AC team. We work had at the club and there are a lot of good young athletes so to win two in a row is great for everyone involved.
'I will be stepping up from U17 next year into the Senior race so that will be something different again but I will have great memories of the Junior Females race for the past couple of years and so will my team-mates Katie and Pippa this time.'
VP-Glasgow took the silvers with Fife AC team that featured sisters Isla and Anna Hedley taking bronze medals in what is believed to be a first for the club in the Junior Females race.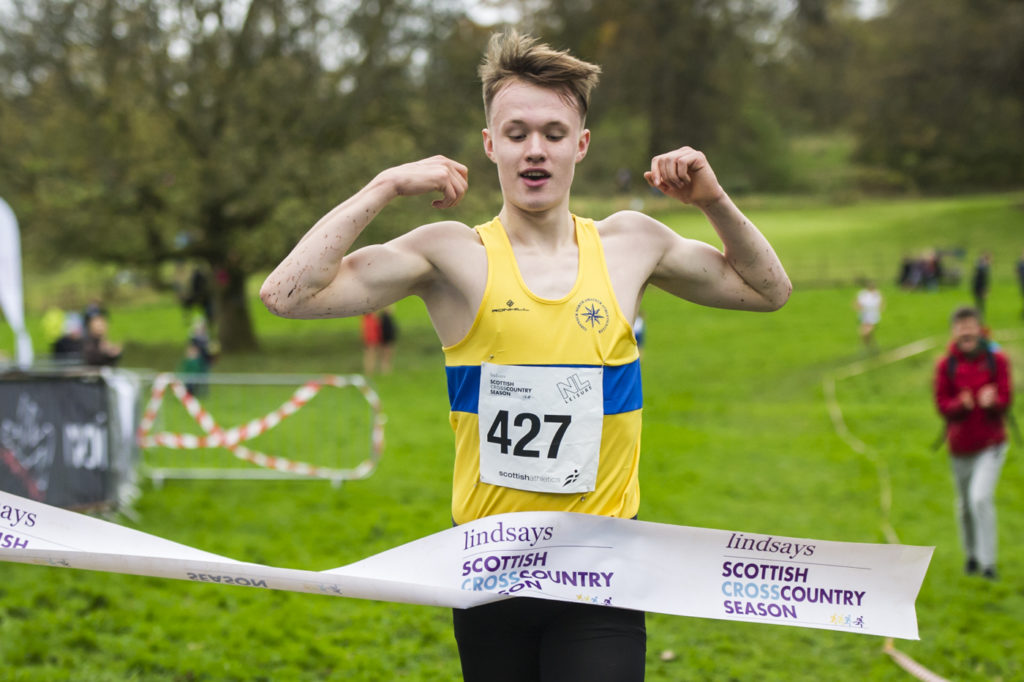 Hamish Armitt crosses the line for Giffnock to take the Junior Males golds
Giffnock North AC just missed out on the podium there but their boys A team made amends with golds in the Junior Males race.
Anchor runner Hamish Armitt had a fair bit to do as they trailed heading into the third leg but he made up the ground and then stretched the advantage for the Glasgow club to win in 26.46 by 12 seconds from silver medallists Edinburgh AC. The bronze medals went to Garscube Harriers, as great recognition for strong work there with the youth section in the past few years.
'It was a great team effort with a spectacular individual run from Hamish,' said Giffnock coach Croy Thomson, with Reuben McDonald and Ethan Carolan the U13 and U15 representatives.
'Sometimes that is what you need to win golds in a relay. He was a bit adrift going into the last leg but came up with a superb individual run to win it for us.
'Hamish said he didn't want to leave it until later on so he set out to close the gap as quickly as he could. Thankfully that didn't take it all out of him and he was able to then make sure by pushing on strong.
'Our boys work hard throughout the year so this kind of success is always pleasing and a real encouragement for athletes, parents and coaches.'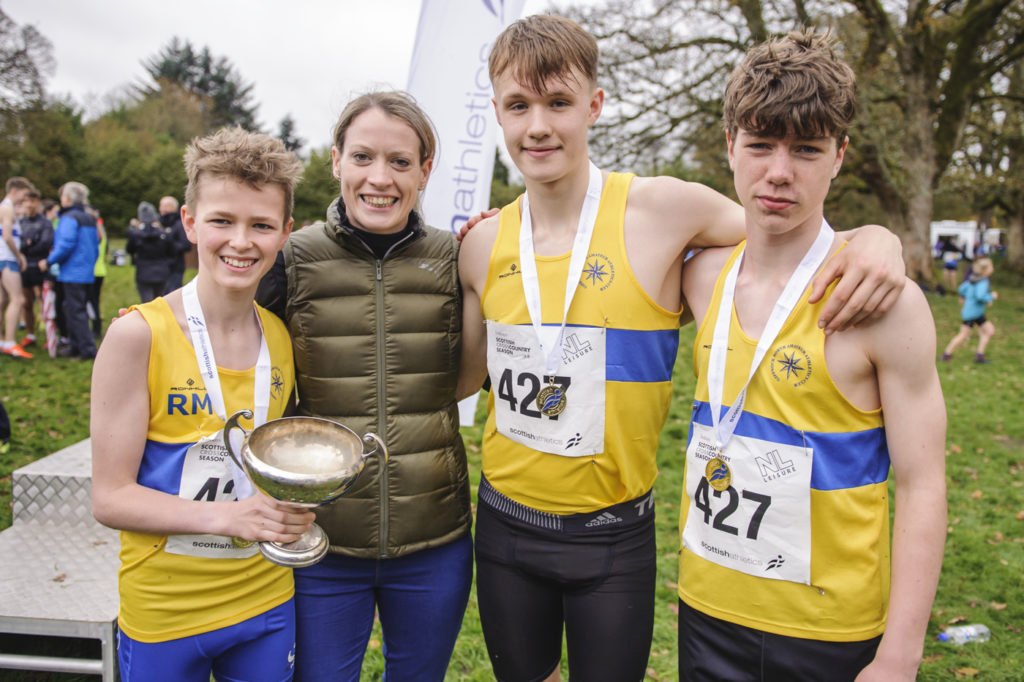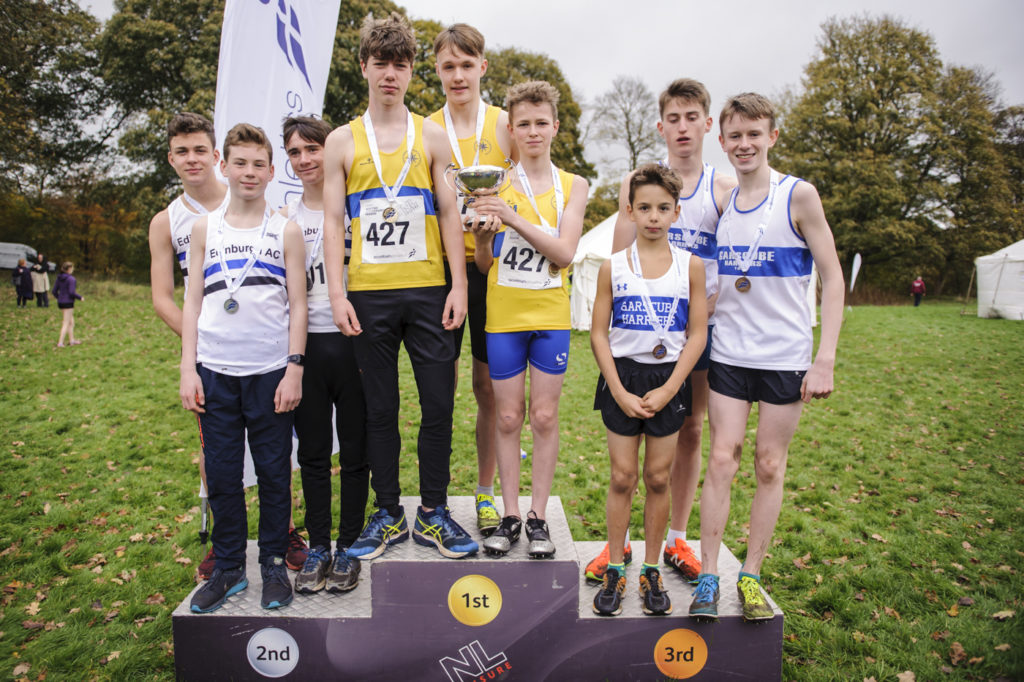 Results (provisional)
Individual Results – Scottish XC Relay Championships (Young Males)
Individual Results – Scottish XC Relay Championships (Young Females)
Team Results – Scottish XC Relay Championships (Young Males)
Team Results – Scottish XC Relay Championships (Young Females)
Tags: Cumbernauld, Edinbrugh AC, Eloise Walker, Fife AC, Garscube Harriers, Giffnock North AAC, Hamish Armitt, Lindsays XC Relays, VP-Glasgow