IPC Europeans: Scots strike gold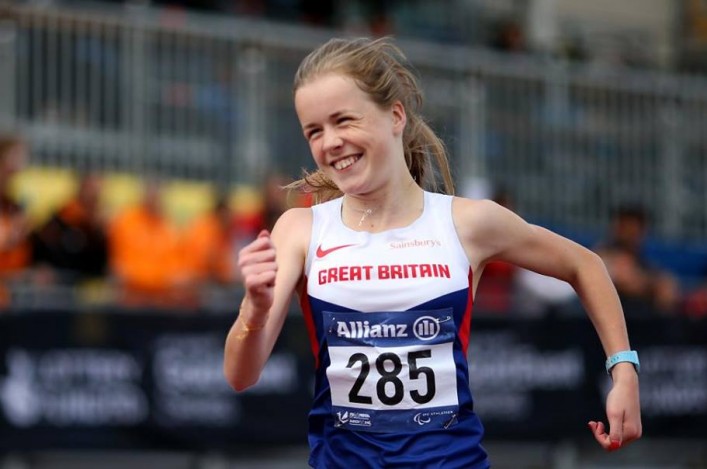 Scottish athletes grabbed the headlines for Team GB and NI at the IPC European Championships – with Swansea paved with gold.
And it was a quite remarkable first senior championships for teenage pair, Maria Lyle and Sammi Kinghorn, as they collected no fewer than five gold medals.
Then, with Jo Butterfield and Stef Reid also on form, that figure rose to an incredible seven golds!
Lyle at 14 was the youngest member of the Team GB and NI selection which was captained by Libby Clegg's guide runner, Mikail Huggins. Libby's withdrawal due to feeling unwell was the only disappointment of the week for the five-strong Scottish contingent.
Maria started her gold rush with her T35 100m victory on Wednesday and followed it up with 200m success on Thursday. Sammi for her part was Britain's first medallist early in the champs on Tuesday morning in the T53 100m and she made it a clean sweep by also winning in the 400m nd 800m.
So it really was a superb international debut for both girls.
Sammi, 18, said: 'I'm ecstatic, I just can't believe it. I came here just to do my best and see what happens and that what happens turned into three gold medals.
'It's been a crazy few days but I have tried to focus while still enjoying it and taking it all in.
'I might cry this time. The first two times I couldn't get my emotions up too high because I didn't want to carry that into my next races.
'I just wanted to stay focused and I've got three gold medals which is far more than I expected.'
Lyle showed maturity beyond her years as the 14-year-old blew the competition away in the T35 200m to claim gold and add to the 100m title she picked up in similar style yesterday.
The precocious talent from Dunbar never looked back as she led from start to finish in windy conditions to claim the sprint double crossing the line in impressive time of 31.05
Maria said: 'I'm really happy and I'm glad all the hard work paid off. I just want to thank everyone for helping me. I just need to keep training like I always do and working hard.
'I need to keep training and doing what I'm doing and hopefully I'll be selected to go to the World Championships. The support here has been really good and keeps me going. I was exhausted going for my celebration but I'm very pleased.'
Come Friday morning and thrower Jo Butterfield took the gold medal tally to six – and came up with a European record for good measure.
Jo won the F31/52 club throw event with 17.68m in her first attempt.
'It is pretty amazing as this is still new to me,' said Butterfield, who lives in Glasgow.
'To throw a European Record with my first throw I really did not expect. I spoke to the European Record holder (Cath O'Neill) beforehand and she asked me if I was going to break it! I'm just glad I've pulled it off.'
Stef was competing in the T44 long jump in Swansea on Friday afternoon and won it with a leap of 5.32m to win the European title by 4cm.
Tags: IPC European Champs, Jo Butterfield, Libby Clegg, Maria Lyle, Sammi Kinghorn, Stef Reid