IPC Europeans – Scots in action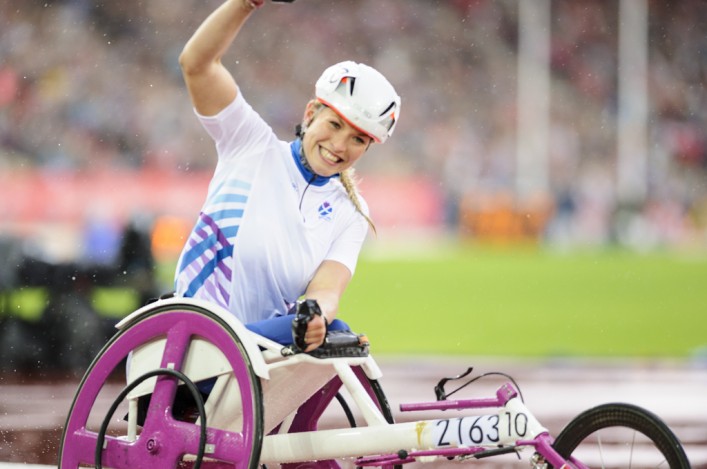 IPC European Championships; Swansea
Five Scots compete for Team GB and NI at the IPC European Championships in Swansea over the course of this week – including Commonwealth Games gold medallist Libby Clegg.
And, for four of them, a hectic schedule then culminates with appearances at the Diamond League Grand Prix event on Sunday in Birmingham.
The five Scots selected for the IPC event in Swansea are Libby Clegg, Stef Reid, Sammi Kinghorn, Jo Butterfield and Maria Lyle.
And there was a big honour for Libby's guide runner, Mikail Huggins, when he was named GB captain for the event.
For Kinghorn, Butterfield and Lyle, this week will mark their first senior appearances for GB while Dunbar teenager Maria is the youngest of the overall team at 14.
Sammi could be Britain's first medallist in the T51/5253 400m early on Tuesday morning and is action again later that day in the T52/53 100m.
Sandwiched between Sammi's races, Libby Clegg and guide runner Mikail Huggins take part in the T12 100m qualifying and shortly afterwards Stef Reid is in action in the T43/T44 100m.
Wednesday afternoon sees Maria making her senior debut in the T35 100m, hopefully followed quickly on the track by Libby in the T12 100m final. Libby is back out on Thursday morning in the T12 200m qualifying with the final later that afternoon followed by Maria Lyle in the T35 200m.
On Thursday evening,  Sammi completes her programme in the T52/T53 800m. Jo Butterfield makes her appearance in the F31/F32/F51 club throw on Friday morning and the last Scots competitor is Stef Reid on Friday afternoon in the F43/F44 long jump.
Television coverage is on More 4 daily and there is a live stream available on the Swansea 2014 website
The IPC Grand Prix final takes place on Sunday in Birmingham – with five Scots listed to take part.
These are: Libby Clegg over 100m, Stef Reid in long jump, Jo Butterfield in club throw and Sammi Kinghorn and Meggan Dawson Farrell in the wheelchair 1500m.
With thanks to Ian Mirfin for this preview
Tags: IPC Europeans, Jo Butterfield, Libby Clegg, Maria Lyle, Meggan Dawson-Farrell, Sammi Kinghorn, Stef Reid