Winner Guy leads Scots to nine British medals in Glasgow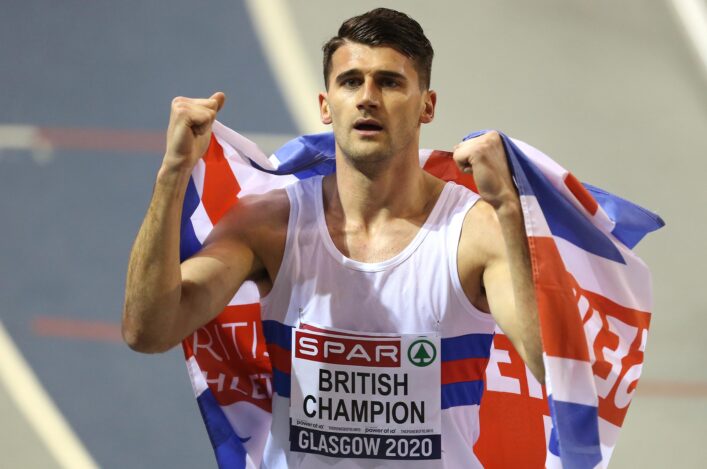 Photo via British Athletics/Getty Images
Guy Learmonth kept his nerve – and his balance – to land gold at the  SPAR British Champs in Glasgow as he led home a late Scottish medal rush at the Emirates Arena.
One year one from a dramatic fall on the same area of the track at the European Indoors, Guy hurdled a faller in the 800m final and then over-hauled Josh Kerr to win the title with an indoor PB run of 1:46.89.
It was one of seven Scottish medals on Sunday afternoon to follow on from a couple the previous day by Alisha Rees and Courtney MacGuire.
SILVER for David Smith with 2.24m in the High Jump
SILVER for Jenny Selman with a PB of 4:22.57 in the Women's 1500m
BRONZE for Andrew Murphy with a PB of 5.00m in the pole vault
BRONZE for Krishawn Aiken in the Men's 400m with a run of 48:00
BRONZE for Nikki Manson in the Women's High Jump with 1.84m
BRONZE for Philippa Millage in the Women's 800m (after a PB and British Masters Record in the heats)
Learmonth was thrilled to make amends for Glasgow 2019 – when he was GB captain and fell in the heats – in a race which saw Kerr have to settle for fourth.
'I said after everything that happened last year I had to do something in front of a Scottish crowd and I delivered,' said Guy.
'Every indoor race this year and I've been thinking 'don't fall, don't fall' and I really thought I was going to go.
'But I stayed on my feet and came through to win. Today isn't about times it's about winning and I'm delighted.'
The Women's 800m final was not as dramatic – but it was pretty special for Millage, as she took British Champs bronze at the age of 39.
Philippa, coached by Bill Parker, had clocked 2.05.70 on Saturday for a British Record for W35. Mhairi Hendry was fourth in that final.
'I am buzzing and I am really shocked to have taken the bronze,' said Philippa, who paced Jemma Reekie's World Indoor Series win in France last midweek.
'I felt pretty tired after running an indoor PB yesterday. As soon as the gun went I knew I needed to focus.
'Over the years people have told me I won't be able to get quicker and age is working against me. Age is only a number and I feel like I've still got a lot to give.'
Smith had to settle for silver at 2.24m as Tom Gale won the high jump at 2.27m.
'High jump is always bittersweet, 2.27m would have been a PB for me but I can't be angry with a 2.24m effort,' said David, with Lewis McGuire clearing 2.15m to equal his indoor PB.
'Coming out with no injuries is the main thing. A silver is a good start to the Olympic year so hopefully it's all go towards Tokyo. It's every athlete's dream to be there so let's see if I can make it happen.'
Nikki Manson took bronze in the Women's High Jump with her best clearance being 1.84m – as Bethan Partridge took the title.
'This is my fifth time coming third and I thought I could have produced a better performance,' said the Giffnock athlete.
'I was the favourite going in to today and I let the pressure get to me a little. I need to work on controlling my nerves, and focus on staying calm.
'I jump well when I'm relaxed and in control so I need to work on my performances a little going in to the outdoor season.'
Andrew Murphy, by contrast, was delighted with a third in the pole vault as he equalled his PB with a 5.00m leap after also going over 4.70m and 4.85m. Jax Thoirs unfortunately failed after coming in at 5.15m.
Murphy had set PBs the previous day in the shot at 14.18m and in the 60m Hurdles with 8.19 seconds (Scott Connal was just ahead of Murphy in that hurdles final in sixth place in 8.12).
Kilbarchan athlete Aiken has recently had Scottish eligibility confirmed and he took bronze in the Men's 400m final.
'It was a tough field and I've run some of the races of my life in almost every round,' he said, with Grant Plenderleith calling off from that race with a hamstring injury.
'I love indoor racing and to medal in the final shows I've done all I needed to do.'
Jenny Selman was thrilled to take silver – by one hundredth of a second – in the Women's 1500m.
Holly Archer won the race but Selman had to fight hard for first ever British medal and a PB of 4:22.57 gave her the verdict over Jacqueline Fairchild for silver. there was a PB for Eloise Walker in fifth.
'I'm really chuffed,' said the Fife AC athlete, who saw her club-mates win the National XC at Falkirk on Saturday.
'It's my first senior GB championship medal and I'm really pleased with that. It's the kind of race that suits me well, and I can work hard at the finish.'
Good to see two Scots make the Women's 200m final with Rebecca Matheson taking fourth place in 24.53 and Chloe Lambert in sixth in 25.22.
In the Women's Triple Jump, there was a fifth place for Zara Asante with Season's Best 12.41m with Carolyn Harvey in eighth at 11.94m.
And there were two Scots in the Men's 1500m final with Stephen Mackay taking fifth place with Michael Ferguson 10th.
*On Saturday there were further finalist performances by Scots:
Adam Thomas was fourth in the Men's 60m in 6.76
Adam Craig was fifth in the Men's 3000m in 8:12.82
Stephen Mackenzie was fifth in the Men's Long Jump with 7.50m
Sarah Warnock was fifth in the Women's long Jump with 6.19m

Tags: Andrew Murphy, David Smith, Emirates Arena, Guy Learmonth, Jenny Selman, Krishawn Aiken, Nikki Manson, Philippa Millage, SPAR British Champs