GP features Jo's European record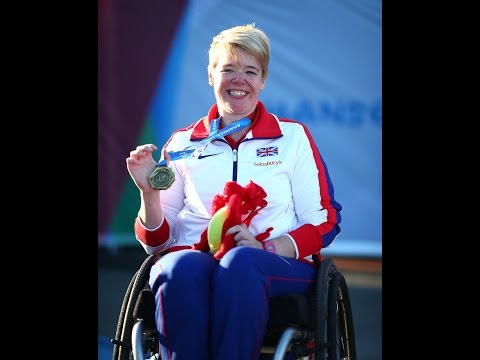 Jo Butterfield – F51 club throw European Record at the weekend
GP Results from Livingston April 11/12
The first scottishathletics Throws and Jumps Grand Prix proved a big success over two days at Livingston.
Para athlete Jo Butterfield was thrilled when seated throws were included in the programme – and duly came up with a European Record at Craigswood on Sunday with a F51 club throw beyond 20m!
It was one of a clutch of fine performances at an event which drew a large number of entries on the throws with scottishathletics seeking to raise both participation numbers and standards wherever possible.
As always on these occasion, help from scottishathletics officials proved invaluable on Saturday and Sunday and similar co-operation and assistance will be required for the next Grand Prix in June.
We've calculated that there were 75 PBs at Livingston over the weekend with around 200 entries received from 130 athletes – so many thanks to all athletes, coaches, clubs and parents for this great support.
Butterfield's performance was certainly the highlight with the Glasgow-based athlete throwing to 20.03m for a first European effort beyond the 20m mark.
Jo later said on scottishathletics social media: 'I am so glad you included seated throws at the Livingston Grand Prix. It was a great event in the lovely Scottish weather! Crossing the 20m mark for the first time was pretty special.'
Among the other performances to note were:
*George Evans 17.65m in the shot for a Commonwealth Youth Games qualifier are reaching the discuss distance at the Pitreavie AAC Club Champs on Friday
*Paula Gass threw 43.86m in the Women's Javelin and it was good to see 35 entrants here
*U13 athlete Haley Berry was at 9.08m in the shot, to take her to the top of the British rankings in that age group
Unfortunately, weather conditions made it tough in the jumps and we're looking for more entries on that side of things for the forthcoming Grand Prix events.
Enter for June 6 and 7 back at Livingston
Details on the full Grand Prix series
Chris Bennett didn't compete at the weekend but he was a star turn in his role as an announcer!
Athletes were asked if they wanted their own music selection to greet them at Craigswood and we've already had good feedback.
Parent Diane Gracie said: 'We'd like to take this opportunity to thank you (Mary Anderson) and all the scottishathletics staff who made Saturday's Grand prix at Craigswood so memorable.  We loved the 'ringing of the bell' when an athlete achieved a PB and playing their favourite music track – fantastic.
'It was such a friendly day and it  was great to see the coaches helping all athletes, not just the ones in their own club.  We are looking forward to seeing everyone again on Saturday 6 June.'
Thanks, Diane, for these kind sentiments and to Chris and the staff at Craigswood for their help.
Tags: Field Events Grand Prix, George Evans, Jo Butterfield, Livingston