Glasgow 2014: Day Six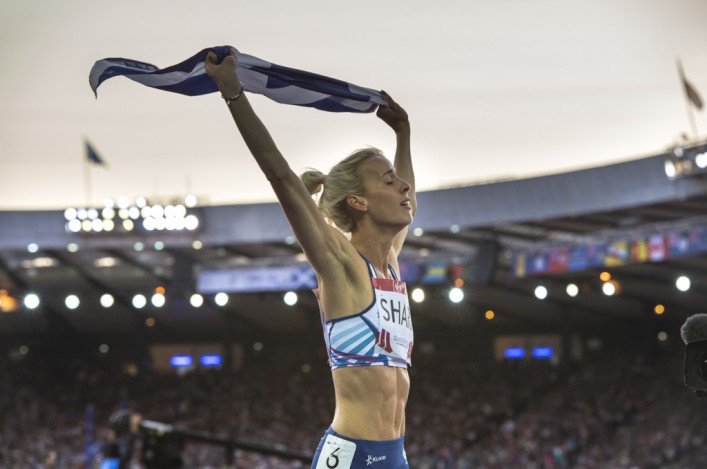 Superb silver for Lynsey and Jax is fourth
Lynsey Sharp went from the hospital to the podium in little more than 12 hours on an unbelievable Hampden night.
The European champion claimed 800m silver in the Commonwealth Games with a brilliant late surge to pip Uganda's Winnie Nanyondo.
It came only hours after she had felt sick and attended hospital in Glasgow with Team Scotland head coach, Stephen Maguire.
Now Scotland have four track and field medals – the best haul since the 1990 Games in Auckland – and the men's 4 x 400m team also eclipsed a National Record at Hampden.  Jax Thoirs came close to a pole vault medal but had to settle for fourth place and a Native Record at 5.45m.
'It does not feel real,' said Lynsey, who clocked 2.01.34 behind winner, World champion Eunice Sum.
'The past year has been a nightmare for me with injuries and illnesses and I wasn't at all well through then night. But I just came down to me having one shot at it – for two minutes. And I've made it onto the podium for a silver medal.'
Scotland's 4 x 400m were Hampden heroes, as well, as they claimed a National Record which had stood for 24 years and reached the final on Saturday.
The quartet of Kris Robertson, Jamie Bowie, Greg Louden and Grant Plenderleith took third place just behind England and Jamaica with a great run of 3.03.94.
That was a Native Record and a National Record with the latter having been set in Auckland in 1990 when Scotland won Commonwealth silver with the likes of Tom McKean and Brian Whittle in the team.
Jamie said: 'The guys who held this record won silver medals in Auckland 24 years ago. So it means a lot to take that and it is more than two seconds quicker than we did to qualify – so that shows how we are stepping up.
'We'd England and Jamaica but actually that was helpful. Now we are in a final and just have to run our very best and see if something happens which we can capitalise on.'
The Women's 4 x400m team set a Native Record but agonisingly were squeezed out of the final which would have afforded Eilidh Child another Hampden appearance.
Kirsten McAslan, Diane Ramsay, Gemma Nicol and Zoey Clark ran 3.03.94 – to improve on the previous Native Record of 3.09.09 set back in 2001.
Aberdeen youngster Zoey Clark said :  'That was an unbelievable experience. To hear people roaring like that for you spurs you on. If we've managed a Native Record then that is great because we are a young team and hopefully there is something there for the future.'
In that pole vault final, Thoirs cleared 5.45 and went close to 5.55 – with only two Englishmen making it over that height.
Thoirs said: 'It was cruel, probably the worst way to end. But it was amazing out there. I was worried whether the crowd was going to help or hinder me but it helped me. I just got unlucky at the end. I was going for the win so I'm disappointed but what an experience.'
Unfortunately, Gregor MacLean had to withdraw injured and is now awaiting an MRI scan on an injury.
In the men's 10,000m, Andrew Lemoncello was best-placed of the three Scots with his 12th place finish at 28.36.63 for a Season's Best. There was a PB for Luke Caldwell at 14th with 28.47.39 and Callum Hawkins finished 20th 29.12.52.   .
Kirsty Law finished 11th in the discus final with 52.33;  Jayne Nisbet finished 10th equal with her best clearance 1.78 in the high jump final and Stephen Lisgo was 8th in the 3000m steeplechase final in 9.05.13.
In the 1500m heats, there was progress for Chris O'Hare but Jake Wightman and David Bishop missed out on final places.
Chris ran 3.40.80 and said: 'It is good to get through. I want to have fun in the final. Of course it will be hard work but if I can't enjoy this kind of thing with that crowd then what will you enjoy? Sometimes when you are a 'professional' you forget about these things but I just loved seeing the smiles on people's faces out there. I'm looking forward to Saturday.'
James Campbell went out in javelin qualifying with a Season's Best of 70.78m.
*Hampden pictures by Bobby Gavin
Tags: Andrew Lemoncello, Callum Hawkins, Glasgow 2014, Grant Plenderleith, Greg Louden, Jamie Bowie, Jax Thoirs, Jayne Nisbet, Kirsty Law, Kris Robertson, Luke Caldwell, Lynsey Sharp, Stephen Lisgo