Wonderful Euro Cross victory for Megan as Scots deliver solid performances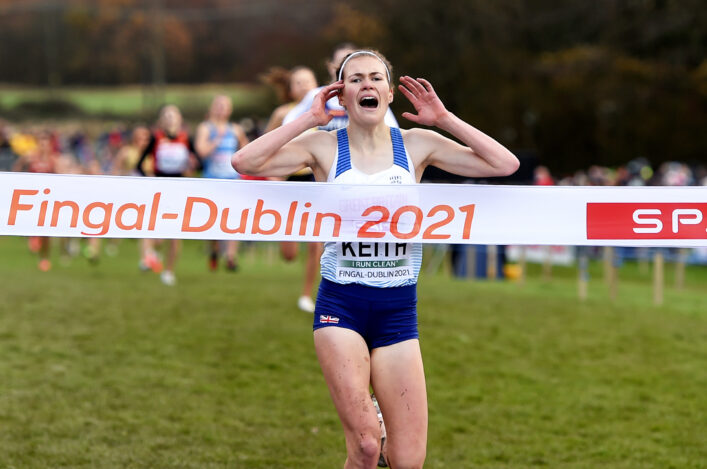 Megan Keith savours the winning feeling as she crosses the finish line at the Euro Cross in Ireland (photo by Mark Shearman)
Megan Keith blew the opposition away to become European Champion in Dublin with a stunning victory in the U20 Women's race.
The Inverness Harriers athlete who has moved to Edinburgh Uni Hare and Hounds pulled off a tactical masterclass along with the help of her coach, Ross Cairns, and the British team staff.
It was a fabulous win on a really good day for the seven-strong Scottish cohort wearing GB and NI vests in Ireland.
Four of the seven athletes collected team medals with Hamish Armitt enjoying a top ten finish in 10th in the U20 Men's race.
Aware of potentially faster finishes, Megan made sure she made much of the early pace and then smartly applied pressure at key moments later in the race – with her pre-event feat having been that 4k may have been a little short for her strengths.
It was a marvellous moment for athletics in Scotland, and particularly in the North, and none other than Olympic medallist Laura Muir led the chorus of congratulations across our social media channels – with Liz McColgan and Jenny Meadows joining in.
British Athletics website round-up
'To be honest I don't know what happened out there,' said Megan, whose performance led GB and NI to bronze team medals as she won by three seconds in 13:41 over 4k from Norwegian Ingeborg Ostgard.
'I was leading when I didn't necessarily want to lead it. I knew I had a massive group behind me so I never thought I would win it.
'The best I hoped for was top five and coming away with a team medal – winning wasn't in the game plan.
'It was amazing when I crossed the line. I don't think I've ever run so quickly to a finish line in my life. Now was the time to do it!'
Many congratulations to Megan and her family, coach Ross Cairns and all at Inverness Harriers who helped in her development over the years as well as those in orienteering and at Edinburgh Uni Hare and Hounds.
+++
In the Senior Men's race, Andy Butchart was 23rd with Jamie Crowe (24th) and Stuart McCallum (27th) enjoying solid performances on their debuts at this level. The British team finished sixth.
'No part of the course was easy, but I loved every bit of it and the crowd was amazing.' said Crowe.
'You went through the woods and it was quiet then you'd come out and hear this roar. It was pretty special, it's the best atmosphere I've ever heard in a race.
'I was focusing on the team aspect. I was just outside top 20 so I'm really happy with that. I'm a little disappointed as a team we didn't finish higher but that was a tough field.'
Butchart said: 'That was hard work today. My legs felt good but they perhaps weren't good enough today. So I'm a bit disappointed.
'In this sort of race, you have to put yourself at the front. You can't start at the back and come through against these top guys. You've got to put yourself at the front and in contention. That's all you can do.
'It didn't end up as I would have liked today but we move on to the next one.'
+++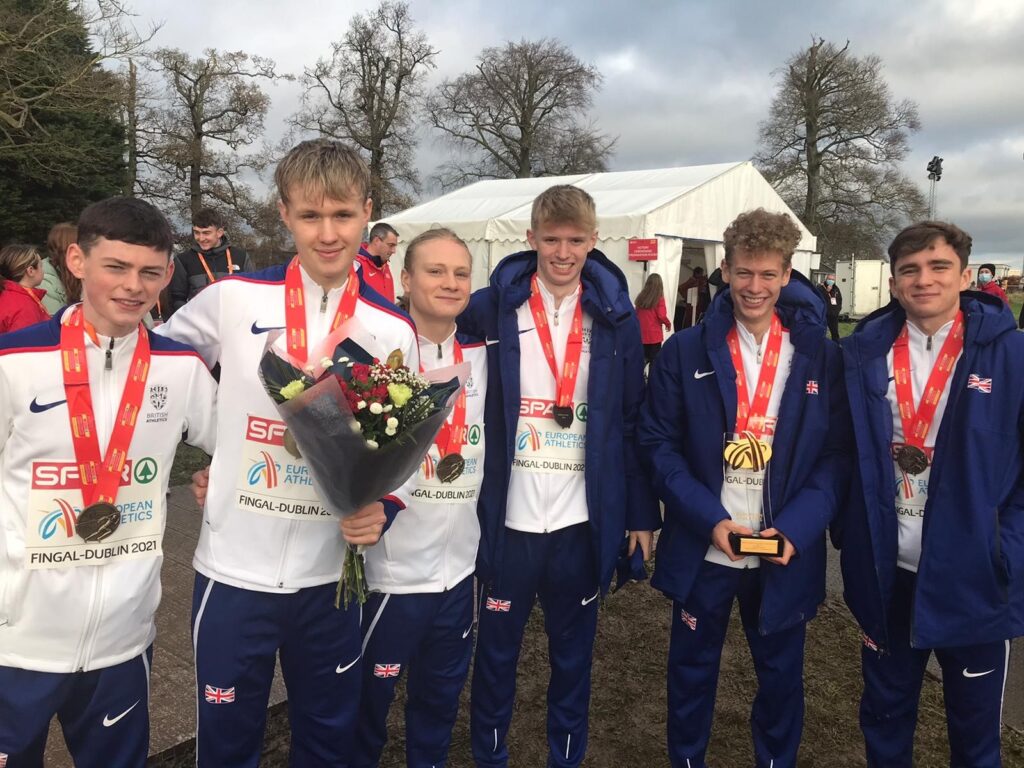 The U20 Men's team celebrate team golds in Dublin
Hamish Armitt timed his run superbly for a top ten finish as the GB and NI men took team gold.
The Giffnock North athlete worked his way through the field after a sensible start and he was placed 10th as the second counter – with the team points very tight indeed as GB won from    .
Kilbarchan AAC's Lewis Hannigan was 65th in that race and landed a medal as part of the team of six athletes selected.
'I tried to go out quite controlled so I had enough for the last lap,' said Hamish
'I'm happy with 10th after a tough race. I was injured all summer and didn't get back until September time so I'm really pleased with the result.'
In the U23 Women's race, there was a top 20 place for Eloise Walker of Edinburgh AC/Glasgow Uni as she finished in 19th place. Eloise was the fourth counter in the GB team.
Tags: Andy Butchart, Dublin, Eloise Walker, Euro Cross, Hamish Armitt, Jamie Crowe, Lewis Hannigan, Megan Keith, Stuart McCallum