Enter now for Short Course XC at Bellahouston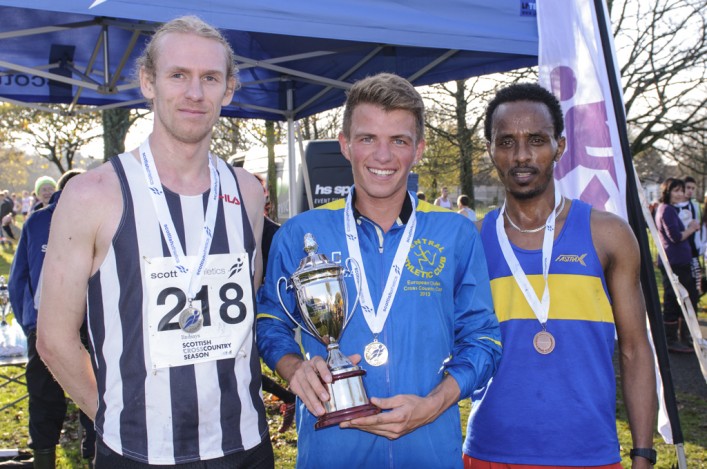 Andrew Butchart saw off Dan Mulhare and Tewolde Mengisteab last year at Bellahouston – (photo by Bobby Gavin)
The National Short Course Championships are coming up at Bellahouston on November 7 – and the time is right now to submit entries to scottishathletics.
It is part of the Lindsays Cross Country Series and will also be the final race in the Short Course XC Team Challenge following the District and National Relays.
This event has been growing in popularity in recent years, with U15 and U17 races added to the programme, and this year it will take place on a Saturday at the Bellahouston park venue on the south side of Glasgow.
And there also an innovation for 2015 as the Women's team event will be 'four to score' – the same as the men's – as we seek to encourage clubs to try and deliver more depth in terms of teams. In the Junior races, it is 'three to score'.
We are looking for entries via the forms on the dedicated page on our Events section by post by Tuesday 27 October or (even better) use the form and send it by email to events@scottishathletics.org.uk
Short Course XC Team Challenge
Andrew Butchart and Rhona Auckland were gold medallists last year in the 4k races for the Senior Men and Senior Women among the individuals. The U17s race over 3k and the U15s race over 2k.
It is also remarkable to think that Laura Muir, who was just starting out her winter season after her post-Commonwealth Games break, finished third that day with Auckland and Maddie Murray certainly entitled to feel pleased with their performances.
Just looking back at the event last November, it is also worth noting Josh Kerr was another gold medallist that day with Butchart, Auckland and Kerr all having thereafter enjoyed success in 2015 – when all three claimed European medals. Laura Stark, the U17 Women's winner, recently won Home International gold in hill running.
To maintain the theme: at U20 level, Euan Gillham won the title and went on to wear a GB vest at Edinburgh XC while Central AC's Kathryn Gillespie was the U20 female champion – and was fifth at the Euro U20s for GB over 1500m during the summer.
So the fundamental worth of cross country is clear during the winter and we'd love to see a big entry for Bellahouston with athletes, clubs, coaches and parents helping to make a commitment to National events. Competition, after all, is what you train for  . . .
Who won what in 2014 in Senior races
Tags: