ENTER NOW for Scottish Seniors Champs/U17s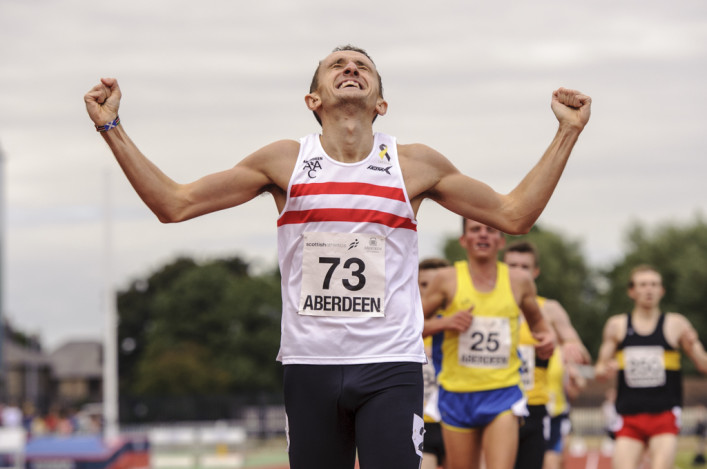 Local hero: Myles Edwards celebrates 1500m gold in Aberdeen last year (photo by Bobby Gavin)
Grangemouth is the place to be on the weekend of Aguust 13/14 for the Scottish Senior Champs  – with National titles, medals and final places up for grabs.
The U17 Champs are part of the programme that weekend and entries for both events are open until the July 24 closing date.
It should be the highlight of the season and we're pleased to see the likes of Scotland's three best female hammer throwers – Susan McKelvie, Rachel Hunter and Myra Perkins – already having put their names forward to enter.
Olympian Freya Ross will take to the track for a 5000m race that weekend and other names submitted already include Ben Greenwood, Greg Louden, Mhairi Hendry, Jemma Reekie, Stef Reid, Maria Lyle, Sarah Inglis, Heather Paton, Euan Gillham, Ryan Thomson and Annabel Simpson.
scottishathletics are delighted to have an agreement in principle with Vinco Sport (RunJumpThrow.com) to show the action from Grangemouth on August 13/14.
As an added bonus, that means the U17 Age Group Champs, which also take place that weekend, will have their events shown on the stream.
Kilmarnock two years ago was the first time that scottishathletics delivered a live stream and that was repeated at Aberdeen for the 2015 Seniors event.
Entries remain open until July 24 so why not follow the online link to the Events section and get your entry in now.
Please note that False Start Equipment will be in use at the Senior Championships for all Senior Sprint Events. (100m; 100mH; 110mH; 200m; 400m and 400mH).
This will mean the mandatory use of Stadium Starting blocks for all athletes in these events and will also allow the publication of reaction times for all athletes in these events.
*Following a successful trial at the Indoor Season, the U17 Champs are now part of the programme with the Scottish Seniors and Para event on August 13/14. There is online entry for the U17s via the specific page on the Events section.
+++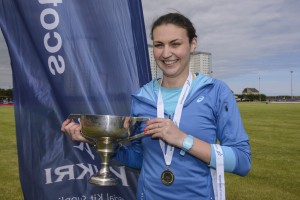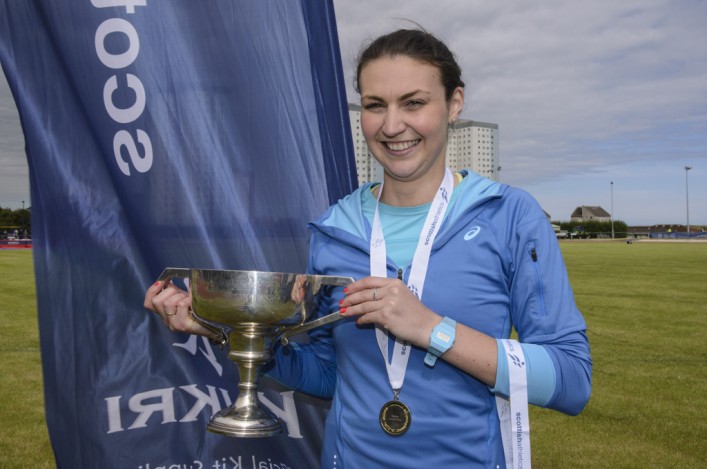 Sarah Warnock's long jump win last year helped Edinburgh AC to Seniors Inter-Club title
INTER-CLUB CHAMPIONSHIP
There's also an inter-clubs championship element to the Age Group Champs across the four age brackets.
Appearances for your club means points for an overall score for your club at U20, U17, U15 and U13 level and also in each of the event groups like endurance, jumps, throws and sprints.
Back in 2015, VP-Glasgow took the overall U20 title with Edinburgh AC, who won the Senior Club Champs, topping the table for both the U17 and U15 age groups. At U13 level, there was a 2015 win for Pitreavie AAC.
Check out the story on last year's club championship tables online
So that's why it is important to enter for the Age Groups at Grangemouth in August and then seek to deliver your best performance in order to help your club.
Remember, Competition – It's What You Train For
Tags: Grangemouth, Myra Perkins, Rachel Hunter, Scottish Senior Champs, Susan McKelvie, U17 Champs