Eilish claims Scottish Record and Laura is fifth in Doha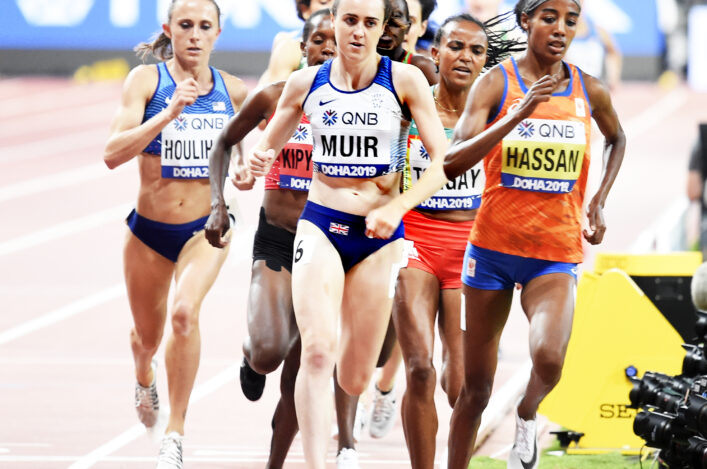 Photo from Mark Shearman in Doha
Eilish McColgan set a new Scottish Women's 5000m Record at the IAAF World Champs – as Laura Muir went close to her own British Record for fifth in the 1500m.
It was a Saturday night of real drama on the track in Doha with the two Scots from Dundee Hawkhill Harriers in action.
Laura featured in a quite astonishing 1500m final which was won in a Championship Record from Sifan Hassan as the Dutch athlete added to her 10,000m gold.
There were Kenyan, American and Canadian records in the top six, too, with Laura timed at 3.55.76 – not far adrift of her own PB (3.55.22).
Eilish for her part was 10th in the Women's 5000m with a run of  14.46.17 which lowered her own Scottish Record.
'I was fifth!,' said Laura, with Faith Kipyegon taking the silver and Gudaf Tsegay the bronze.
'Fifth with 3:55!! I couldn't do any more than that!
'I'm actually really, really happy, I know it's not a medal which is what I would have wanted but to run 3:55… and to be fifth – well that's unheard of! I am proud of myself to run that sort of time off the training that I have done.
'I never thought I was in that sort of shape. So yes to do that off that training gives me confidence to know that when 100%… well how fast can I go?
'A couple of months ago I didn't know if I was going to be here, I didn't know if I was going to get to the final. So to run 3:55 with three races in my legs, well I'm speechless that that's not on the podium. But I couldn't have done anything more, I ran my heart out.'
Eilish finished 10th in 14.46.17 in what was a highly competitive 5000m race – with GB and NI team-mate Laura Weightman taking seventh place. Kenya's Hellen Obiri won the gold.
'I had it in my mind that I wanted to run low 14:40s or just sneak under,' said Eilish.
'I have had Jo Pavey's time of 14:39.9 in the back of my mind and I knew from training that I was in great shape but it is not easy going out and setting the pace for everyone.
'I knew that I wanted a quick race and in order for me to run a PB I was going to have to take it on. Obviously it is a little daunting going to the front at a world champs because you are just a sitting duck, waiting for Obiri and that to come past.
'I am a little disappointed because I feel there is more there and I am in much better shape than when I ran 47s, so to just run 46, I am like 'urgh' but it is still a PB and a Scottish record, my own record, but a little bit frustrating. I would have liked to have pushed into that top eight.'
+++
Zoey Clark was on the first leg to help GB and NI Women into the final of the Women's 4x400m relay.
'In the heats the aim is always to qualify and we always wait until the start lists come out so we know how much of a difficult task we have,' said Zoey.
'We always say we want to put our best team forward but we also want to save some for the final. It just about having the team we believe can qualify in those automatic positions.'
Tags: Doha, Eilish McColgan, IAAF World Championships, Laura Muir, Zoey Clark