Eight Scots selected for World Para Champs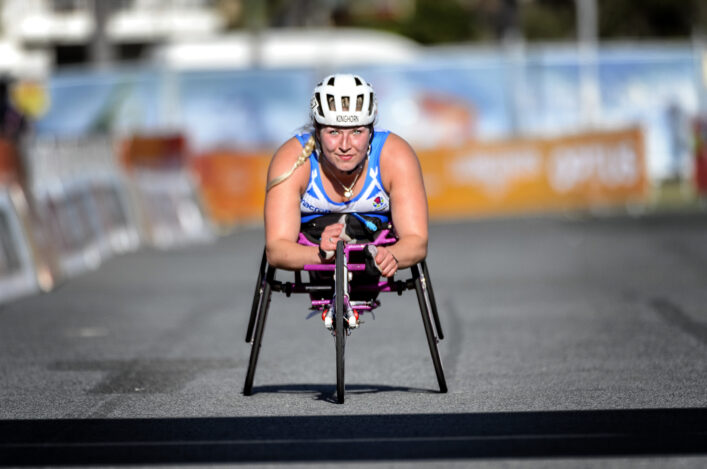 Team announcement on British Athletics website
Eight Scottish athletes are heading for Dubai, after selection for the GB&NI squad at the World Para Athletics Champs in November.
It's a strong showing from the Scots, that list of eight names an increase from the London 2017 World Para Champs where four Scottish athletes made the selection – the addition of RaceRunning to the competition for the first time a welcome development, which has helped to swell those numbers.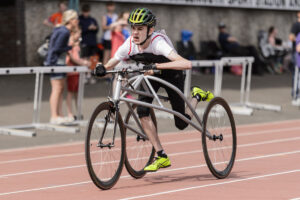 On the track, Sammi Kinghorn will defend her T53 100m title, attained in London, and also makes the Universal 4x100m relay squad. RaceRunners Kayleigh Haggo and Gavin Drysdale (pictured) will compete in the RR3 100m. Maria Lyle will line up in the T35 100m and 200m, while Libby Clegg returns to competition following the birth of her son, selected for both the T11 200m and the Universal 4x100m relay. There's great news for Owen Miller, who is selected for the T20 1500m after his performance at the Manchester International.
In the field, Stef Reid will defend her 2017 title in the T64 Long Jump, while Jo Butterfield competes in the F51 Club Throw.
There's good news also for Ben Rowlings, who – while not Scottish for competition purposes –  lives in Stirling and trains with Red Star AC – he's selected for the T34 100m, 400m and 800m.
CEO of scottishathletics, Mark Munro, said: "It's superb to see so many of our Para athletes gaining selection for the World Championships, and they can be rightly proud. I know this achievement comes after a huge amount of hard work, not only by the athletes, but also their coaches, families and supporters.
"Knowing how much effort the Scottish RaceRunning community has put into moving this discipline onto the world stage makes it particularly pleasing to see Kayleigh and Gavin selected for their first World Champs. And of course we know they will have in their minds the late Janice Eaglesham, who coached them and did so much for RaceRunning and Scottish Para sport in general.
"Seeing Sammi, Jo, Stef and Maria return to the World Champs after competing in London is a sign of their ongoing determination and commitment, and it's great to have Libby back on the track and running at elite level once again. I'm delighted to see Owen step up to compete at this level, a deserved selection after a fine run at the Manchester International. Congratulations to all the athletes, and we look forward to watching them compete in Dubai."
The selections in full:
Jo Butterfield (Phil Peat / Shona Malcolm; Forth Flyers) – F51 Club Throw
Libby Clegg (Joe McDonnell; Charnwood) [Guide Runner: Thomas Somers (Benke Blomkvist; Newham & Essex Beagles)] – T11 200m & Universal 4x100m relay
Kayleigh Haggo (Ian Mirfin; Red Star) – RR3 100m
Sammi Kinghorn (Ian Mirfin; Red Star) – T53 100m & Universal 4x100m relay
Maria Lyle (Jamie Bowie; Team East Lothian) – T35 100m & 200m
Stef Reid (Aston Moore; Charnwood) – T64 Long Jump
Gavin Drysdale (Ian Mirfin; Red Star) – RR3 100m
Owen Miller (Steven Doig; Fife) – T20 1500m
WATCH – our interview playlist from the IPC World Champs London 2017, featuring Stef Reid, Sammi Kinghorn, Maria Lyle
Tags: Dubai 2019, World Para Athletics Champs, World Para Champs