Costello lands U15 Javelin Record
Kirsty Costello in action in the hammer at the #SALAgeGroups the week prior to Bedford
RESULTS England Athletics U15/U17 
A number of young Scottish athletes headed to Bedford over the weekend for the England Athletics champs at U17/U15.
The outstanding performance was by Kilbarchan AAC thrower, Kirsty Costello, as she once again came up with a Scottish U15 Record, subject ot the usual ratification processes.
Costello, who is coached by Jim Green, took U15 gold in the hammer with a throw of 57.11 that is just short of her 57.83 PB from the Celtic Games which is pending confirmation as a Scottish Record.
But she topped that in the javelin with a throw out to 43.70m for a PB by some 5m and beyond Keira Waddell's mark of 41.93 from last year which had stood as Scottish U15 Record. It also gave Kirsty a double gold moment in Bedford.
There was also a fine silver medal in the U17 200m final for Adam Clayton of Giffnock North AAC. Adam clocked 21.66 and that takes the Scottish U17 Record holder at 100m to third place on the all-time list for U17 at 200m.
Adam wasn't the only Giffnock medallist – as Murray Fotheringham took silver in the U15 long jump with 6.23m and Reuben Nairne silver in the U15 pole vault at 3.51m.
Picking up a silver in the field was U15 triple jumper Ellie O'Hara of Edinburgh AC. The young Scot, who is coached by Linda Nicholson, reached 10.95 as Eleanor Brown (City of Norwich) won with 11.16.
And there was another silver in the field for Nicole Proudfoot (Annan and District) in the U15 long jump with 5.27m. Annan and District had another medallist in Danny Gracie – and it was a double as he took U15 hammer silver and U15 discus bronze.
On the track, Lewis Dowd (Central AC) gained silver in the U15 1500m, while Lewis Pentecost (Falkirk Victoria Harriers) picked up bronze in the U17 1500m steeplechase in a PB of 4.24, which is also a UK top ten time and ranks Lewis 5th in Britain.
There was a fourth place in the U17 800m final for Olivia Vareille (Falkirk Victoria Harriers) with a PB run of 2.09.51.
Among others to make finals were Briagha Cook (Central AC) and Jade Henry (VP-Glasgow) in the U15 and U17 sprint hurdles and Katie Foss (Law and District) in the 300m.
Henry had won the Scottish U17 sprint hurdles title on Saturday at Grangemouth and then set a new PB in the final at Bedford the following day.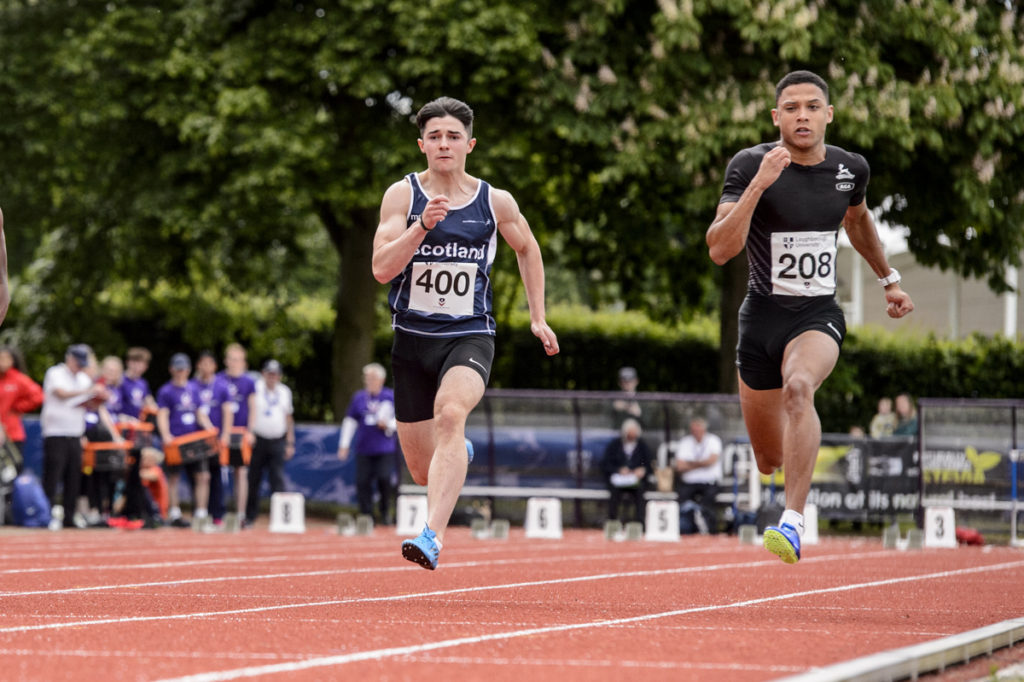 Adam Clayton – pictured here at Loughborough – had a superb 200m run at Bedford for silver
*In the integrated Para events at Bedford, there were some strong performances by Scottish athletes:
Abbie McNally (T37 -Inverness Harriers) Long Jump silver, 100m 4th and 200m 3rd (PB); Kyle Brotherton (T54 -Red Star AC) 2nd in 1500m, 3rd in 100m and 4th in 200m/400m; Shauna Bocquet (T54 – Craughwell AC/Red Star AC) 1st over girls 100m/200m/400m/1500m
With thanks to Ian Mirfin
Tags: Adam Clayton, Bedford, England Athletics U15/U17 Champs, Kirsty Costello