CLUBS: ENTER NOW for Lindsays Short Course XC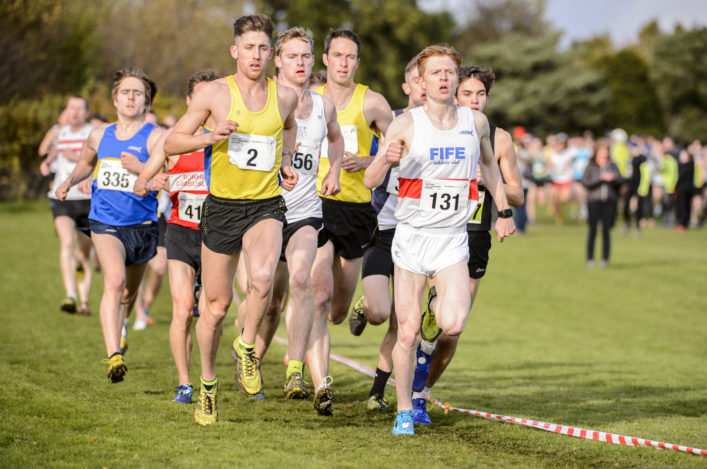 Action from the Men's 4K race at Kirkcaldy last November (photo by Bobby Gavin)
Cumbernauld is coming up fast on the Lindsays Cross Country Season calendar and we've already highlighted a huge response from clubs in terms of athletes entered.
Now we're reminding clubs they should be looking ahead two weeks beyond the Lindsays National XC Relays to the Lindsays Short Course Champs on Saturday 10 November.
The old racecourse at Lanark Equestrian Centre is a new venue on the roster for 2018 with Law and District AAC our hosts on November 10.
And we are asking clubs to enter names now as we seek to put together the six races that day which complete an exciting national championship event.
PLEASE EMAIL now for entry from  events@scottishathletics.org.uk
As usual, the Lindsays Short Course Champs will feature races at Seniors/Juniors level for men and women as well both U17 and U15 races at shorter distances. Males and female athletes in all age categories run the same distance.
Medals are up for grabs for individuals and for teams and last year witnessed some great cross country action at Kirkcaldy.  Renfrew was also a recent venue but in keeping with a policy to rotate certain events (when appropriate) we're delighted to be headed for Lanark.
It's happening on Saturday 10 November but we need names submitted to scottishathletics via the entry form by midnight on THURSDAY 25 OCTOBER, please.
WATCH – Laura Muir wins Women's 4K race at Lindsays Short Course XC in 2017.
Race Programme
12 noon: U15 Girls 2K
12.15pm: U15 Boys 2K
12.30pm: U17 Women 3K
12.50pm: U17 Men 3K
13.10pm: Sen/Jun Women 4K
13.35pm: Sen/Jun Men 4K
Declarations close 30 minutes before each race
Tags: Lanark, Law and District AAC, Lindsays Cross Country Season, Lindsays Short Course XC