Celtic Games review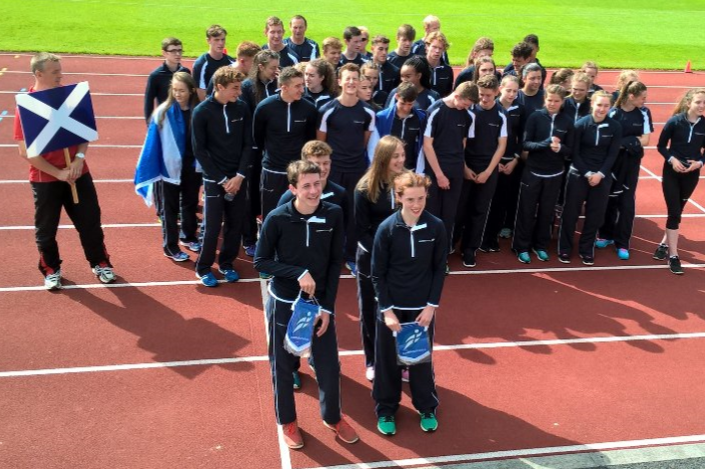 Scotland teams at Swansea (photo via Twitter)
Scotland finished second overall in the Celtic Games at U18 and U16 level in Swansea in the annual match with Ireland and Wales.
There were 15 PB performances, a Scottish U15 record and two Celtic Games records as well as a trophy win for the Scotland U18 Women in their category.
And, once again, this development event proved a good exercise for the teenagers who travelled with many proving their ability to rise to the occasion as Scots took 15 event wins within the overall fixture (with one of those an invitation relay).
Athletics Ireland enjoyed overall success and indeed won six of the eight categories.
Congratulations to all the young Scots who represented their country and the to the coaches, parents and clubs who  are helping with their development.
Pride of place probably falls to three female athletes who have been having excellent seasons in track and field – Keira Waddell, Alisha Rees and Holly McArthur.
Chirnside Chasers thrower Waddell has impressed in the javelin and she came up with another PB in Swansea as 41.93m gave her a Scottish National U15 Record (pending the usual ratification process) and second place on the day.
European Youths medallist Rees was one of the Scotland captains in Wales and delivered again with wins at 100m and 200m – with her shorter sprint run believed to be a Celtic Games record.
And McArthur posted wins in both the long jump and the 400m Hurdles with the later believed to be a Celtic Games record at 61.26 seconds.
Scottish Event winners:
U18 Men: Greg Kelly 100m; Jamie McKinnon 3000m steeplechase; Taylor Roy 110 Hurdles; Declan Gall 400m Hurdles; Craig Moriarty pole vault.
U16 Men: Stephen McKenzie high jump.
U18 Women: Alisha Rees 100m, 200m; Kate Gallagher 3000m; Holly McArthur Long Jump, 400m Hurdles; Finlay Marriott 100 Hurdles.
U16 Mixed Relay team.
Invitation events: U18 Men John Maclennan 100m; Cal McLennan 400m. U18 Women Catriona Lang 400m.
*Thanks to Leslie Roy, Mark Pollard and Julie Mollison for their efforts with the team over the weekend.
Tags: Alisha Rees, Celtic Games, Holly McArthur, Keira Waddell, Scotland