CE Records fall in Aberdeen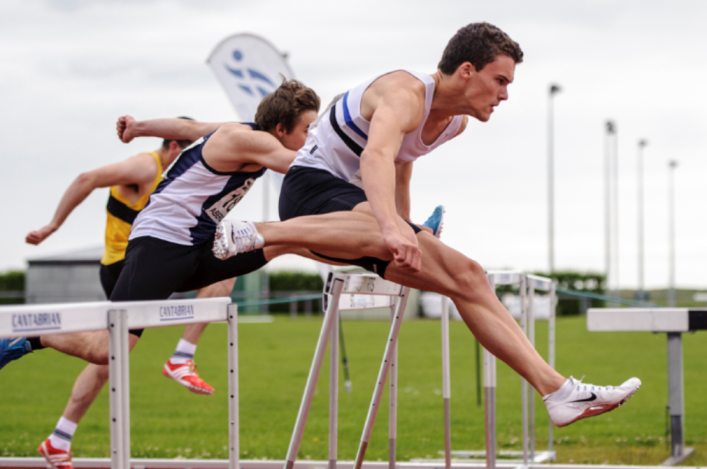 Howard Bell on his way to Scottish U20 Decathlon Record at Aberdeen (photo by Bobby Gavin)
Link to our Live Results section
Aberdeen Sports Village played host to three different Scottish Championship events over the weekend as it staged Combined Events, Masters and Relays.
And it was great to see two Scottish National age group records broken in CE as two athletes from the Whitemoss CE Group delivered the outstanding performances of the weekend.
Whitemoss AAC athlete Holly McArthur won U17 heptathlon gold and in doing so took the National Record with a score of 5051 points. Howard Bell of Edinburgh AC took the U20 Men's decathlon title with a Record of 6623.
McArthur, fresh from breaking the Scottish U17 400m H record two weekends ago, demolished Aileen Wilson's Heptathlon record of 4630, which had been set back in 1999. Holly did so by a massive 421 points to set a new score of 5051.
Aberdeen AAC athlete Alex Still, in second place, came close to the old record, with a score of 4583.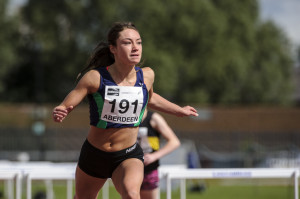 Holly McArthur – broke Heptathlon U17 Record which had stood for 17 years
Bell had an inspired weekend, setting numerous PBs on his way to a total of 6623 in the U20 Decathlon, to surpass the score of 6547 set by Michael Downie in 2011. The pick of Howard's PBs was a 7.13m long jump performance.
The most keenly-contested age group was the U17 men where Joel McFarlane (Arbroath and District) and Scott Connal (Whitemoss AAC) competed neck and neck during the first eight events, before a superb javelin throw of 46.47m pulled Joel into an unassailable lead. With scores of 6287 and 6048 there are real signs of a growing strength in CE in Scotland.
There was disappointment for Emma Canning who ended Day 1 of the U20 Women's Heptathlon with a commanding lead. Emma withdrew as a precautionary measure, following a slight hamstring injury, leaving Elgin's Siobhan Kingham to win the title with 4333 points.
+++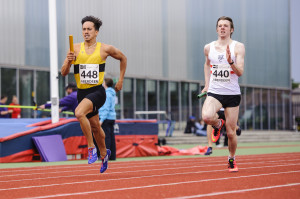 Kilbarchan on their way to another 4 x 400m success
Relay Results with splits (link to Events page to access download)
In the Scottish Relay Champs, there was a fifth successive win for Kilbarchan AAC in the Men's 4 x 400m race.
That was a very decent effort, given members of the team competed in the British League on Saturday before heading back to Scotland that night, and then on to Aberdeen on Sunday.
The quartet of Connor Henderson, Blair Crawford, Scott MacAulay and Anthony Young took the gold medals with 3.19.51. Inverclyde AC were victorious in the 4 x 100m thanks to the efforts of Robert Graham, Drew McIntyre, Shaun Tonner and Scott McLuckie as they clocked 44.10.
And there was a 'home win' for Aberdeen AAC in the men's 3 x 800 relay thanks to the 5.48.25 run by Callum Symmons, Michael Ferguson and Rory Muir.
Aberdeen also won the Women's 4 x 100m in 48.94 thanks to Kelsey Stewart, Katie Forbes, Kirsten Young and Rebecca Matheson. Aberdeen won the Women's 4 x 400m with 3:56.48 (Emma Leask, Jennifer Harrison, Matheson, Stewart). Kilbarchan won the women's 3 x 800m in 7:19.96 (Chloe Simpson, Holly Thompson, Kerry MacAngus).
+++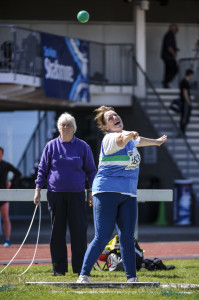 Masters throws action in Aberdeen
The Masters track and field championships once again featured strong performances across various age groups – with athletes from across Scotland and beyond taking past.
Arguably the pick of those were by two throwers with Arbroath's Chris Smith reaching 55.64m in the javelin (for fourth in the current Scottish rankings) and Mhairi Porterfield of VP-Glasgow at 50.53 in the hammer (also fourth in the current Scottish rankings).
Within the Results on our live Results page, there are details of the Masters Champs medals as per each five-year age group.
Tags: Aberdeen AAC, Edinburgh AC, Holly McArthur, Howard Bell, Inverclyde AC, Kilbarchan AAC, Whitemoss AAC