Callum ready for World Half chance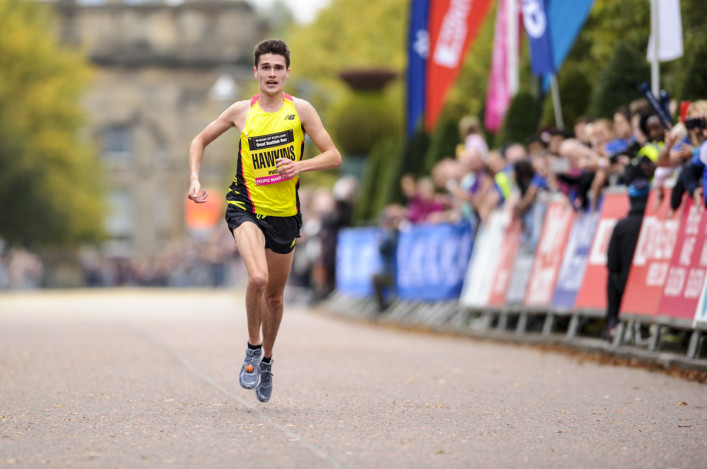 Callum in action at the Great Scottish Run in Glasgow last year (photo by Bobby Gavin)
British Athletics website – GB and NI team latest
Callum Hawkins heads for the World Half Marathon Champs in Wales this weekend as a great example of a Scottish athlete who made the leap from promising junior to successful Senior.
It's six years since Callum competed at the World Cross in Poland as an emerging young athlete with Kilbarchan AAC.
The 23-year-old's journey has had a couple of twists and turns in the interim – including a spell in America, serious injury and Glasgow 2014 experience on the track – but his excitement at representing GB and NI in Cardiff is understandable.
'This will be my first World Champs as a Senior athlete and that's something to celebrate and to look forward to, so I was pleased with this selection and I am looking forward to racing in Wales,' Callum told us.
'Making the step from Junior to Senior is a big issue in athletics – and not just in Scotland. You are always looking to try and progress and, in the half marathon distance, I'm happy with the way my time has come down almost every time I've run it.
'The World Half I am sure will be a big event this year and with Mo Farah in the team there's always bigger crowds and more media interest.
'You always want to race at the highest level you can so these are the kinds of events I want to be in.'
The Scot has been in fine form and his 62.36 in Paris recently was another PB to better his Great Scottish Run performance in Glasgow last autumn and set himself up for Saturday.
But, of course, the London Marathon will very much be the focus as soon as the race in Cardiff is over.
'It will be my last race of any kind before the London Marathon – not long after that we will be into the taper down period over the final two to three weeks.'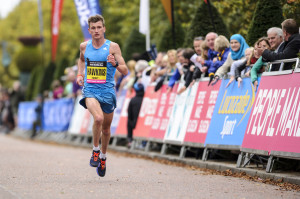 Derek Hawkins – recent PB in Rome
Callum won't be the only Scot on the start-line in Wales. Derek Hawkins and Robbie Simpson have elite field entries and will effectively run in the same race as the World Champs teams.
Again, both have been in excellent form in recent weeks with Robbie setting a PB in the same Paris race as Callum when the Deeside Runners athlete clocked 64.39.
The following week Derek was in action in Italy in the Roma Half Marathon and he too came up with a PB at 63.53 to suggest he's in good form ahead of London. Indeed, both Robbie and Derek could this weekend threaten the GB and NI selections
Farah headlines the GB men's team for Cardiff makes his debut at these championships. The double Olympic, World and European champion last competed in the UK over 3000m at the Glasgow Indoor Grand Prix and is excited at the prospect of racing in front of another home crowd in South Wales.
Farah, European record holder at half marathon (59.32), said: 'I am looking forward to running on the British team at the IAAF/Cardiff University World Half Marathon Championships in Cardiff. It will be my first time to compete at this Championship but I have been training hard and hope to perform well.
'I always enjoy racing in front of a home crowd and I'm sure they will give myself and the rest of the British team, fantastic support as they line the streets of the city.'
*Please note that due to the holiday weekend, we may not follow up on Cardiff on our website as quickly as we usually do. Updates will be on British Athletics social media and/or scottishathletics Facebook and Twitter.
Tags: Callum Hawkins, Cardiff, Derek Hawkins, Mo Farah, Robbie Simpson, World Half Marathon Champs