Callum ready for marathon debut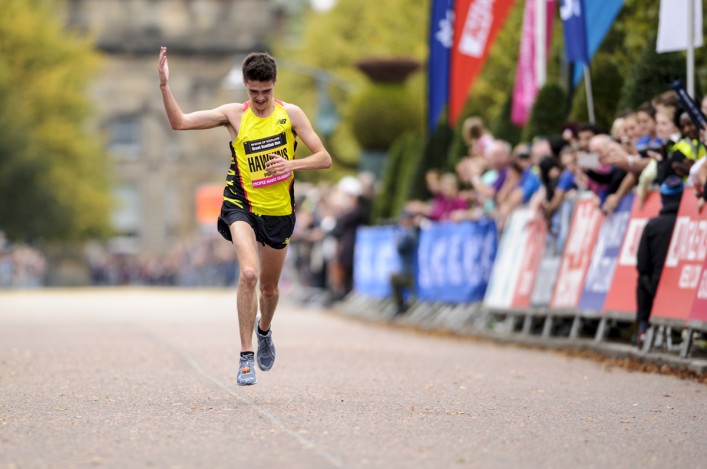 Callum milks the applause in Glasgow – photo by Bobby Gavin
Great Scottish Run website report
Callum Hawkins will fly the flag for Scotland at the Frankfurt Marathon – as he makes his marathon debut and chases an Olympic qualifying standard.
It is a huge challenge for the Scotland Commonwealth Games 10,000m track runner and GB XC international following a couple of fine efforts at half marathon at the Great North Run and the Great Scottish Run.
Callum was second in Glasgow in the Great Scottish Run with a PB of 62.42 that was in fact the best ever run at the distance by a Scot to take place in Scotland. It took him to third place on the Scottish half-marathon all-time list.
Now he is chasing the 2.14 standard being asked by British Athletics for the Olympics in Rio next summer with one athlete, Scott Overall, having achieved the standard last month.
Overall clocked 2.11.24 in Berlin recently on a day when Derek Hawkins had hoped to compete. A foot injury put paid to those intentions with time having run out on Derek to be in the right condition to be fully competitive for Frankfurt.
Derek's role this weekend will now be to support Callum's first marathon effort.
'I was using Glasgow to try to prove my fitness going in to Frankfurt and it went off pretty much according to plan that day,' said Callum.
'But I am well aware that marathon can be a completely different animal to a half marathon.'
Derek made his marathon debut on the same Frankfurt course three years ago with a fine run of 2.14.04.
It is worth noting that the quality this weekend is such that the PB he achieved that day had the elder Hawkins brother ranked at 26 in the elite field for Sunday – and that wasn't taking into account the event debutants like Callum.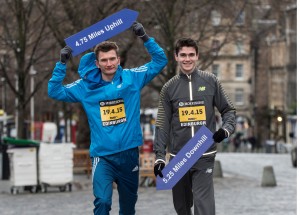 Derek (left) will be in Germany to support Callum
Tags: Callum Hawkins, Commonwealth Games, Derek Hawkins, Frankfurt Marathon, Kilbarchan AAC, Rio