Brilliant Callum now ready for marathon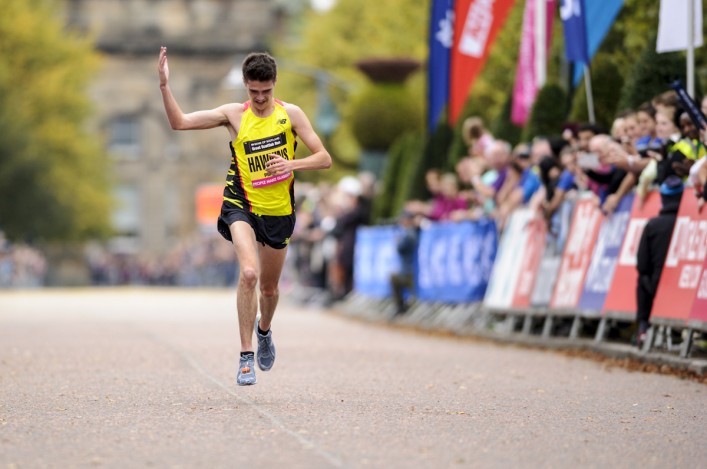 Let's hear it for local hero with Scottish 'Native' best – photos by Bobby Gavin
Callum Hawkins delivered a superb Great Scottish Run performance to retain his Scottish Half Marathon title – and set himself up for a crack at the marathon in Frankfurt later this month.
And the Kilbarchan AC athlete's PB of 62.42 took him into the top three on the all-time list and was only 14 seconds adrift of a National Record and is the best half marathon run by a Scot in Scotland.
Allister Hutton's record at 62.28 was run in Newcastle in 1987 and Neil Tennent was at  62.39 the following year in Lincoln. These performance can be viewed on the all-time list on the Road Running and Cross Country Commission archive.
Callum had clocked 63.06 here last year and he was firmly in contention until late on when Uganda's Moses Kipsiro made his decisive break to win it in 62.18. Japheth Korir, who won the 2013 World Cross, was beaten into third by the 22-year-old local hero – Hawkins, with the Kenyan at 63.14.
The youngest of the Hawkins brothers – with Derek 8th in 66.24 – now heads for Frankfurt on October 25 for his marathon debut and a crack at the Olympic qualifying time of 2.14 for Rio.
Leading the charge just behind the top three yesterday were Shettleston pair, Tsegai Tewelde and Tewolde Mengisteab, with fine runs of 63.34 and 65.39 respectively for Scottish silver and bronze medals in 4th and 7th place.
Tsegai's performance at 63.34 was testament to recent hard training and altitude work, helped out by Shettleston, and he is now third on the British rankings for 2015 behind only Mo Farah and Callum Hawkins! Tsegai has been in Scotland for seven years and his time was a qualifier for GB for the World Half Marathon Champs in Cardiff next year.
Beth Potter took the Scottish women's half marathon title with 73.39 and the VP-City of Glasgow athlete was pleased with that time following a truncated track season. The other Scottish medals went to Fionnuala Ross of Shettleston with 76.35 and Shona McIntosh of Hunters Bog Trotters with 78.11.
(We will have details of Scottish Half Marathon Masters medals and team medals in due course)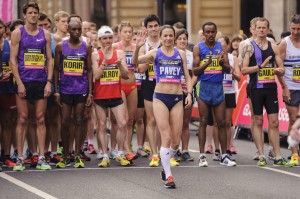 Jo Pavey -British V40 record at half marathon
'I'm very pleased and it is all looking not too bad for Frankfurt – just so long as this has not taken too much out of me,' smiled Callum.
'I will taper down now and prepare for Germany. We have not yet decided on the extent of the taper, whether it should be three weeks or two weeks.
'It really was about what I was hoping for in terms of the time. I thought it was possible to dip under 63 minutes if I could get pulled along by the Africans and that's what happened.
'At one stage I was starting to think even about the Scottish half marathon record which I believe is 62.29 (Allister Hutton). So I was not too far away from that – it was a wee bit windy at one stage.
'Derek and I have been helping each other in recent weeks. He was due to run Berlin but had to adjust his plans.
'It will depend on his fitness now for Frankfurt and I wouldn't want him to sacrifice his race there just to try and pace me. He's wanting to try and get a qualifying time for Rio, as well.'
In fact, Callum's run in Glasgow took him to third just behind Hutton and Neil Tennant (62.39) as he went above the likes of Peter Fleming, Chris Robison and Andrew Lemoncello.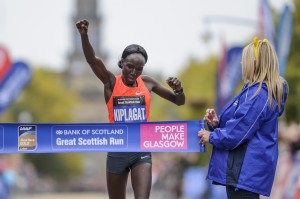 Edna Kiplagat – succesful title defence
Edna Kiplagat retained her Great Scottish Run title in the Women's race with 68.21 on a day when Jo Pavey set a British best for over 40 women with 69.58 in fourth place.
'I am pretty happy with that,' said Potter, after winning the Scottish title and claiming a slice of our Grand Prix cash.
'I have only been back running a few weeks following a difficult summer. I did some of the track season, including the Trials and a Diamond League where I set a PB, but I was out after that and the season ended.
'So it was good to be out there running again and I'm pleased to get close to last year's time. I missed cross country last winter when I was ill with tonsillitis but this time I will try and get that in. The next big race really I am looking to then will be the European Cross Country trials in Liverpool.
Ben Stevenson took the men's 10k title with a PB run of 31.06 to win it from Alistair McLeod of Shettleston (31.16) and Murray Strain of HBT (31.27).
Jenny Bannerman won the women's race in 35.41 with Fiona Matheson in second (37.13) and Amanda Woodrow of Edinburgh Uni Hares and Hounds in third 37.17)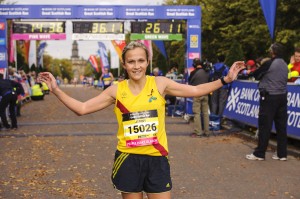 Jenny Bannerman – 10K win
Stevenson is a Falkirk Vics athlete again after graduating from Edinburgh Uni in the summer and was pleased to PB on the Glasgow course.
'I am delighted and it was big negative splits because at halfway I actually thought it could be about 32 minutes,' he said.
'The second-half is flatter, though, and I kicked on a bit with 3k to go. I ran about 31.13 at Stirling a few weeks ago so it is good to keep making progress. I had quite short track season and I'm not longer Edinburgh Uni Hares and Hounds athlete – I've lost the green facepaint!
'I've taken on a role as men's team manager for Falkirk Vics. I am planning to run all the cross country relays and other races and we will get teams out for those.
'I am not sure how strong we will be or if we can compete for the medals, but if we can get more people out into teams and get a bit of depth then I think you can build club strength from there.'
Sammi Kinghorn had a fine win in the wheelchair race with 28.44 as she defeated former winner, Jade Jones, with Megan Dawson Farrell in third. Simon Lawson made it a hat-trick of wins in the men's wheelchair race.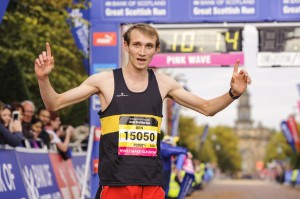 Ben Stevenson – 10K win 
Tags: Ben Stevenson, Beth Potter, Callum Hawkins, Edna Kilpagat, Great Scottish Run, Jenny Bannerman, Jo Pavey, Moses Kipsiro