Butchart on form in Antrim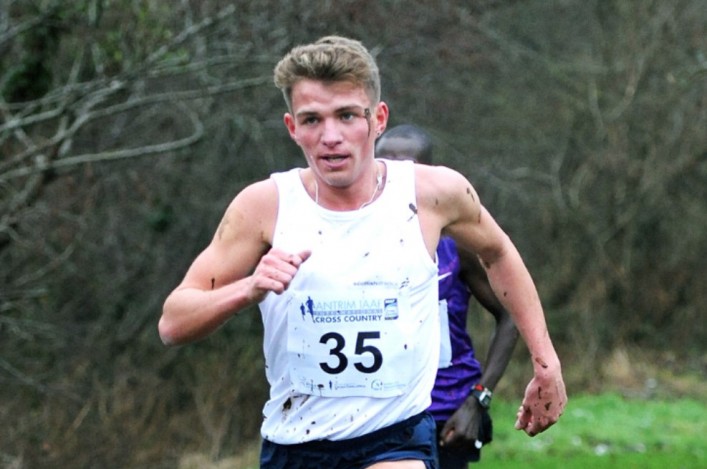 Central AC's Butchart wore Scotland vest with pride in Antrim – photo by Mark Shearman
British Athletics website report with Results link
Andrew Butchart came up with his second eye-catching cross country performance in eight days, as Scotland athletes impressed at the IAAF Antrim International XC event.
The Scottish National XC champion is setting his sights high for 2016 with the clear target for his outdoor track season being Olympic qualification with GB at 5000m.
Butchart has made a fine start to 2016 with seventh place at the Great Edinburgh XC and sixth as he split a group of high quality Africans at Antrim to come home as the top Brit.
Andy Douglas and Luke Caldwell, also representing Scotland in a cross country competition opportunity, weren't too far behind in 10th and 11th place on a day when Euan Gillham proved his class at U20 level with a race win which has become a January habit in recent years for the Kilbarchan AAc athlete who ran for GB at Holyrood.
Sarah Inglis wore the Scotland vest with pride, too, as she finished 12th in the highest quality Women's field Antrim has boasted – as U23 pick Steph Pennycook followed her home in 15th place overall.
'I am really pleased with the run and it was a top class race again,' said Butchart.
'That was the case in Edinburgh when I was facing Mo Farah and Garrett Heath and this time it was guys like Timothy Cheruiyot, Aweke Ayelew, Thomas Ayeko and Emmanuel Bett.
'Bett was just ahead of me and that surprised me when I heard it on commentary on the way around. So I have to pretty pleased with these two runs.
'I am aiming to do the National XC and defend the title I won in Falkirk for the first time last year. That's always an important race for us and then I will be looking towards the track and the 5000m time for the Olympics.'
Dunblane-based Butchart, 24, has signed a deal with New Balance to make him a full-time athlete and hopes to spend part of the spring in America – before attacking the track season.
Inglis was pleased with her run following a return to Scotland from studying in Canada.
'I have to be happy with that because they were saying this is the best Women's field they have ever had in Antirm,' said Sarah. 'There were sx or seven quality Africans plus Fionnuala McCormack and Kate Avery as well.
'I am thinking about the National XC but will wait and see. It was quite a late shout for me to come here bu I am glad I did and was pleased to wear the Scotland vest.'
Fife AC and Edinburgh Uni Hares and Hounds athlete Pennycook, a good bet for the U20 title if she races at Callendar Park, may decide on indoors instead.
'I've an invitation for the British Indoors, which is the same day, for the 1500m,' she said. 'I am entered for 800m at the Scottish Seniors so if that goes well I might not run the National XC.'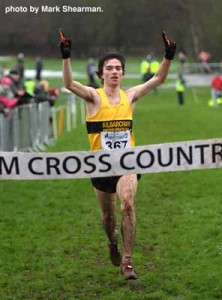 Euan Gillham – fifth Antrim race win
Gillham chalked up a remarkable fifth win over the Antrim course as he powered away on the final lap of a joint U20/U17 race where Perth Strathtay's Sol Sweeney finished fifth overall and first U17. Both those Scots will now be firmly in contention for British Cross Challenge titles for the 2015-16 season come Birmingham in March.
'I do like it here and the course itself certainly seems to suit me,' grinned 18-year-old Gillham, who saw of the challenge of Paulos Surafel with a strong last lap in the 5.6k race.
'I first won it here when U13 and had two more successes at U15. I just like when it is, as well, as it sets you up for the second part of the cross country season.
'I was happy with ninth place last week in Edinburgh and took it on from there. I will compete at the British Unis now early in February and then Falkirk and Birmingham. It has been a good season so far and I am pleased with my form.'
Giffnock North took a clutch of young athletes over the water and Kate Richardson picked up a second place finish at U13. Hamish Armitt was fourth U15 in a race where Inverclyde AC's Cameron Watson took third.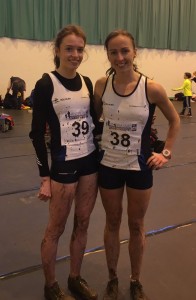 Steph Pennycook and Sarah Inglis (photo via Twitter)
Tags: Andrew Butchart, Andrew Douglas, Antrim XC, Euan Gillham, Luke Caldwell, Sarah Inglis, Sol Sweeeney, Steph Pennycook