BUCS medals; Butchart, Sharp; Junior hill results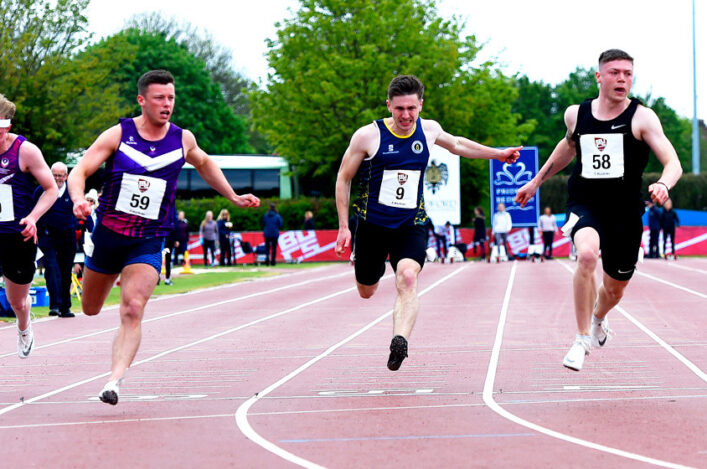 Adam Thomas and Michael Olsen (partly obscured on left) in the 100m final at BUCS (photo via Athletics Weekly)
Scottish performance summaries on scotstats.net Results
There were a number of Scots involved at the BUCS Championships at Bedford over the weekend – landing medals and reaching finals.
Positive signs in men's sprinting are starting to become apparent and there was further evidence with three in the top five in the 100m final.
Adam Thomas took a silver medal with a run of 10.45 and Greg Kelly (10.69) and Michael Olsen (10.72) finished fourth and fifth respectively in that race.
Bath-based Scot Andrew McAslan landed a bronze medal in the 800m final with a run of 1.54.36.
Henry Clarkson was a bronze medallist in the triple jump with 15.18w and there was a fourth place finish in the high jump for Lewis McGuire at 2.06m. Hannah Lawler was fourth in the pole vault with 3.70m.
Emily Craig took a silver medal in the Women's 400m hurdles final with a strong finish for 61.58 – Anna Nelson had led that race until close to the end before hitting a hurdle.
Hannah Cameron was fourth in the 800m final in 2.10.87 and there was a bronze for Steph Pennycook in the 1500m final as she came home in 4.30.69. Pennycook's Edinburgh Uni team-mate, Naomi Lang, was less than a second back in fourth in 4.31.27.
Scottish-based Para athletes also performed well.
Amy Carr took 200m Gold, Long Jump silver; Ben Rowlings won 100m/800m golds; Nathan Blackie landed 100m/800m silvers
+++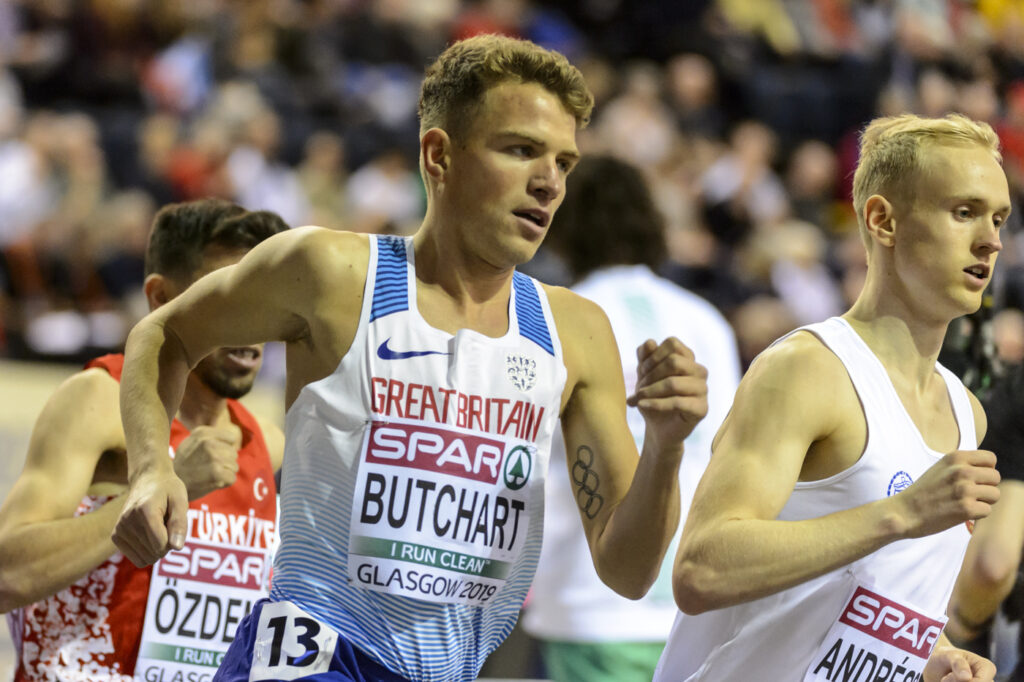 Andrew Butchart kicked off his outdoor season in strong fashion at the Payton Jordan Invitational.
The Central AC athlete finished third in the 5000m with a run of 13.18.16 – a time which has only been bettered on the track for 5K by Andy himself and Nat Muir.
Chris O'Hare was a bit further back in that race, home in 13.48.66. Jonny Glen was 12th in the 3000m steeplechase in 8.58.32.
Lynsey Sharp opened her season at the Doha Diamond League with a ninth-placed finish in the 800m in 2.01.52.
In America, Jamie Crowe claimed second place in the Southland Conference Champs 10,000m with a run of 31.46.65.
And in Seattle, at the Ken Shannon Invitational, Praise Olatoke won the 200m in 21.20.
+++
Junior Hill Running Results:
East Lomond Junior Hill Race: Scottishathletics Junior League Race 19 May.
U13 Boys Calan Chong Giffnock North 11.43; U13 Girls Ariana Braille Pitreavie 11.52
U15 Boys Angus Wright East Lothian 14.14 (record); U15 Girls Isla Paterson Gala 16.41
U17 Men Patrick Lang Aberdeen 34.10; U17 Women Bridget Harley East Lothian 32.59
U20 Women Rhona Mowat Giffnock North 53.04
Tags: Andy Butchart, Bedford, BUCS Champs, Junior hill running, Lynsey Sharp