Bronze, silver and gold in Tallinn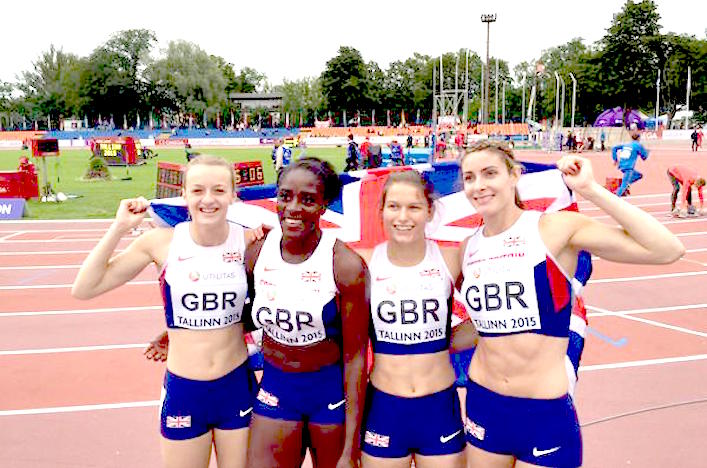 The Scots on Team GB saved the best for last at the Euro U23s in Tallinn this weekend, as Zoey Clark and Kirsten McAslan helped the team to Gold in Sunday's 4x400m relay, setting a new British U23 record into the bargain.
Full results from European Athletics U23 Championships 2015
With Zoey on second leg maintaining the lead set up by Seren Bundy-Davies, Kirsten also inherited a lead from Victoria Ohuruogu. It was a tough task to hold off a challenge from the Poles, but she kicked in the final straight to secure the win in a time of 3:30.07.
She said: "The girls gave me such a good lead so I knew I had to go out hard and just keep it. The Pole was third in the individual so I knew I'd have a battle on my hands and when I saw her on the screen with 200m to go I tried to kick again. I'm so happy we managed to do it!"
It was the third medal for Scots in a campaign that began on Friday when Rhona Auckland secured silver in the 10,000m with a PB of 32:22.79.
She said after the race: "I'm really pleased with that. Winning the European cross gave me the belief that I could take it on and I'd have the strength. I can't remember what I was thinking when I went on either occasion, but I just went for it!
"I've been inspired by both Laura Muir and Kate Avery and the way they run so fearlessly, so I just thought 'Let's go for it and I'll suffer the consequences later'! I was pleased that I gave it a go and to get a PB I know I couldn't have given it any more."
In the 1500m final, Neil Gourley fought to the line to snatch bronze in a frantic men's 1500m final with a time of 3:45.04. Sitting towards the back of the field for most of the race, he attacked off the final bend to secure a podium place.
Neil said: "I left it a little bit late! There was a lot of pushing and shoving as I thought there would be and it was a bit of a burn up on the last lap. I knew if I was patient I'd be in with a chance of a medal and I waited until what I thought was the right time and then went. I just attacked, and I suppose I did leave it too late but I'm happy to pick up a medal.
"These are the kinds of things you have aspirations of doing as a child so it's great to get my first experience of that and be on the podium representing Great Britain. You can't get better than that! I knew I'd given myself a lot to do but I was just hoping the gaps would open up and luckily they did."
In the same race, Cameron Boyek got boxed in on the inside and finished seventh in 3.45.74. He said: "My positioning was awful and I just got boxed in. With 200m to go I was still stuck and the only time I saw a gap was with 100m to go when the race was already over.
"I got my positioning completely wrong from the start and there was no getting out of it. It's something to learn from but I feel like I've just wasted an opportunity as I felt good with 400m to go."
Earlier in the weekend, Kirsten McAslan had missed out on a medal in the women's 400m final – after sailing through her heat with a PB of 52.13, she had to settle for 5th in the final with a run of 52.33.
In the hammer throw qualifiers, Rachel Hunter was placed 9th in her round and 18th overall with a throw of 61.16 – not enough to secure her a place in the final.
Tags: Cameron Boyek, Euro U23, Euro U23s, Kirsten McAslan, Neil Gourley, Rachel Hunter, Rhona Auckland, Tallinn 2015