British Champs 2018 – Day One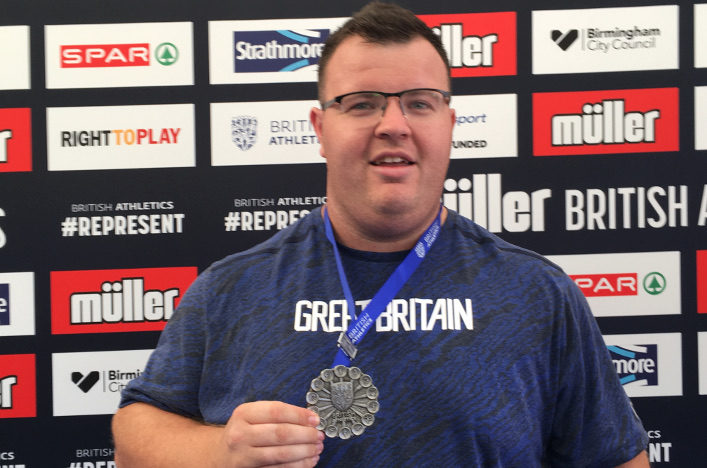 Full results via British Athletics
Scots-only results as they happened on our Twitter feed
Video interviews with Chris Bennett and Nick Percy on our facebook page
Scots picked up one silver and three bronze medals at the opening session of the 2018 British Championships. Hot, windy conditions at the Alexander Stadium in Birmingham provided a suitably challenging backdrop for a day which also saw a host of finals places booked.
With the event also forming the trials for August's European Championships in Berlin, the top-flight were hoping for first or second place positions, plus a qualifying standard, to guarantee selection.
There was a Scottish 2-3 in the Hammer Throw, with Chris Bennett ensuring Euro selection with his silver medal from a throw of 73.29, having twice previously thrown beyond the 74m qualifying mark.
He said: "Ideally I would have like to have won, but it's nice to get automatic qualifying for once and not have to leave it in the selectors' hands and wait for an invite. I think the three of us, Mark, Nick (Miller) and me spur each other on, one of us throws far, we all want to beat each other.
"I've got a nice solid block of training in, I'm fit and healthy as I can be, so it's just compete now up until Berlin."
Mark Dry threw 71.40 to take Hammer Throw bronze, after a tough season enduring ongoing hip issues, and ended the day disgruntled but philosophical: "I'm just in two minds, it's a really confusing place to be right now," he said. "I'm happy I could compete, today could've been a lot tougher. I'm happy I mixed it with the boys. Would I have like to have thrown it further and made Europeans, thrown top two? Yes, I would."
The first Scottish podium place of the championship went to Nick Percy in the discus, taking bronze, though his 57.26 throw left him short of Euros qualification. He said: "It was a bit of a struggle, being sick the last two weeks, I've not got anything really behind me. I did my best, fought my hardest, but unfortunately today just wasn't my day.
"I feel like it was my best I could do but I still have time to try and get the qualifying distance … so there's some hope, but I could've done better today."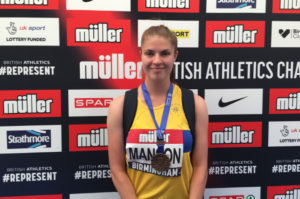 There was medal glory too for Nikki Manson in the High Jump, who went to 1.87 for bronze in a high-quality contest that included a championship record of 1.97 for victor Morgan Lake. Although Nikki has already jumped the European qualifying height of 1.90, leaving without a top two place today leaves her dependent on selectors' discretion – but she intends to do her best to impress: "I'm actually really proud with how the competition unfolded, and I'm really glad that I managed to pull it out of the bag in the end.
"I want to try and get a bit more consistent, high 80s, 90s, and hopefully they'll consider me for Euros," she said.
In a day that saw around 60 Scottish performances when accounting for all heats and finals, it's impossible to do justice to every athlete in a round-up of this nature, but special mention to Michael Olsen, who, after being selected for World Juniors this week recorded a season's best of 10.48 into a headwind to reach the 100m semi final.
Meanwhile a further 15 Scots in all qualified for finals tomorrow over 400m, 400mH, 800m and 1500m – congratulations to all athletes and coaches involved.
Tags: Berlin 2018, Birmingham, British Champs, Chris Bennett, European Championships, Mark Dry, Nick Percy, Nikki Manson