Steph wins in Armagh and Adam is second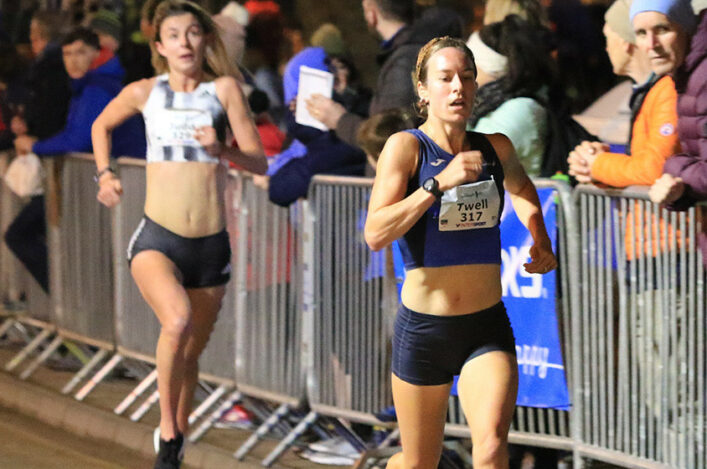 Steph Twell on her win to a fine win in the Armagh Women's 3K (photo by Malcolm McCausland)
Steph Twell pulled on a Scotland vest once again for the Armagh Road Races in Northern Ireland on St Valentine's Night.
And the Rio Olympian and Commonwealth and European medallist delivered a command performance to take the win over 3K on the roads.
In fact, it was a stunning night for Scots in Armagh with the roll of honour featuring:
*Win and Joint Course Record for Twell
*Win for Team Scotland in the Women's race thanks to Steph, Kerry Macangus and Eloise Walker
*U20 Win and Junior Course Record for Walker
*Second place for Adam Craig with 13.45 inside the previous Course Record
*Second place for Team Scotland Men thanks to Adam, Luke Traynor and James Donald
*Win for Jamie Burns of Shettleston in the Men's 3K race
Coverage from Athletics Weekly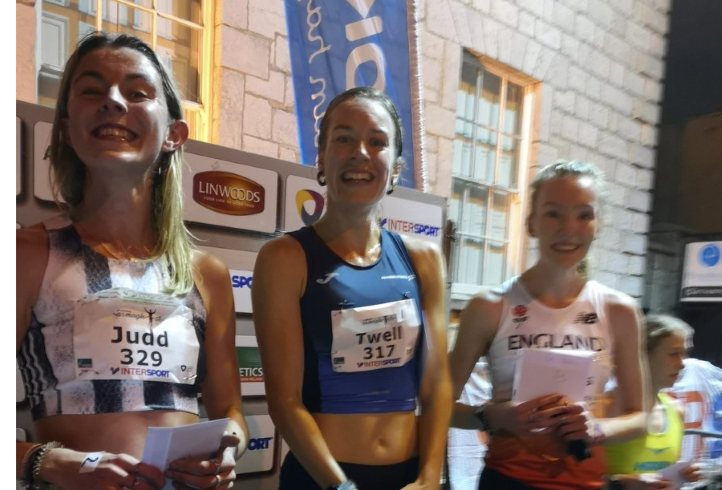 Steph is joined on the podium by Jess Judd and Amy Griffiths (photo via Twitter)
Twell came home in 8.59 to break the nine-minute barrier after pulling clear of second-placed Jessica Judd deep into the race.
In fact, the 8.59 time gives Steph a share of the course record with Laura Weightman from a couple of years ago. England's Amy Griffiths completed the 2019 podium in third.
It was a fine win for the athlete who made her marathon debut in Valencia late in 2018 and soon will be headed for Falkirk to make her bow in the Lindsays National XC.
'I knew I was behind on paper at two kilometres and I had to work hard on the last lap,' said the 29-year-old Scot who was targeting the record on her first appearance in Armagh.
Macangus was seventh in 9.23 and her Scotland team-mate, Eloise Walker, was 11th in 9.27. That was a Junior Course Record for Edinburgh AC athlete Eloise – Congratulations!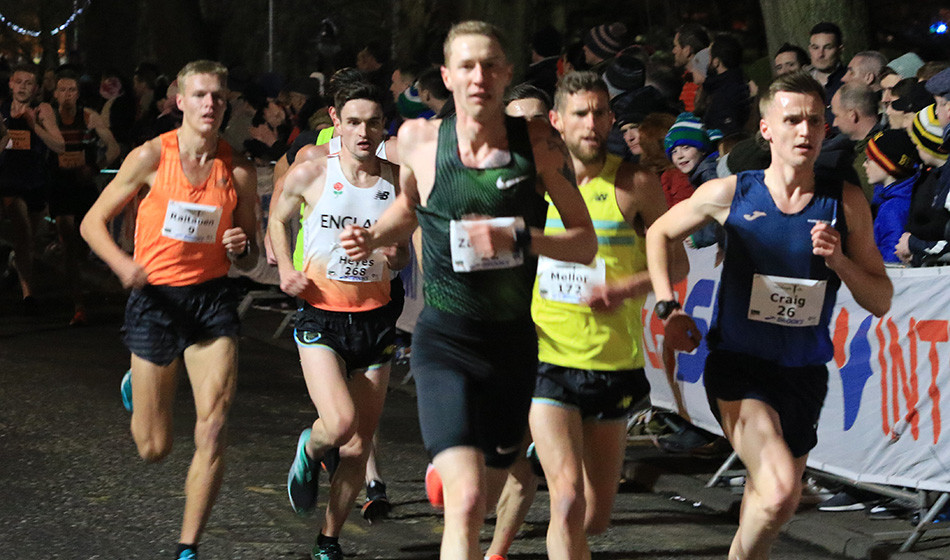 Adam Craig was prominent throughout the race and edged Sam Stabler for second place (photo by Malcolm McCausland)
And in the Men's race, over 5K, Adam Craig came up with an excellent run to take second place in a scrambled finish on the line – as Topi Raitanan won it in a 13.43 course record. Sam Stabler, the title holder, was edged into third by Craig on the line.
Adam and Stabler were both given 13.45 and that time was inside the Course Record prior to last night which had stood at 13.54.
The Scot had been prominent throughout, leading towards the very closing stages of the last lap. Nonetheless he had to respond and fight hard for a top three place but the Inverclyde AC athlete again displayed the potential he has shown on the roads this season with wins in Glasgow and Leeds back in September and November.
Luke Traynor was the next best-placed in terms of our Scotland representative at 19th place in 14.12, followed by James Donald at 14.24 and then Luke Caldwell at 14.26.
There were many other strong runs by Scots, with Shettleston athlete Jamie Burns winning the men's 3K in 8.44.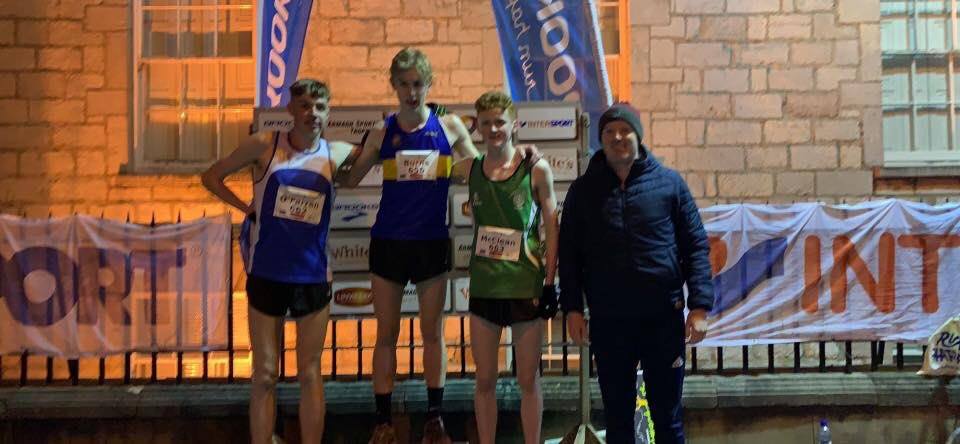 Shettleston's Jamie Burns celebrates his win in the Men's 3K race (photo via Twitter)
Tags: Adam Craig, Armagh, Armagh Road Races, Eloise Walker, James Donald, Jamie Burns, Kerry MacAngus, Luke Caldwell, Luke Traynor, Steph Twell