Anna, Gillian land GB vests for World Cross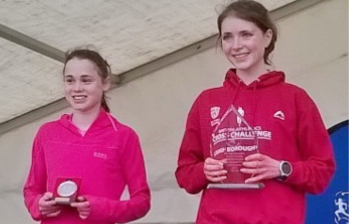 Anna Macfadyen and Gillian Black on the Inter-Counties podium in Loughborough
Scottish success at Inter-Counties XC
Anna Macfadyen and Gillian Black are the latest young Scots to land GB and NI vests in cross country.
The U20 duo have been selected by British Athletics for the IAAF World Cross Country Champs, taking place in Uganda later this month.
Macfadyen and Black went 1-2 at the Inter-Counties XC and World trials event in Loughborough last weekend to earn automatic places on the GB Junior Women's team for the trip to Africa and the races on March 25.
It's another huge fillip for Scottish endurance running with Anna coached by Doug Cowie at Forres Harriers and VP-Glasgow athlete Gillian, who is coached by Mike Johnston.
Earlier in 2017, Erin Wallace and Sol Sweeney won their first GB and NI vests in cross country (Erin was a track medallist at the European Youths last summer) at the Great Edinburgh XC event and now Macfadyen and Black follow on – as further evidence of a bit of depth to the 'production line'.
The two Scots are part of a six-strong Junior Women's team with six more for the Junior Men and four Senior Women. A number of Senior Men declined the opportunity to compete in Kampala, Uganda.
'We have selected a team that we feel will push and challenge the best cross country runners in the world out in Kampala,' said Barry Fudge, the Head of Endurance with British Athletics.
'It will be a tough and testing experience for those involved, but we believe that each athlete selected will perform to the best of their ability whilst proudly representing Great Britain & Northern Ireland.'
GB and NI Junior Women:
Phoebe Barker (Richard Owen); Gillian Black (Mike Johnston); Cari Hughes (Andrew Walling); Anna Macfadyen (Doug Cowie);Amelia Quirk (Beverly Kitching); Victoria Weir (Bud Baldaro)
Full team on the British Athletics website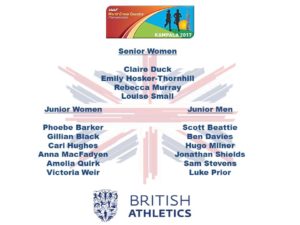 Tags: anna Macfdayen, Gillian Black, IAAF World Cross, Inter-Counties XC