'Academy can help make us better' – Cherry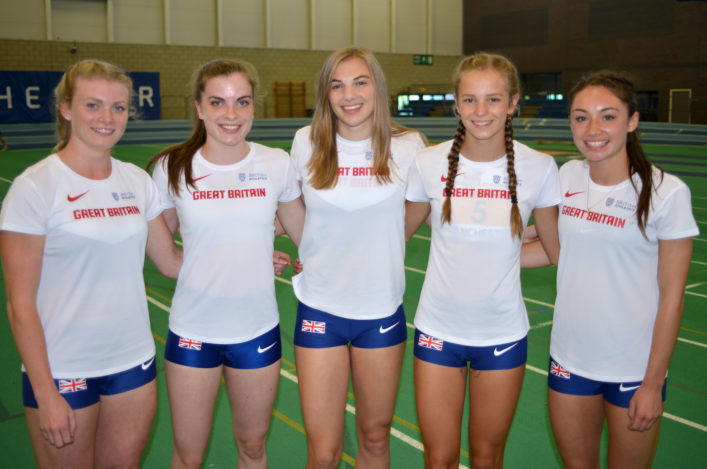 Jilly Cherry (on left) with fellow National Academy athletes Jenna Wrisberg, Alisha Rees, Erin Wallace and Holly McArthur (photo by Alan Wrisberg)
Scotland and GB international sprinter Jill Cherry was among a number of our National Academy athletes to attend the second residential camp of 2016 at Carronvale in October.
Here, in a blog post which also appears in the current edition of PB magazine, Jill writes about what she learned during that week and why she feels it can help her improve as an athlete.
'As a member of the National Academy, I was invited to attend the autumn camp at Carronvale and found this to be a very beneficial experience,' said VP-Glasgow athlete Jill, who is coached by Allan Scott.
'Being in an environment where it is solely focussed on athletics for a few days gave me an insight into what is involved when you get to a high level in athletics and what is expected of me.
'It is also good being surrounded by other athletes as we all want the same thing and understand the commitment and dedication that it takes to achieve your goals. It is nice knowing that lots of other people have the same lifestyle as you.
'I think that holding the camp near the beginning of winter training has a positive impact on people as it makes them put all of their attention into athletics for the four days without any other distractions and allows you to get into the right mind-set for a hard few months of training.
'It also makes people think about what they want to achieve in the following year and what they need to do for this to happen.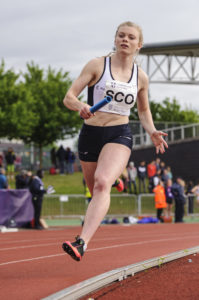 'I enjoyed the education sessions and thought that they were very informative as they allowed me to see that improvements in my performance can arise from many different aspects and not just training.
'The nutrition talk was helpful as it illustrated how important it is to eat right in order to aid recovery and give me enough energy for training to enable me to perform at my optimum level.
'And the practical side of the nutrition talk was good as it showed everyone that making healthy snacks and meals can be quick and easy and doesn't require a lot of skill. My group made flapjacks and even though I managed to set the blender on fire they were still edible!
'I found the physio workshop useful as it showed how important it is to have good flexibility and movement patterns which can help to reduce injuries and allow you to train consistently throughout the year and not keep missing days due to niggles.
I believe that this is an important element to focus on and educate athletes about as staying injury-free helps athletes to get the most from their training so that they can keep improving and therefore keep their motivation levels high.
'The performance lifestyle workshop was good because it was relevant to most of the athletes there as it consisted of learning how to balance school/university exams with training and competitions.
'The key thing that I took away from this workshop was that it is essential to learn good time management skills when you are trying to perform well in both academics and athletics.
'By developing a daily plan and knowing what you want to achieve each day helps with your organisation and time management so that you can fit training and studying in without getting stressed.
'Overall, I took away lots of positives from the camp and thought that it was well structured in terms of the timetable, which included probably an earlier than usual bed time for most people which allowed us to recover from training.'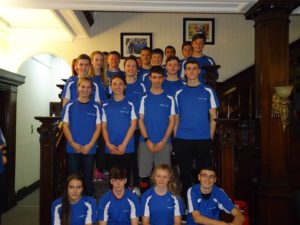 Academy athletes at Carronvale in October
Tags: Alisha Rees, Carronvale, Erin Wallace, Holly McArthur, Jenna Wrisberg, Jill Cherry, National Academy, PB magazine