Aberdeen Grammar win Heptathlon title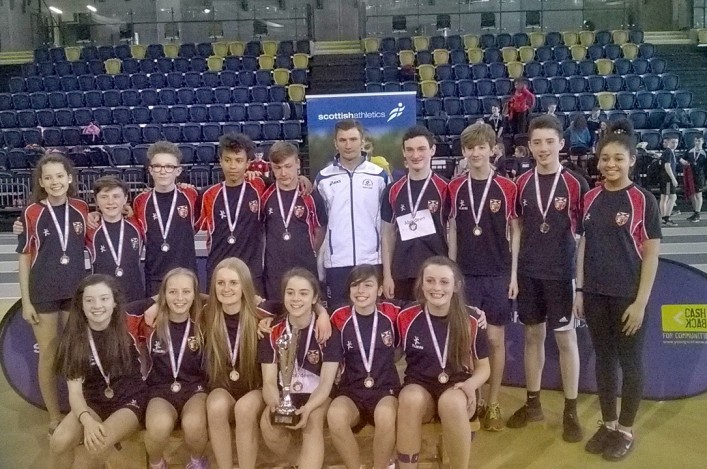 Aberdeen Grammar celebrate their win with Team Scotland's Derek Hawkins
Aberdeen Grammar School, representing the Grampian Region, demonstrated fantastic speed, endurance, skill and physical ability as they stole a march on their fellow Regional winners to take the National Schools Giant Heptathlon title at the Emirates Arena.
The National Finals saw the winners of all the six Scottish Regions competing in teams of 14 (seven boys and seven girls) at the indoor venue in Glasgow.
When the dust had settled, Aberdeen Grammar emerged victorious with Balfron High School (Central Region) finishing as runners-up and Notre Dame High School (Inverclyde) taking third.
The other schools to qualify for the final were: Arbroath High School (Angus), Tayside and Fife regional qualifier;  Tain Royal Academy (Highland), Highland and Islands qualifier;  and Deans Community High School (West Lothian), East regional qualifiers.
The winning team were presented with their trophy and medals from Commonwealth Games marathon runner and Great Britain XC International, Derek Hawkins.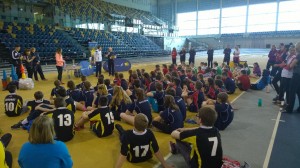 The results are in . . .
In all, the national Giant Heptathlon programme has seen 144 secondary schools compete in local authority-wide and regional competitions with all regional winners invited to the National Final. This multi-events competition is for first and second year Secondary School youngsters, with each pupil competing in seven events.
In parallel to the Giant Heptathlon events, more than 35,000 Primary School pupils – from primary five to seven – have participated in local and regional Sportshall events across the country. That tally of participants equals the highest number ever for Scotland.
scottishathletics would like to thank the many volunteers who supported the events on the day and congratulate all teams for participating in a very exciting event. Thanks, too, to Derek Hawkins for his attendance and support at the final.
We would also like to thank the many athletics clubs who supported local, regional and national finals and created that crucial link between school and club.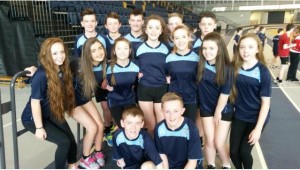 Notre Dame High School from Inverclyde – third place
Tags: Aberdeen Grammar School, Derek Hawkins, Giant Heptathlon, Sportshall