British Record Alert! Fantastic Eilish wins Berlin Half Marathon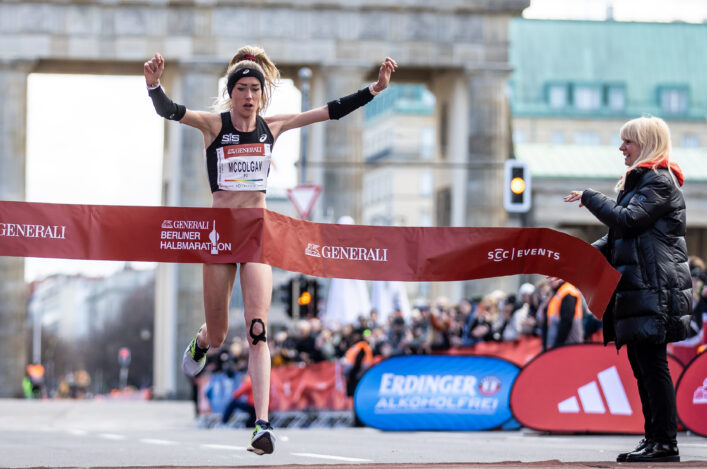 Photo via British Athletics Twitter 
Eilish McColgan broke he own British record to win the Berlin Half Marathon in superb style on Sunday.
The 32-year-old came home in Germany in 65:43 to break the mark she had set at 66:26 previously.
Eilish is building up towards her marathon debut on Sunday 23 April at the TCS London Marathon. The Berlin run takes her to fourth on the European all-time list.
Ethiopia's Tsigie Gebreselama was second, 30 seconds back, with her compatriot Yalemget Yaregal third.
'I'm really happy,' Eilish said afterwards.
'It was a bit breezy and cold but I'm Scottish so I'm used to that weather.
'The pace was super quick at the start so I panicked going through 10km. I got a bit of cramp near the end but I'm glad to get to the finish and run a national record.'
In March, McColgan set a British Record for 10,000m on the track in California – beating Paula Radcliffe's time.
But the Scot has had a couple of injury issuse to deal with in the past four weeks and missed the New York Half Marathon as a result.
Derek Hawkins was 38th in the Men's race in Berlin with a time of 65:16.
Tags: Berlin, Derek Hawkins, Eilish McColgan