Robert is campaign ambassador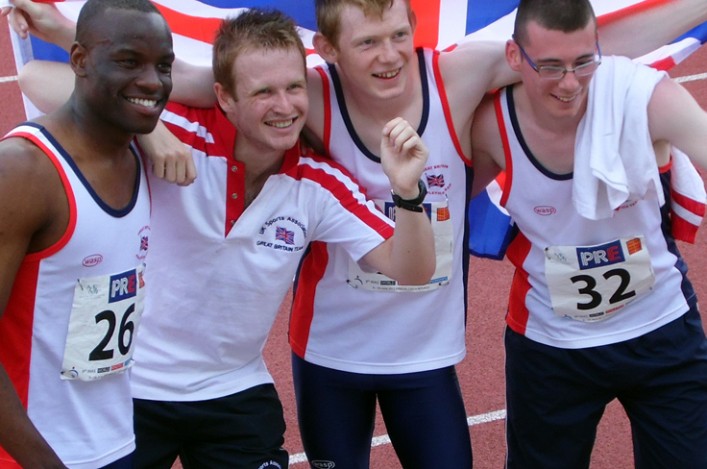 Robert Ferrol (second from left): ambassador role 
The UK Sports Association For People with Learning Disability is delighted to reveal the 13 high performance athletes who have been selected as Ambassadors for the national campaign My Sport, My Voice!
Thanks to funding from Spirit of 2012, a trust set up to sustain the spirit and opportunities from the London 2012 Games, My Sport, My Voice! is raising the profile of the UK's elite athletes with learning disability by providing a platform to showcase their sporting achievements and inspire others to succeed.
Scottish athlete Robert Ferrol, who represents Shettleston Harriers and Red Star AC, is one of those athletes involved in the campaign.
The Athlete Ambassadors who are leading the project have all excelled in their chosen sport at the highest level and have been chosen from each country of the UK. They include a London 2012 Paralympic Games gold medallist, several World Champions, and two England LD national team captains.
Robert, for his part, is a multi-medallist at British, European and World level and competes at 200m, 400m and relays.
Listen to Robert's interview here:
Tracey McCillen, Chief Executive at the UK Sports Association said: "We are thrilled to be able to reveal our 13 Athlete Ambassadors.
'Each one of them has competed in their sport at the highest level and they have some incredible experiences to share, both in and out of the sporting arena. My Voice, My Sport! provides a platform for our Athlete Ambassadors to share those experiences, to inspire others and to raise the profile of athletes with learning disability.
'The athletes are at the very centre of the project and are looking forward to having their voices heard.'
Over the next 16 months, the Athlete Ambassadors will be co-delivering workshops in their regions and countries whilst representing the programme in the media to educate and enlighten not just the sporting community but the wider general public too.
There's more information online
Tags: