Lindsays District XC Champs: Athletes relish return at three venues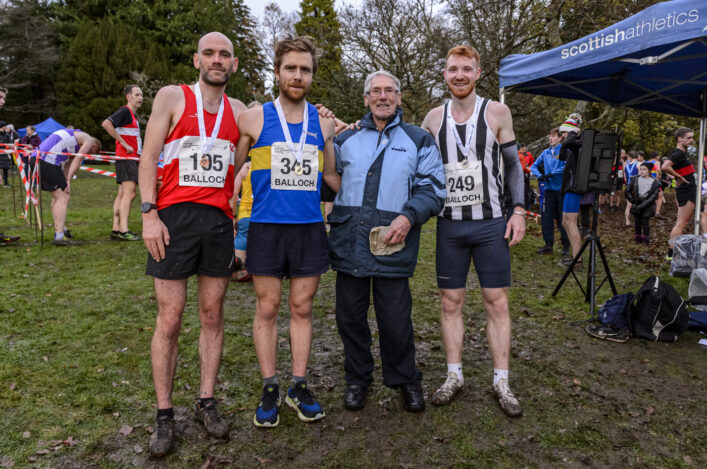 Lachie Stewart with the Senior Men's 1-2-3 at the West – winner Lachlan Oates (Shettleston) flanked by Jonny Glen (Inverclyde AC) and Fraser Stewart (Cambuslang)
West Results (click 'scores' for team outcomes)
Shettleston Harriers have been no strangers to West District success down the decades and it was no different at Balloch Castle on Saturday
Fionnuala Ross won the Women's race by a large margin and Lachlan Oates replicated that gold medal placing an hour later with a similar advantage.
It was somewhat fitting, therefore, that legend Lachie Stewart was involved in the medal presentations.
In the Women's race there was a silver medal run by Cat MacDonald of Bellahouston Road Runners and bronze for Gillian Black of VP-Glasgow.
Jonny Glen of Inverclyde AC took second in the Men's race after a good battle with Fraser Stewart, as the Cambuslang Harriers athlete repeated his bronze medal placing of the same venue in 2019.
Stuart had the consolation of leading Cambuslang to the Senior Men's team golds. There were only seven points between the winners and Shettleston, with V50 Stevie Wylie's superb run vital for Cambuslang.
Shettleston did win the Senior Women's race, however, as led by Ross and Kayleigh Jarrett in seventh they saw off the challenge of Glasgow Uni and VP-Glasgow.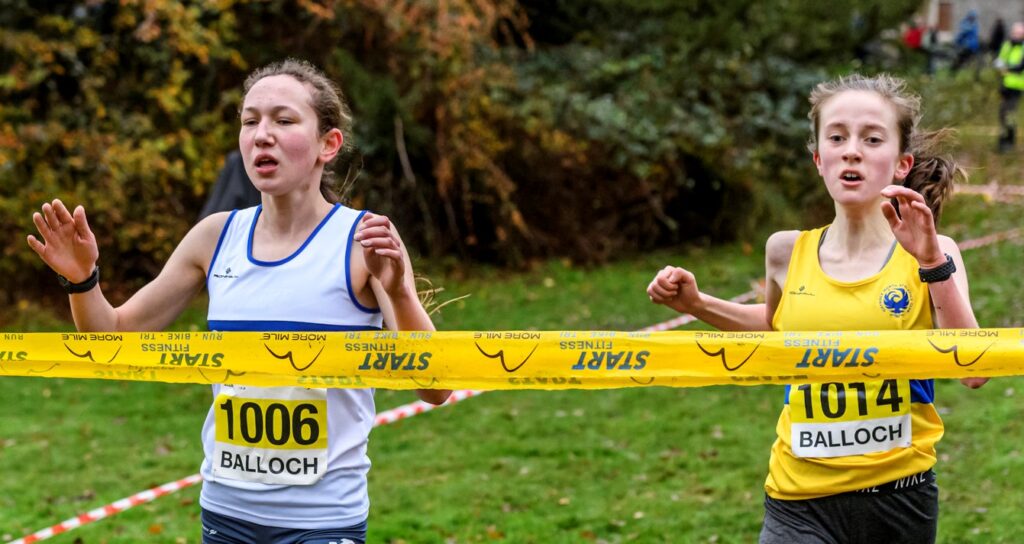 Louisa Brown and Hannah Ryding featured in a close finish with both U17 Women given the same time (photo by Bobby Gavin)
The finish to the U17 Women's race was one of the most exciting of the day – with race winner Garscube's Louisa Brown and silver medallist Hannah Ryding of Giffnock North both given the same time. Millie Nicholl of Cambuslang was third.
The U20 Women's title was claimed by Meredith Reid of Inverclyde AC from Louise Hastie of Kilbarchan and Jessica Robson of Law and District AAC.
Reuben Macdonald of Giffnock won the U17 Men's race from Fraser Gilmour of VP-Glasgow and Cameron Green of Giffnock.
Cambuslang went 1-2-3 in the U20 men's race with Chris McClew topping the podium from club-mates Zak Povey and Ruaridh MacGregor.
Giffnock had three champions in four races at UI13 and U15 level. Eilidh Caldow led the way at U13 and Freya Campbell and Craig Shennan doubled up at U15, East Kilbride's Angus Wilkinson won the U13 Boys race.
And, indeed, Giffnock pulled off a remarkable feat by winning all six team races at U13/U15/U17. Congratulations to those athletes and their coaches.
*Further medallists at U15 and U13 as well as team medals are all detailed on our online Live Results sheets.
*Huge thank you to host clubs Westerlands CCC and Dumbarton AAC for their efforts in hosting at Balloch Castle – a terrific venue for winter cross country in Scotland.
+++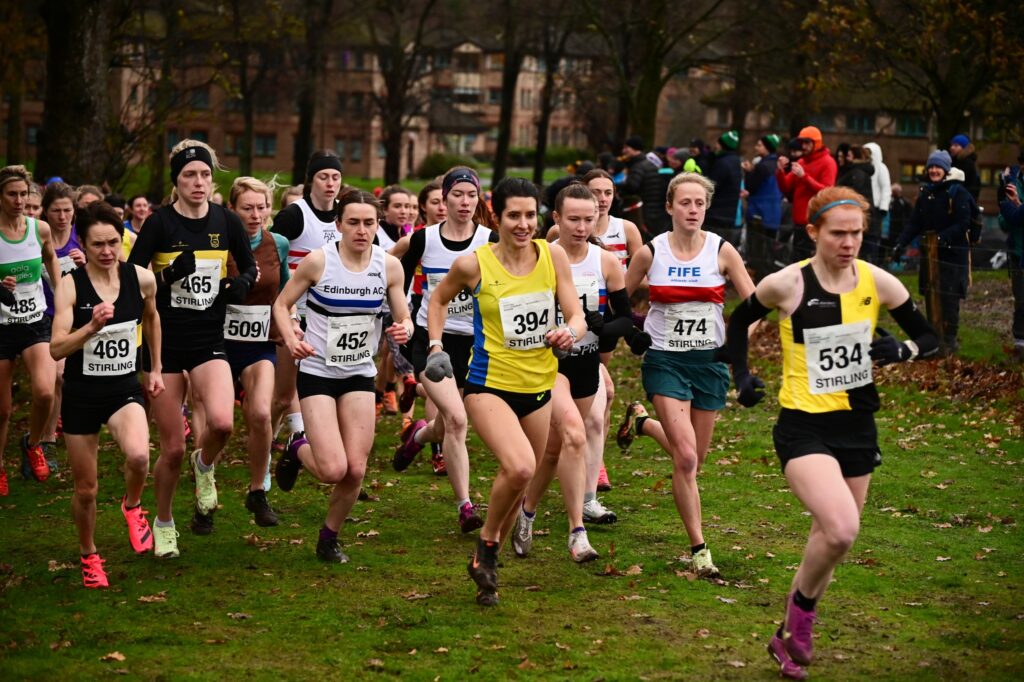 Photo by Neil Renton
East Results (click on 'scores' for team outcomes)
Scotland international Morag Millar and Falkirk Victoria Harriers athlete Scott Stirling took the Senior golds at the East Districts at Stirling.
Central AC were the host club for an event that attracted the second largest ever number of entries after an absence of two-years.
Millar gave Central a home winner as she won from Naomi Lang of Aberdeen AAC with Edinburgh AC athlete, Lauren Wilson, placed third.
Stirling for his part led home a 1-2-3 that also featured Lothian RC athlete Max McNeill, back in Scotland after a spell in the United States, and Sasha Chepelin of Carnethy HRC.
Central comfortably took the Senior Men's team golds – with all six counters inside the top 20. Corstorphine AAC landed the silvers and Metro Aberdeen took the bronzes.
It was far closer in the Women's race with only a two point margin between winners Edinburgh AC and silver medallists Aberdeen AAC. Edinburgh Uni Hare and Hounds were third.
Edinburgh Uni featured prominently at U20 Women – as they went 1-2-3 thanks to Hannah Anderson, Kirsty Purcell and Caitlin Purcell.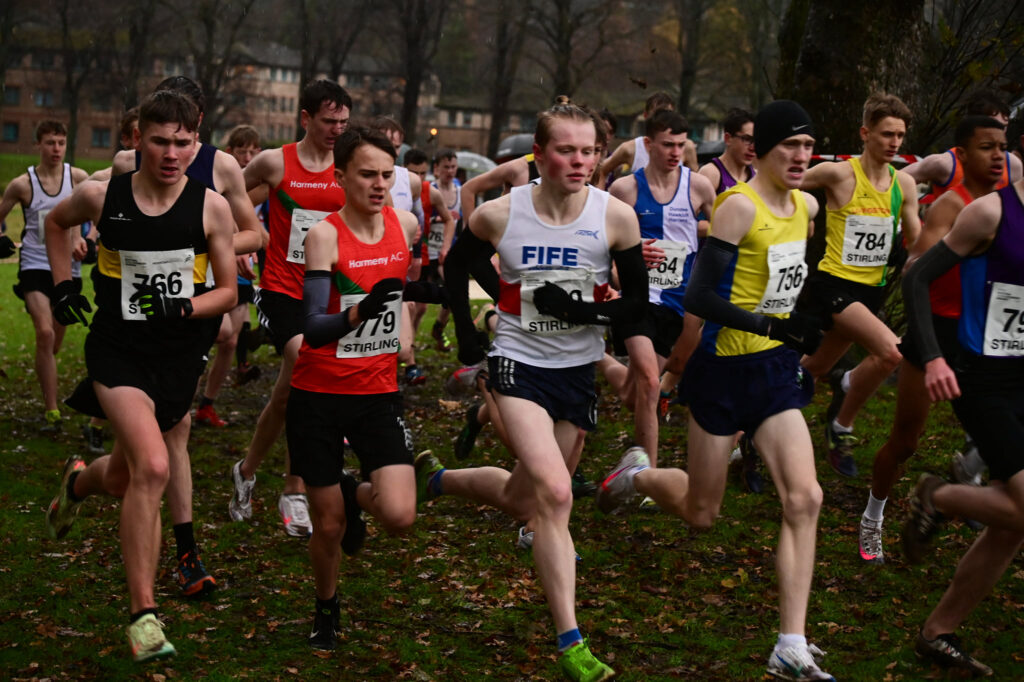 Photo by Neil Renton
Team East Lothian topped the podium at U17 Women thanks to a fine run from Maja Thomson as she was followed home by Fife AC's Isla Hedley and Olivia Clarke of Corstorphine AAC.
Corey Campbell's strong run at U17 Men gave T.E.L a second title win in that age group with Connor Bell of Central second and Tedai Nyabadza of Harmeny AC in third.
Matt Knowles of Edinburgh Uni won the U20 Men's gold from Central duo Ben Macmillan and Alastair Marshall.
In the younger age-groups, four different clubs have new East champions. At U13 Girls, Eilidh Dallas of Strathearn Harriers was the winner as Donald McIntyre of Harmeny AC won the U13 Boys race.
Edinburgh AC's Jessica Taylor took U15 Girls gold and Kieran Fulton of Moorfoot won the U15 Boys race.
*Further medallists at U15 and U13 as well as team medals are all detailed on our online Live Results sheets.
*Huge thank you to host club Central AC and all involved in the event at Stirling Uni.
+++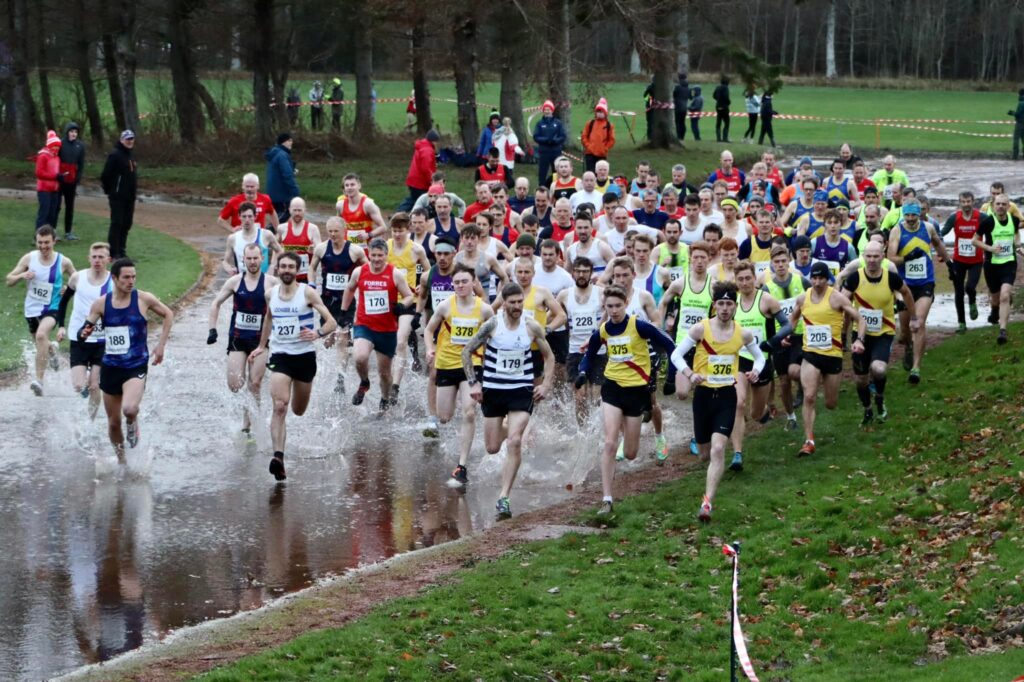 Photo by Carol Sim 
North Results (click on 'scores' for team outcomes)
Fraserburgh's Max Abernethy (25:40) won his first North District men's title after a tough battle with 2018 champion Kenny Wilson of Moray Road Runners (25:57) at cold and muddy Gordonstoun.
The bronze went to Lochaber's hill specialist Finlay Wild (26:08).
Inverness Harriers edged a tight team contest where just 20 points covered the top four.
Led by John Newsom in fourth place, Inverness retained their title by just six points from a Lochaber side making a relatively rare cross country appearance. Moray Road Runners pipped Highland Hill Runners by two points for third and Inverness also had the top Masters' team.
New women's champion Catriona Fraser-Lennox of Inverness (31:11) and Kirstie Rogan of Highland Hill Runners (31:30) continued their rivalry, and Sarah Attwood of Skye and Lochalsh (31:47) took bronze.
Highland Hill Runners won the team title from Moray and Lochaber, with the Masters' award going to Forres.
Inverness, led home by Luke Davidson (22:36) and Lucas Cairns (22:38), produced the top four in the U20 men's race and clubmate Rachel Gillies (32:04) took the U20 women's honours.
Far travelled Stornoway RAC, with three gold, two silver and one bronze from six events, emerged as the top club in the young age groups.
Individual champions as follows: U13 Girls Lois Macrae (Inverness); U13 Boys Israel Noble (Fraserburgh); U15 Girls Abbie Stewart (Stornoway); Angus Laird (Inverness); U17 Women Beth Uquhart (Moray RR); U17 Men Roy Taylor (Elgin).
*Thanks to Moray Road Runners and Gordonstoun School for all their assistance as well as Ross Cairns and the North RR and CC Commission.
With thanks to Charles Bannerman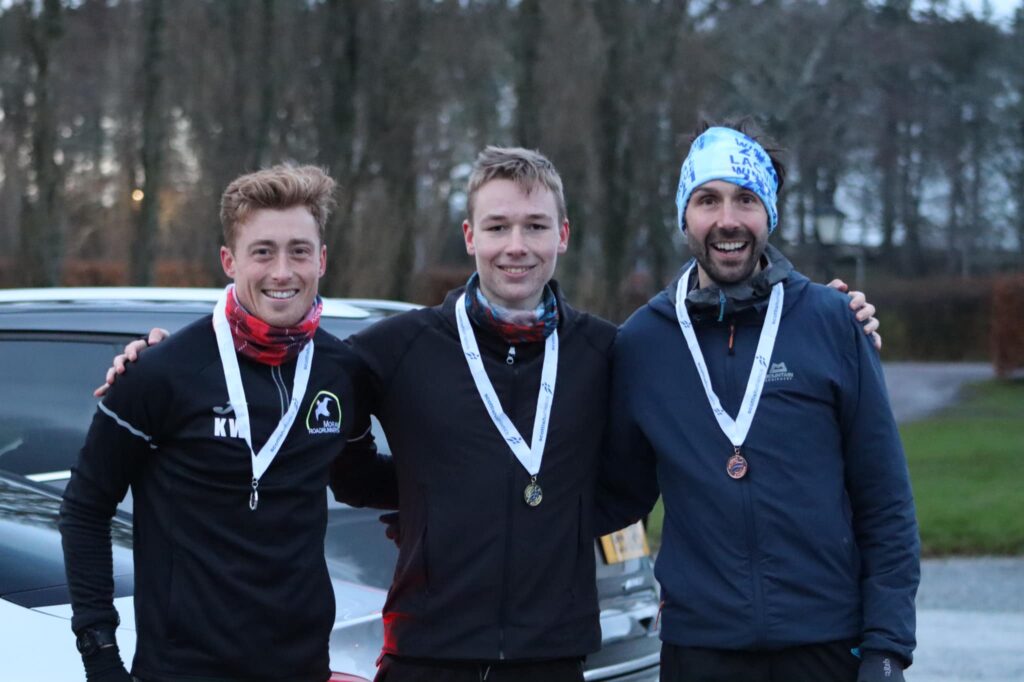 North District Senior Men's champion Max Abernethy joined by Kenny Wilson and Finlay Wild (photo by Carol Sim)
+++
Tags: Balloch Castle, Gordonstoun, Lindsays District XC, Stirling