How Covid-19 lockdowns helped thrower Kirsty reset her goals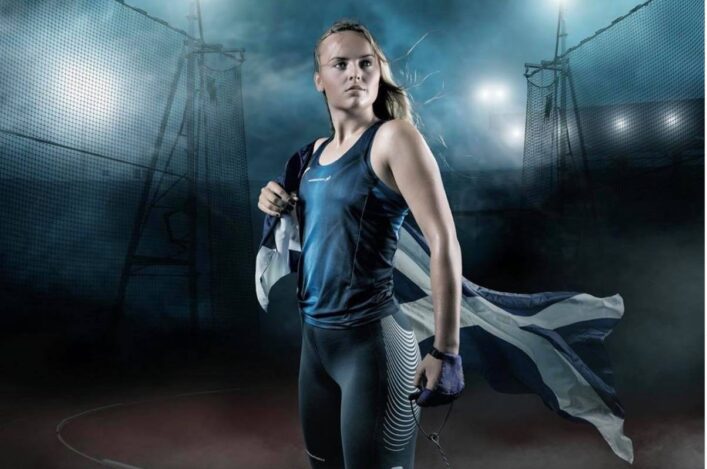 Photo with thanks to Tru Wealth
By Katy Barden
'Is this something I really want to do?', pondered Great Britain international hammer thrower Kirsty Costello as she navigated a challenging 2020.
The then-18-year-old had a lot going on. She'd passed her driving test just prior to lockdown and had moved out of her family home to go to university.
Amidst the nerves and excitement of a new start, she questioned whether athletics – a sport she'd been involved in for over a decade – still fitted into her life.
'It was a really difficult year, but the pandemic was honestly a blessing in disguise,' she admits.
'I had a little bit of time off and I thought 'you know what, I do want to do this. I've wanted to do this since I was a kid, I want to travel the world and do the best I can doing this,' so having that time to re-evaluate really helped re-motivate me.'
Costello's decision to commit to athletics is paying off, and following a lifetime best performance at the England U20 Championships (59.19m), she made her GB debut at the European U20 Championships in Tallinn, Estonia, in July.
'There wasn't a better time to do it,' she says of her PB and European qualifier. 'It was an amazing feeling because it validated all the hard work I'd put in.
'It (European U20s) was my first GB vest and it was really emotional. It's what I've been dreaming about since I was a wee kid and I had so much fun during the competition.
'There were obviously some nerves, but when you think about how amazing an opportunity it was to be there . . . I want to look back in ten years and say 'I had so much fun, I looked really relaxed' and not 'oh I wish I hadn't been so nervous, I wish I'd enjoyed it more'.
'I didn't quite execute as much I wanted to, but it's definitely given me that level of experience and makes me want to work harder to do better at the next big opportunity that I get.'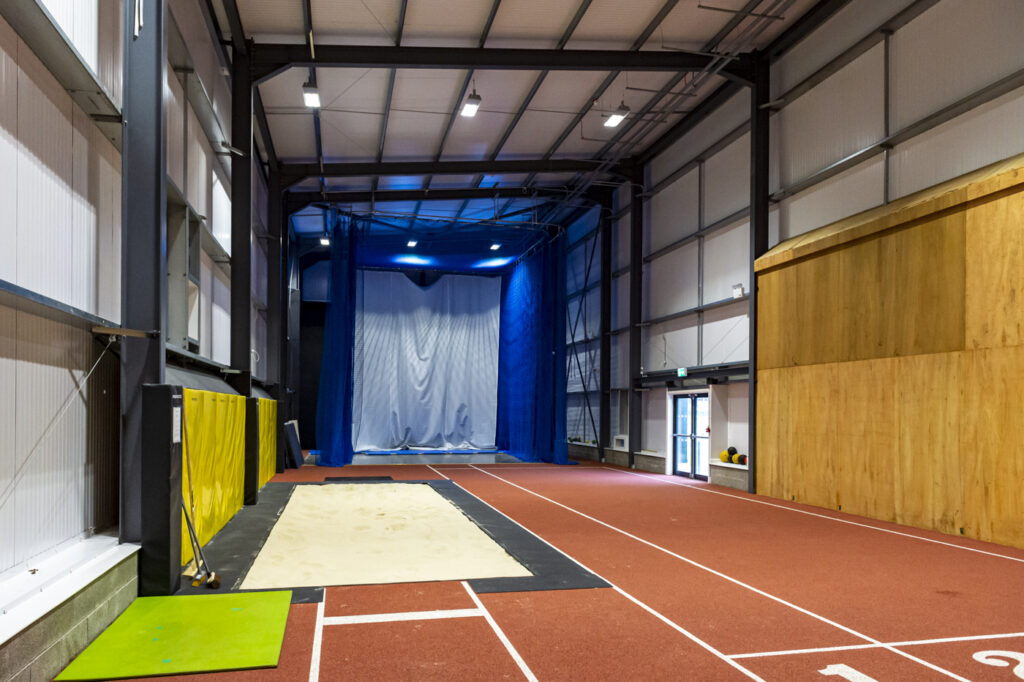 Kilbarchan's superb indoor facility is proving so beneficial, says Kirsty Costello
Costello, who is studying Dentistry at the University of Glasgow, has committed to an extended period of winter training in a bid to achieve Scotland's Commonwealth Games qualifying standard for the hammer early next year (62.57m).
She does so with the support of her coach Chris Bennett – also a GB international hammer thrower – the financial backing of Tru Wealth, and Kilbarchan AAC.
'Kilbarchan have supported me since I was a little kid so I'll always stick by them,' she says of her 'amazing' club.
'It's so good to see other people from your club doing so well and it makes you think 'I can do this'.'
Not only that, but she credits the club's fantastic indoor facility for playing its part in her success this year, admitting it was a godsend and enabled her to train in a motivational environment with other athletes throughout the winter.
For his part, Bennett – who also coaches Costello's brother Andrew – offers the invaluable experience that comes with years of international competition, as well as an example of what it takes to succeed as a senior athlete.
'Because Chris is a professional athlete it makes you step it up,' she says.
'You do your warm-ups properly, your conditioning behind the scenes . . . and it's always good to train with someone that's throwing so much further than you.'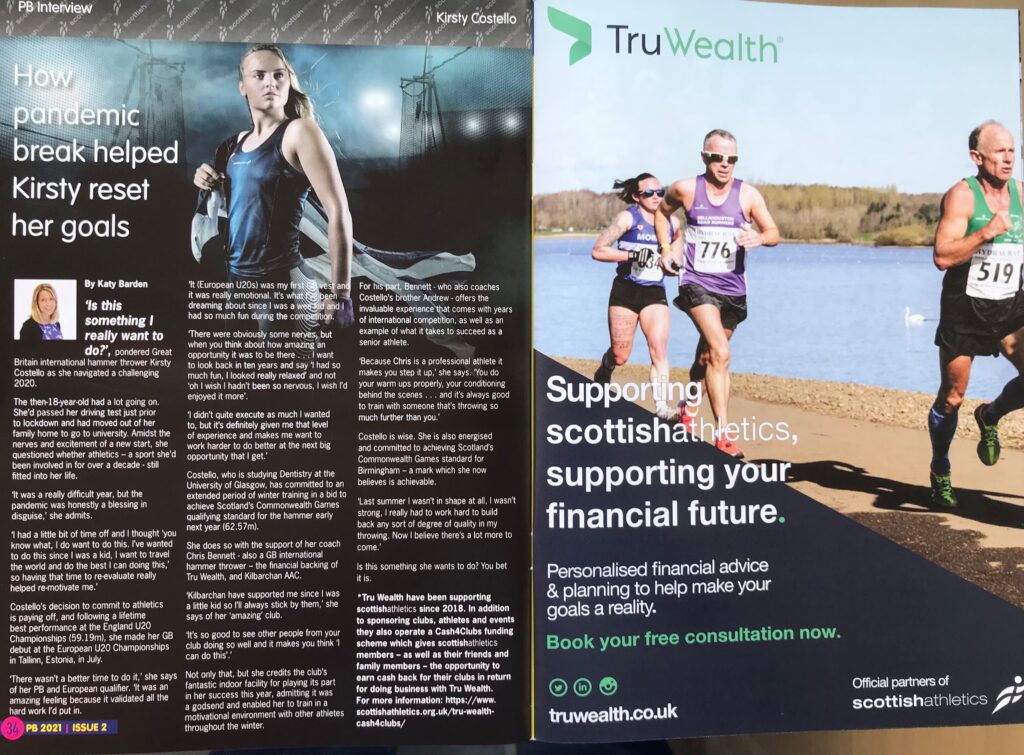 Costello is wise. She is also energised and committed to achieving Scotland's Commonwealth Games standard for Birmingham – a mark which she now believes is achievable.
'Last summer I wasn't in shape at all, I wasn't strong, I really had to work hard to build back any sort of degree of quality in my throwing. Now I believe there's a lot more to come.'
Is this something she wants to do? You bet it is.
*Tru Wealth have been supporting scottishathletics since 2018.
In addition to sponsoring clubs, athletes and events they also operate a Cash4Clubs funding scheme which gives scottishathletics members – as well as their friends and family members – the opportunity to earn cash back for their clubs in return for doing business with Tru Wealth.
+++