In the spotlight: Zoey Clark and Laura Muir make headlines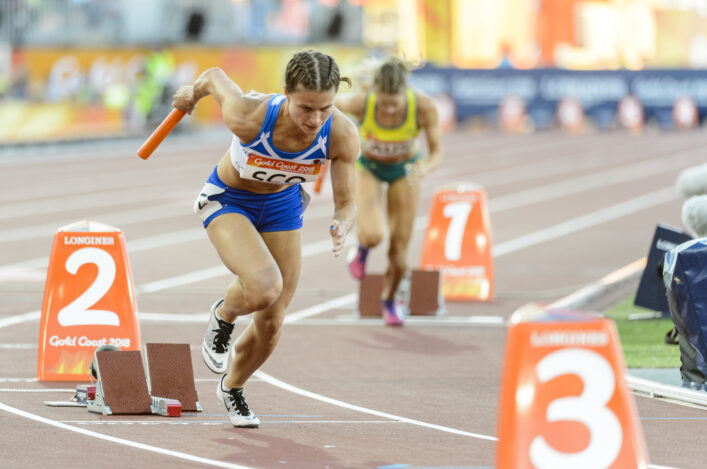 Zoey Clark at Gold Coast 2018 when she helped the 4x400m team to Women's National Record (photo by Bobby Gavin)
Athletics Weekly interview with Zoey Clark by Daniel Rees
GB international sprinter Zoey Clark has made a strong start to 2021 – despite the long months of lockdown lay-off from competition.
Two runs over 400m at our 4J Studios Elite Invitational events at the Emirates Arena look like the right preparation for Euro Indoor selection events being set up by British Athletics.
Zoey clocked her faster season opener with 52:40 and then, a week later and racing against Beth Dobbin, clocked 52:03. That run is in fact the fastest400m ever run in Scotland by a Scottish woman.
'I know I've been training well, but sometimes there's a bit of a disconnect between training and competition,' she told Athletics Weekly, in a special interview with (fellow Scottish athlete and freelance writer) Daniel Rees.
'If you don't actually have the competition there to back it up, you're still a bit uncertain of how you're actually doing.
'Those performances did come as a bit of a nice surprise to me because they're good times. But it's not just the fact that I haven't been racing for a year. I would be really happy to open with these sorts of times in any indoor season.'
Limited access to facilities and a lack of face-to-face coaching has been a challenge for every athlete during Covid-19. But the chemical engineering graduate from Aberdeen Uni has sought to meet the issues head-on.
'I quite enjoyed figuring out how to train (at the start of lockdown). I didn't so much enjoy running in a field when the weather wasn't great, but I looked at where I could go to train, and what the best outcome was.'
READ THE FULL ATHLETICS WEEKLY INTERVIEW
+++
Laura breaks British Record for 1500m indoors in France
Laura Muir captured headlines with her British Record run in France the other night – in the same race as Gudaf Tsegay's World Record for 1500m indoors.
Mark Pollard has known Laura and coach Andy Young for many years and is now our Head of Performance (interim).
Mark spoke to Radio Clyde news on Wednesday morning after the Lievin indoor meet and highlighted that only seven women globally all-time had run sub four minutes for 1500m indoors prior to Tuesday night's remarkable race.
Meanwhile, Andy spoke to Susan Egelstaff for the Herald ahead of the Lievin meet.
'Laura is probably in a better place this year,' he said.
'We've had a run of uninterrupted training for a year now whereas we'd had a bit of a struggle with that in the previous few years with injuries getting in the way.
'But since last January things have been uninterrupted so training has been going well and Laura is in very good shape. It is about keeping it going, getting a bunch of outdoor races and being ready for the Olympics.'
Andy Young interview with Susan Egelstaff in the Herald
+++
Tags: Andy Young, Daniel Rees, Laura Muir, Mark Pollard, Zoey Clark