'Sleeping right, eating right and training well brings out my best' – Jemma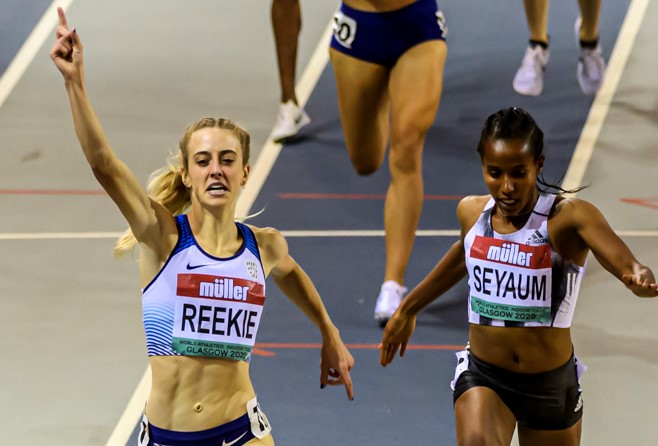 Photo by Bobby Gavin
4J Awards – Laura, Jemma and Jake share Performer of Year title
Jemma Reekie believes her outstanding form in 2020 will make rivals wary of her from now on.
The Kilbarchan AAC athlete won a European U23 middle distance double in 2019 so can hardly be described as a 'surprise package'.
But the past year may well come to be regarded as the moment when she earned global recognition with a series of British Records and stunning 800 performances – indoors and outdoors.
It culminated with a Rome Diamond League win one September evening only 48 hours after clocking 1:58 was only enough for fourth place in Switzerland in a less high profile meet.
Jemma has since been jointly named as 4J Studios Performer of the Year with training partner Laura Muir and Jake Wightman.
And while her natural modesty and good manners prevent her from insisting rivals will fear her more, the 22-year-old definitely put her name up in lights with no fewer than nine victories from just 13 races this year.
'It's hard to tell because of course you don't know what other athletes are feeling or thinking,' said Jemma when asked if she thinks opponents will now fear her on the start-line.
'But I think my presence is definitely 'out there' now. Other athletes are wondering what I am going to do because I've run a few different ways and still run well.
'My coach, Andy Young, is so good with our training to make us strong for a fast race. I have the speed to bring into it at the end if I need to so I think, yes, I'm probably a bit better-known on the start-line now.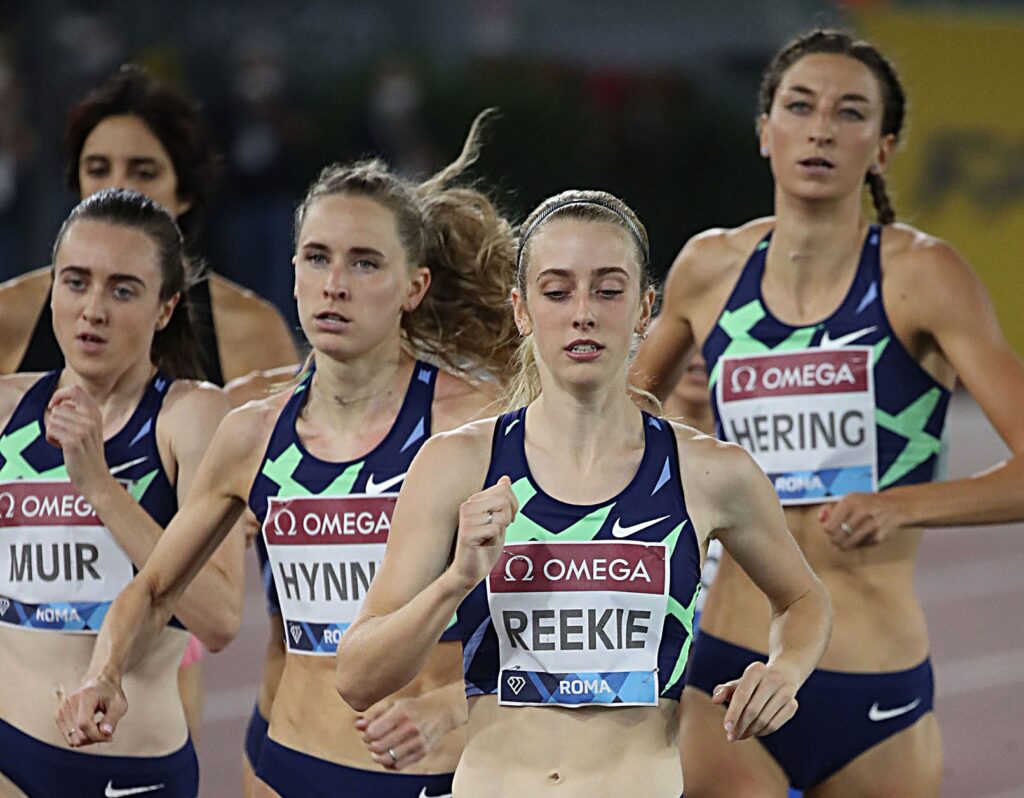 Rome Diamond League meet in September as Jemma takes the 800m win (photo courtesy of Wanda Diamond League: Giancarlo Colombo)
'That night in Rome was probably just my competitive streak showing through. I was disappointed in Switzerland with fourth – even after running 1:58! If you had told me that last year, then I'd have been buzzing to run sub two minutes.
'Any time I am disappointed, like that night in Switzerland, I always just want to go out and run even better than before.
'It went well in Rome in that final Diamond League 800m and it is good practice running two like that with only one day off in between, because that could be what it is like with a championship schedule.
'It was a confidence boost, that way, to have run so well in the second race in such a short period of time.'
For the athletics in Scotland audience, and even the wider public here, Reekie's rise has been so visible that it is tempting to think everything has been straight-forward for Beith's local heroine.
In fact, in 2019 the Euro U23 double was bracketed by failing to progress from the heats at Glasgow 2019 in the European Indoors and then in Doha at the World Champs.
Even while making the often difficult step-up from Junior to Senior, that hurt.
'After Doha last year I was disappointed in my performance there (not getting through the heats),' explained Jemma.
'It was bitter sweet in many ways because I'd had a good year and won the European U23 double – which was a big target for 2019.
'I told myself I didn't want Doha happening again.
I wanted to come back after the winter and be in a position to be quicker and stronger. I had my head down and trained hard last winter – with the Olympics on the horizon at that point.
I was eating well, sleeping well and training well. When those three come together then I felt I was giving myself the best chance.
'I'd had sinus issues so I had that operation at Christmas time and that really helped. I didn't want to be missing a week here and there in training (which had happened in previous years) because of sinus problems.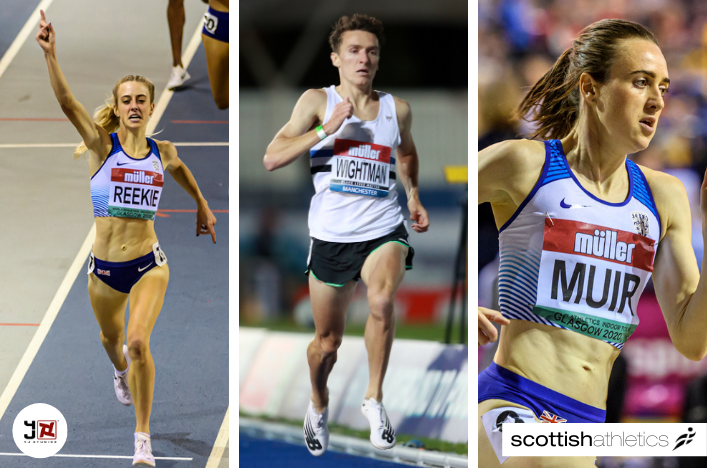 Sharing our 4J Studios Performer of Year title with Laura Muir and Jake Wigthman was an exciting moment as Jemma watched the YouTubr broadcast.
'It was special to share it with Laura and Jake,' she said.
'I was watching it and felt there were so many people on the short-lists with reasons they could win it . . . so I wasn't sure what would happen.
'I think the three of us really did deserve it. We all delivered our best performances this year and you couldn't have picked between the three of us.'
Jemma was Scottish U20 Athlete of the Year only three years ago in 2017 so her progression has been impressive.
'When I was a Junior, I was focused on being a good Junior – and wanting to do well and try and win medals,' she said.
'When I became a Senior, I immediately wanted to be a good Senior- and be competitive right away. I wanted it to happen quickly because I was saying to myself 'I've been a good junior and I've been up at the top'.
'I knew there would be a process, making the step-up, but felt with hard work I could get there. The athletes at the top of the sport are working so hard to be there. I just felt I had to have a mindset that I could join them.
'I always feel that telling yourself you can do it is one the main things that helps you make the leaps forward.'
SUBSCRIBE to our YouTube channel here (it's FREE)
Tags: 4J Studios Annual Awards, 4J Studios Performer of the Year, Andy Young, Jake Wightman, Jemma Reekie, Laura Muir