Adam and Kris post PBs at World Half Champs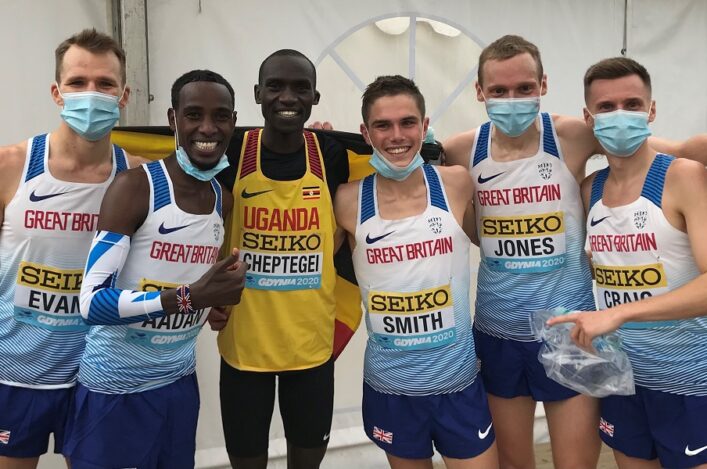 Photo via British Athletics
World Athletics website – Results
Adam Craig was pleased to post a PB performance on his GB and NI debut at the World Half Marathon Championships in Poland.
The Inverclyde AC athlete was placed 62nd in the race in Gydnia on Saturday as he finished in 63:12 in only his second competitive race at this distance.
Kris Jones of Dundee Hawkhill Harriers was just ahead of Adam to take 60th place as he clocked a PB of 63:05.
Jake Smith set a new British U23 Record of 60:31 as the British men's team took 10th place overall in the standings topped by Kenya in Poland. Robert Hawkins was team manager with the GB and NI selection for the first time at this event.
'The target was just to get into the race, enjoy it and come away with a PB and I've managed to do all of those things,' said Adam.
'It's all I wanted from today and I managed it. I did it the hard way in going out probably a little too quick but it all worked out and ending the season with a PB is great for me.'
Kris had also started fast and then had to hold on for his PB.
'I went out hard and hurt a lot,' said the Welsh athlete.
'I hoped I could hang on for a little bit quicker but I worked through and I'm really happy to come away with a PB, no matter what the time, a PB is a PB.
'And to echo what others have said, to witness this man Jake Smith's run was great. I hope to run with him at some point in a Welsh vest but it was just amazing.'
The senior women's team, which saw all three British athletes making their senior debuts at the championships, were led to 15th position in the overall standings, with Samantha Harrison leading the way in 71:53.
Cambuslang Harriers athlete Moira Stewart was representing the Czech Republic and had a fine race to finish in 34th place with a big PB performance of 71.08.
With thanks to James Cann of British Athletics in Poland
Tags: Adam Craig, Kris Jones, Moira Stewart, Poland, Robert Hawkins, World Half Marathon Champs