Sub-four! Monument Mile Classic delivers classic races and PBs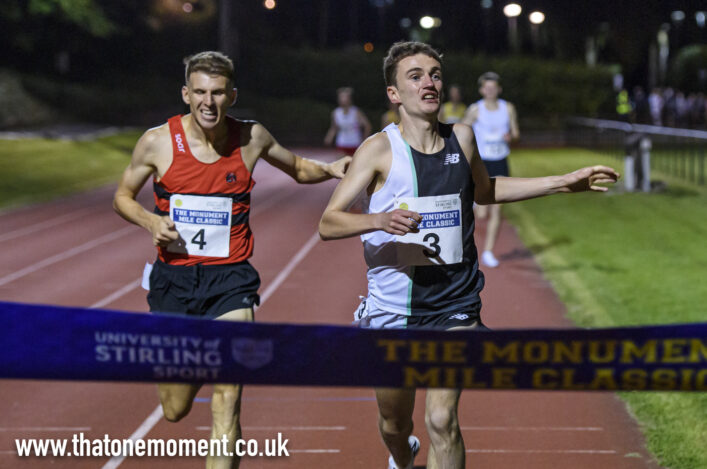 Jonny Davies celebrates his victory in the Men's A race at Stirling (photo by Bobby Gavin)
They came, they saw, they ran Personal Bests aplenty.
The Scottish athletics spotlight shifted seamlessly from the televised glamour of Diamond League action in Rome some 24 hours earlier to the Stirling University track in the shadow of the Wallace Monument.
And there really was something marvellous – gladiatorial, even – about the classic contests which unfolded over the mile distance on Friday afternoon/evening.
Across the age brackets, from clubs the length and breadth of Scotland, and further afield in Britain, athletes at the Monument Mile Classic sought to cash-in on calm conditions which can only be described as 'rare' for September in this country.
Nobody did so more than Jonny Davies just shy of 9.34pm as he became the first man in 11 years to clock a sub four-minute mile on these shores with a superb run of 3:59.36.
The second, via the run of Ian Crowe-Wright, came along some 0.25 seconds later – as the Brighton and Hove AC athlete finished second in the A race in 3:59.61.
Two Kenyans, Gideon Gathimba and Bethwell Birgen, were the last sub four-minute performances on the track in Scotland in Aberdeen in August 2009.
Photo by Bobby Gavin
'I am absolutely thrilled with that,' said Davies, of Reading AC.
'I'm well aware it has been a long time since sub four was run in Scotland and it's great to have that next to my name now.
'I was confident and hopeful but I've run 4:00 twice before in my career – once on the road and once on the track – so it's never certain. I ran 3:39 for 1500m in midweek so that was a further boost but this was a lot harder!
'I was at the front for longer and you are so conscious of trying to hit the target times. But the pacer did well and the whole event was brilliantly set-up for it.
'It was a bit chilly as we reached 9.30pm but, again, I think we all appreciated there was no wind and that gave everyone a great chance to chase PBs. I'm sure there were many across the races.'
Mark Pearce (4:02.85) followed in Davies and Crowe-Wight to shut Scottish athletes out of the 1,2,3 prize-money.
Sol Sweeney finished fourth in 4:04.72 with two further Scottish men in the 4:05 bracket – Michael Ferguson of Aberdeen (4:05.41) and Jack Patton of Kilbarchan AAC (4:05.84).
That is quite a performance by U20 Kilbarchan AAC athlete Patton. Ben MacMillan of host club Central was another U20 with a fine performance.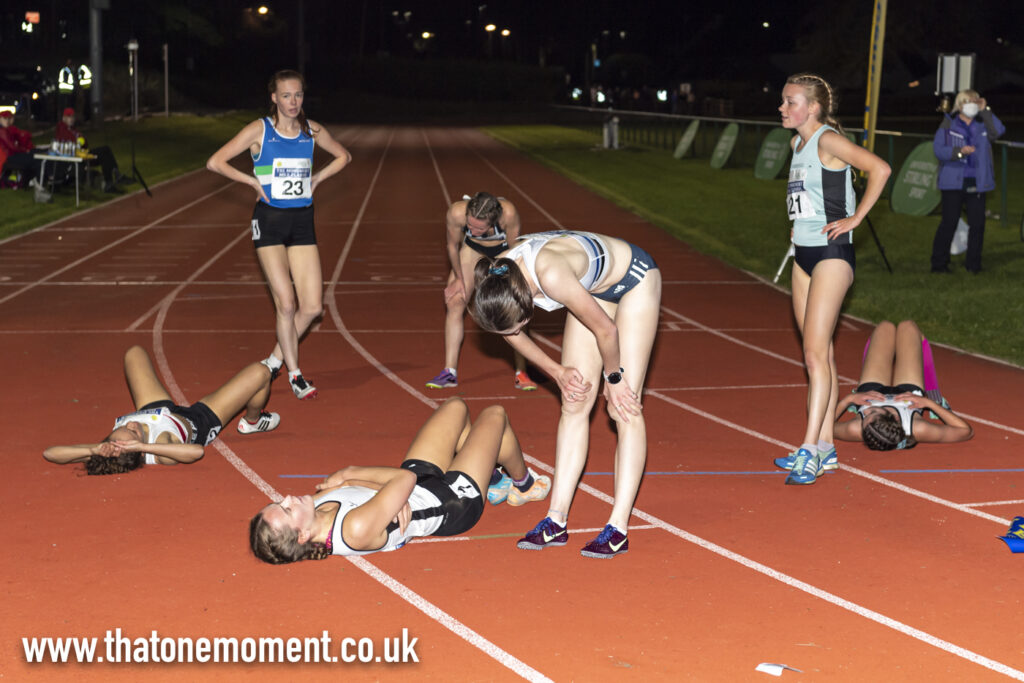 The women's race was won in 4:44.87 by Cambridge Uni athlete Louise Shanahan. Her team-mate,  Niamh Bridson-Hubbard, was second with Edinburgh AC U17 athlete, Katie Johnson, enjoying a very fine run to take third in 4:50.14.
Following in Katie a quartet of Scots also went sub five minutes in this order – Hannah Cameron, Georgia Ledingham, Hannah Addison and Sarah Coutts.
In a previous race, Sarah Tait of Lasswade won a last lap battle with Olivia Vareille to clock 4:48.19 as the Falkirk Vics athlete came home in 4:51.67.
In the Men's B race, Kane Elliott of Falkirk Vics took the victory in 4:07.92 with Jonny Glen of Inverclyde AC home in second in 4:08.74 and Aidan Thomson's strong finish bringing him third in 4:10.07.
Within every races there were athletes going through their 1500m PB even if they hadn't posted a mile PB before on the track.
Fully two dozen races came and went over a four-hour period after a huge organisational effort by race director, Michael Wright, and the team from Central AC and Stirling Uni.
A host of Covid-19 procedures and protocols were in place and it is to be hoped that athletes from many clubs in Scotland will take back tales of how the monument mile Classic was set-up – in terms of the 'flow' of athletes and race 'bubbles' – back to their clubs for further discussion.
For a large section of the athletes competing, it was also a first track outing in six months.
And didn't they relish every stride – painful or otherwise – under first the Stirling sunshine and later the floodlights.
Tags: Ian Crowe-Wright, Jonny Davies, Louise Shanahan, Monument Mile Classic, Stirling