Jemma surges to Diamond League 800m victory in Rome with Laura third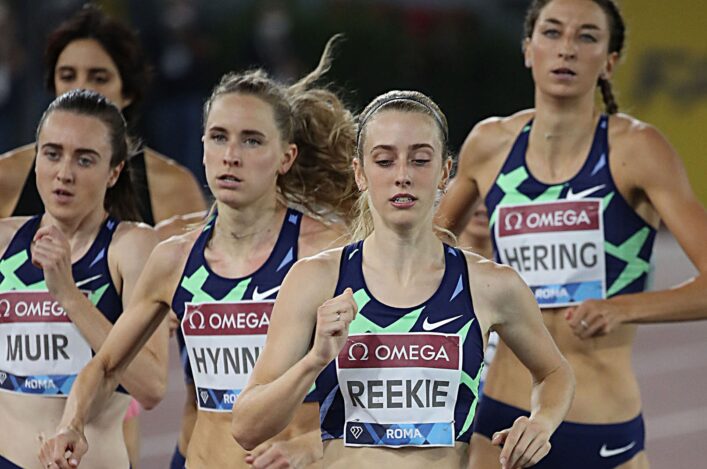 Photo via Wanda Diamond League Rome Gala
Jemma Reekie claimed another superb Wanda Diamond League victory in the Women's 800m in Rome.
The Scot surged ahead in the final 200m to win a more tactical race than many of her recent outings.
Jemma did so 1:59.76 as she forced Norway's Hedda Hynne and Laura Muir into second and third with that powerful burst proving decisive after the field had gone through the bell in around 59 or 60 seconds.
It was a seventh sub 2 minutes 800m run for Jemma over the course of 2020 and her sixth track win in nine outings in this shortened season across various venues around Europe.
Coverage from Athletics Weekly
Henna, who ran a World Lead against the Kilbarchan athlete on Tuesday in Switzerland, came home in second in 2:00 24 with Muir in third at 2:00.49.
The Rome Diamond League fixture marked the end of short but thrilling track season for both Scots – and they have delivered all manner of victories and times during that six-week period.
Congratulations to both and their families and coach Andy Young.
+++
Jake Wightman ended his season in Zagreb on Tuesday with third place in a strong 800m race.
It was a British 1-2-3, in fact, as Manchester winner and British champion, Daniel Rowden, took the win in 1:44.09 with Jake pulling through for third in 1:44.85.
Like Laura and Jemma, Jake has delivered some very exciting performances in recent weeks – including that superb new Scottish Record at Men;s 1500m at 3:29. 47.
Well done to Jake, his family and coach Geoff on their sterling efforts in 2020.
Tags: Jemma Reekie, Laura Muir, Rome, Wanda Diamond Leaguge