Laura and Jake deliver Scottish 800m double in Ostrava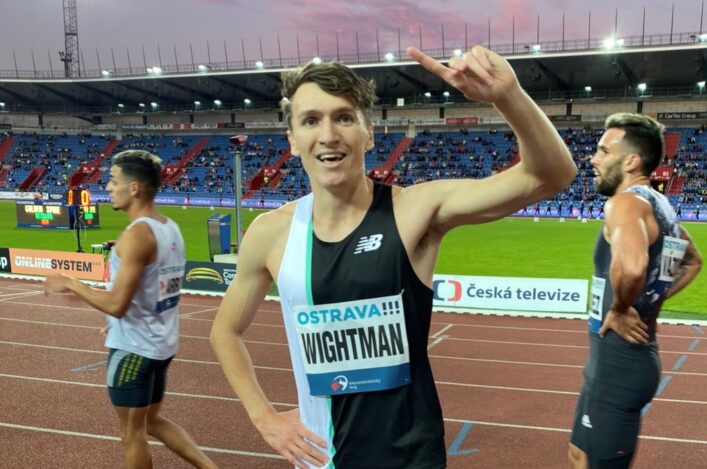 Photo via Twitter
Laura Muir and Jake Wightman tore up the track in Ostrava to once again demonstrate the power of Scottish endurance running at the moment.
The Golden Spikes meet in the Czech Republic has a reputation to match that marvellous title and the 2020 version did not disappoint.
Muir made it four wins in a row in her recent European tour as she claimed victory be a big margin in the 800m – and almost eclipsed Jemma Reekie's recent World Lead.
Minutes later Wightman stepped up to the plate with his Manchester defeat to Daniel Rowden in the Muller British Champs doubtless adding to his motivation.
And Jake didn't half seize the moment as he clocked a big PB to surge through from the final bend to win in 1:44.18.
Jake had insisted over the weekend that he does not want to be known only as a 1500m runner but would rather be 'an 800m/1500m' like some of the British middle distance icons of the past.
The Scottish 1500m Record Holder backed those words with actions and that low 1:44 clocking is taking him into the Tom McKean territory – with Tom's Scottish Record at 1:43.88.
It also lifted Jake into the top 10 British All-time last – the perfect antidote to Manchester.
Guy Learmonth finished eighth in the race in 1:46.00 after his SB run in Poland some 48 hours earlier.
Muir for her part clocked 1:58.84 and at one stage looked as if she might well beat Reekie's 1:58.63 from a couple of weeks ago.
The pair are due to meet in the Rome Diamond League meet on Thursday week – over 800m.
Laura's nearest rival on the night, Poland's Sofia Ennaoui, was almost two seconds back at 2:00.82.
Jemma herself took third in a strong 1500m which picked up significantly after a steady start. Kenyan Faith Kipyegon wasn't hanging around and stormed away to win in 3:59.05 and Jemma had to defer for second to new British champion, Laura Weightman, as the Scots clocked 4:03.25.
Eilish McColgan was 11th in 4:12.07.
Tags: Eilish McColgan, Guy Learmonth, Jake Wightman, Jemma Reekie, Laura Muir