WATCH: our interview with Laura Muir and Jemma Reekie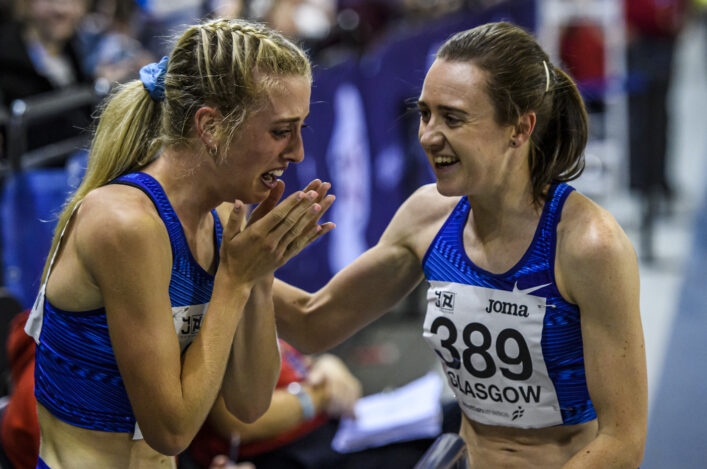 Photo by Bobby Gavin
Laura Muir and Jemma Reekie are our next guests in our superb Coaching Conversations video series.
In each instalment we publish an extended interview with a top Scottish athlete on our scottishathletics YouTube channel.
After Neil Gourley a couple of weeks ago, there was a change to Coaching Conversations last week with a double act involved after six previous individual interviews as we spoke to Para athlete Maria Lyle and her coach Jamie Bowie.
This time, Sue Gyford chats to another double act as flat-mates Laura and Jemma discuss how their careers have developed under the coaching tutelage of Andy Young.
It is five years now since Jemma joined the training group led by Young – with Laura having first arrived at Glasgow University some nine years ago in the autumn of 2011.
Spectacular progress for both athletes has been achieved though consistent hard work and while lockdown arrangements do present problems for our elite athletes, few would doubt that miles and sessions are still being put in.
Join us on our YouTube channel – please SUBSCRIBE
'It made it all real for me when I joined the group and saw, up close, how hard Laura trains,' said Jemma.
'It was so close to home in many ways – yet it was suddenly so real for me.
'I respect so much the way she has managed to balance things and do a Uni degree.
'For me, it has been athletics, athletics, athletics in my life but Laura has had two really big careers and at one stage was doing them right together. I think that shows the strength of her mentality. She was still delivering really strong performances while her Uni finals were on!'
*Earlier in the Coaching Conversations series, Sue Gyford spoke to Laura and Jemma individually to discuss their careers and the influence of their coaches.
Tags: Andy Young, Coaching Conversations, Jemma Reekie, Laura Muir