4J Studios Club Distance Challenge 2 – Results and round-up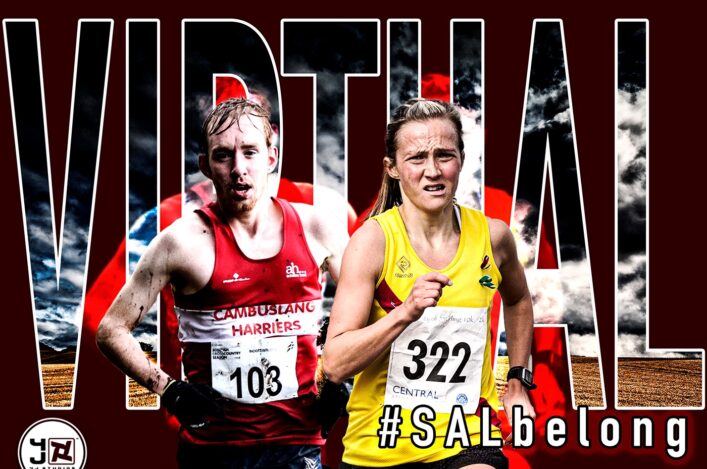 Image created by Bobby Gavin
Virctual Club Distance 2 Full Results
There was another big response from the endurance community to our latest 4J Studios Virtual Challenge.
The Club Distance 2 Challenge asked athlete to take on solo runs over 15 minutes or 30 minutes and then submit a distance in kilometres.
Once again we'd athletes competing in some far-flung locations – with Central AC's Kim Timmins running in Holland, for example – and many more across the length and breadth of Scotland.
In fact, over 700 athletes posted us their distances after a weekend when trying to pick a time of day when conditions were not too warm may have proved an issue. Not really a recurring theme in Scotland!
+++
scottishathletics would like to thank the following clubs for their donations towards our on-going event costs (after our suggestion of £2 per athlete for this Virtual Challenge:
Edinburgh AC, North Ayrshire AC, Lasswade AC, Fife AC, Cambuslang Harriers, Bellahouston Road Runners, Forres Harriers
This support is greatly appreciated with our thanks, also, of course to a number of individual athletes who made donations.
+++
The 30 minute run drew a handful of Scotland internationals and Cambuslang's Ryan Thomson and Jenny Bannerman of Inverness proved their quality with fine runs to top the individual leaderboards – with Ryan very close to 10k with a run of 9.92k and Jenny at 8.55k.
Cameron Watson of Inverclyde AC and Michael Christoforou were also prominent in terms of the male division while the women's top three was completed  by Jenn Wetton of Central AC and Kristin Lownie of PH Racing.
Good to see Red Star AC athletes getting involved once again with efforts from the likes of Sean Frame, Kyle Brotherton, Kayleigh Haggo and Callum Ballantyne.
There were some strong runs by younger athletes in the 15-minute challenge. Central AC's Connor Bell topped the leaderboard and was followed by Christian Graham, the Lasswade AC U20, and by Corey Campbell, the Team East Lothian U15.
On the female side, there were strong runs from Brogan Wallace, a former Glasgow School of Sport athlete from London Heathside who is now back in Scotland, with Lasswade U20 Sarah Tait in second and Stockport U13 Freya Murdoch in third.
In terms of clubs and teams, there are various categories to study within the results.
The overall club distance challenge, for U17 age group and above, saw Bellahouston Road Runners top the leaderboard with Calderglen Harriers and Cambuslang Harriers completing the 'podium'.
At U13 and U15 level, Giffnock North AC topped the leaderboard with, remarkably, a tie in second for Pitreavie AAC and Law and District AAC both on 37.37k.
We ourselves at this juncture must say a big thank-you to our volunteer endurance Officials who are helping staff to scrutinises performances in the Virtual Challenges.
That support is helping us turn around Results quickly when each Challenge features a number of categories.
And, of course, we extend our thanks to all athletes involved in running solo and sticking by the Government guidelines on social distancing as well as observing a few rules put in place by scottishathletics to try and give each event some consistent processes.
Tags: 4J Studios Virtual Challenges, 4J Studios Virtual Club Distance Challenge 2, Bellahouston Road Runners, Giffnock North