WATCH: Our extended interview with Jemma Reekie
Check out our You Tube channel and Subscribe (it's free)
GB international and double European U23 champion Jemma Reekie is our latest guest on our Coaching Conversations video series.
In each instalment we publish an extended interview with a top Scottish athlete on our scottishathletics You Tube channel.
Then it will be your turn to ask the questions of that athlete in a special 'Twitter takeover' session via the hashtag #askSAL on Friday at 4pm.
In this latest episode of an informative and absorbing series, Jemma speaks to Sue Gyford about her early years at Kilbarchan AAC before a move to the world class group coached by Andy Young.
Jemma recalls the early guidance of Arthur Smith and Alan Craig at Kilbarchan before making the move at 17 when, she felt, she was 'too slow to join the group!'
Jemma celebrates on the track on Gavle, Sweden, on a weekend when she won European U23 gold at both 800m and 1500m (photo via European Athletics)
'Around that time there were a lot of people asking me if I was going to go to a college in America on an athletics scholarship or maybe go to Loughborough,' said Jemma.
'Through a UK Athletics Mentor programme, which had come about after some success at England Athletics Age Group Champs, I was put in touch with Andy Young.
'As soon as I did the first sessions, I wanted to grab that opportunity – although I felt I was too slow to join the group!
'I was a little nervous but that first day I bumped into Laura on the way into the track and she was really friendly. So was everyone else in the group. I was only just turned 17 at that time.
'Andy put me at ease really quickly, too. But I was a very long way behind on the reps in the first session!'
Now we need your questions for the Twitter takeover Q and A and we do hope #askSAL will appeal to all sections of the athletics community in Scotland from athletes to coaches to parents as well as our volunteers and Officials.
This is a brilliant opportunity for the athletics community in Scotland – athletes, coaches, parents – to find out more about Jemma and her background, success and goals.
So, watch the video with Jemma and then post a question on Twitter, using the hashtag #askSAL.
We will look through the questions submitted and post answers on scottishathletics Twitter on Friday from 4pm to 5pm.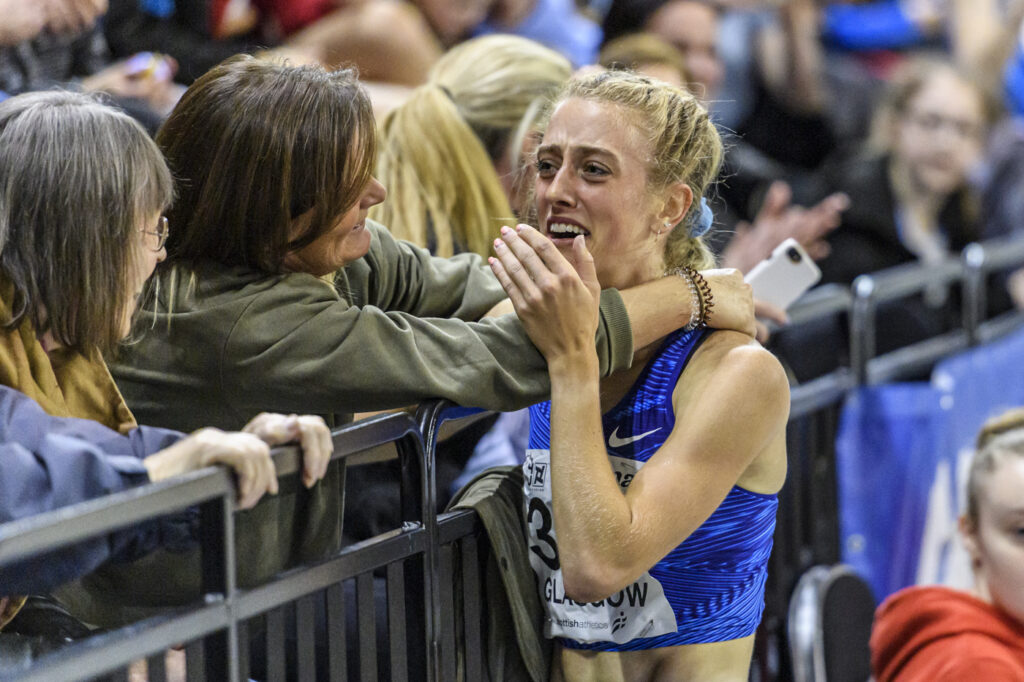 Jemma celebrates at the Emirates Arena after her British Record 800m run (Photo by Bobby Gavin)
+++
Check out the first three interviews in our Coaching Conversations series – with Beth Dobbin, Laura Muir and Jake Wightman
Tags: Alan Craig, Andy Young, Arthur Smith, Beth Dobbin, Jake Wightman, Jemma Reekie, Kilbarchan AAC, Laura Muir