'So many talented athletes at 4J Studios Age Groups' – Stephen Maguire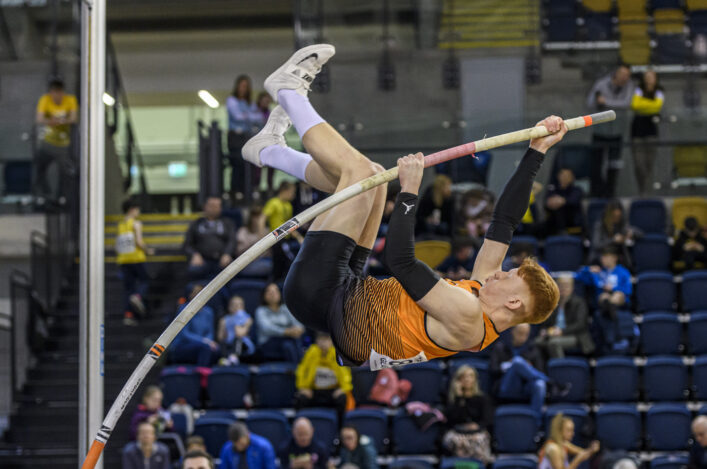 Reuben Nairne on his way to a 4.81m CBP in the U20 Men's Pole Vault (photo by Bobby Gavin)
Stephen Maguire has hailed the depth of young talent following a highly successful 4J Studios Age Group Champs over the weekend.
The event brought the curtain down on the 4J Studios Indoor Season at the Emirates Arena with more than 800 names on the start-lists for championship events at U20, U15 and U13.
At this stage, we'd like to say a huge thank you to all who competed as well as their families, coaches, clubs and support teams. We appreciate this commitment to national championship events.
Once again we also reserve special thanks and praise for our dedicated team of scottishathletics Officials who have endured a hectic start to 2020 and yet once again have delivered a host of well-organised events. Thanks.
Photos on Facebook by Bobby Gavin (Saturday)
Photos on Facebook by Bobby Gavin (Sunday)
'There is so much young talent out there in athletics in Scotland and there was plenty of evidence of that at the Emirates Arena this weekend,' said Stephen Maguire, scottishathletics Director of Performance and Coaching.
'Clubs and coaches are doing a tremendous job to nurture those athletes and I think the encouragement is there for everyone.
'The challenge in the younger age groups like U15 and U13 is to develop that for future years. We want to see athletes progress up through the age groups and become successful Seniors at a later date – while making sure they enjoy it at the moment.
'For any youngsters in sport in their early teens then enjoyment is absolutely key. But I see a lot of dedication and commitment, too, and we have some promising athletes at U20 level, as well.
'I'm excited about a number of individuals and general standard overall. With continued hard work and input from our coaches, the future bodes very well indeed.'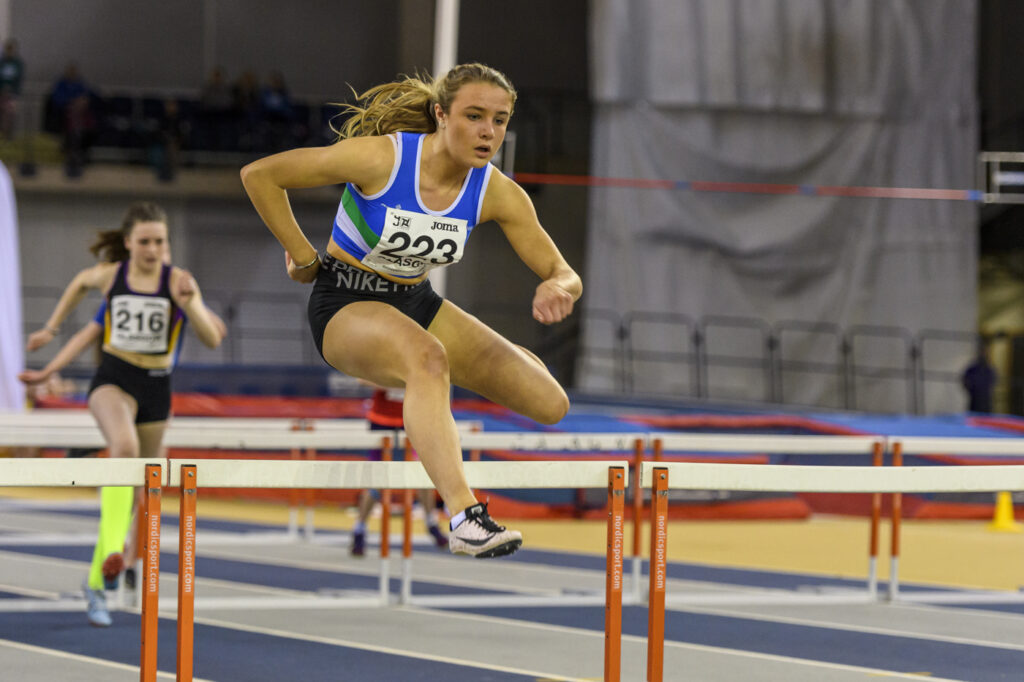 Jenna Hilditch on her way to a new CBP in the U15 Girls 60m Hurdles (photo by Bobby Gavin)
*Below we have out-lined a few performances from the two days of the 4J Studio Age Group Champs. These are intended to cover some noteworthy performances –  but is not necessarily a comprehensive list (and not intended to be).
We congratulate all medallists and their families, coaches and clubs and indeed thank all athletes for competing and making a commitment to indoor championship competition in 2020.
Here are a few highlights from Sunday (U15 Champs and part of the U20 programme)
*CBP in the U15 Shot for Meghan Porterfield of VP-Glasgow with 13.37m.
*CBP and Scottish U15 Record in Triple Jump for Libby White of Ayr Seaforth with 11.35m.
*CBP at U15 60mH for Jenna Hilditch of VP Glasgow with 9.13 and then winning gold in 9.14. Jenna also took High Jump gold.
*The U20 800m finals delivered exciting races and there were golds there for Ross Whitelaw of Glasgow School of Sport in 1:56.30 and Katie Johnson of Edinburgh AC in 2:12.20 (with Katie an U17 athlete).
*Edinburgh AC athlete Bera Ajala won the U20 men's Triple Jump gold with a big indoor PB of 14.87m.
*U17 athlete Rebecca Grieve of Pitreavie AAC won the U20 Women's 400m in 56.58 – which is fourth best on the U17 all-time list.
+++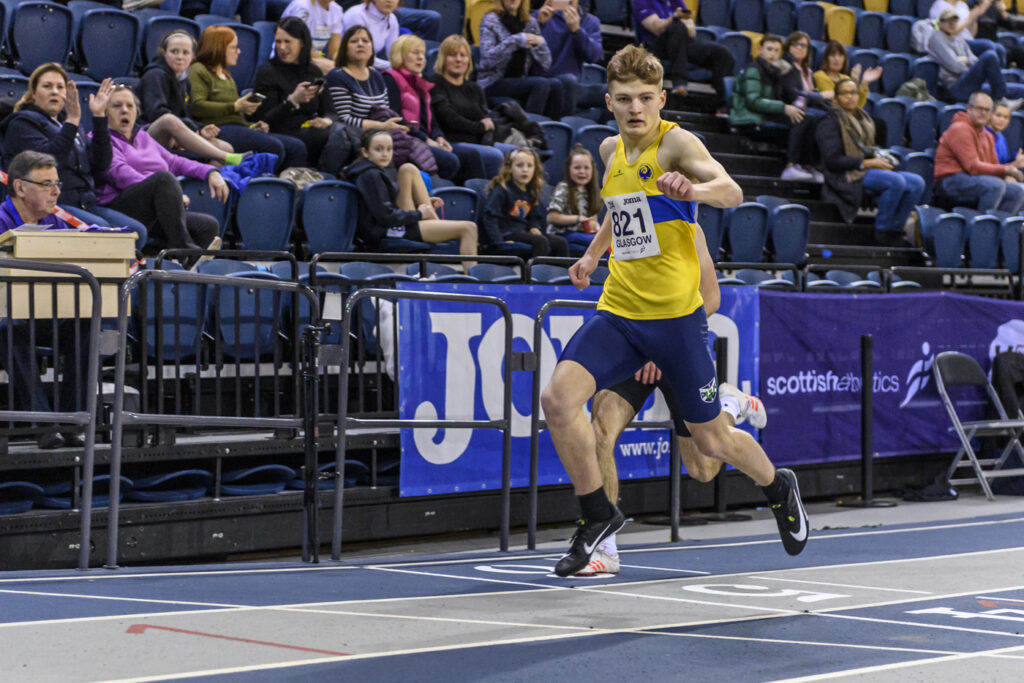 Finlay Waugh wins the U20 Men's 200m final (photo by Bobby Gavin)
Here are a few highlights from Saturday (U13 Champs and part of the U20 programme)
*Two new U13 Scottish Records for Tehillah Ikechukwu Okonkwo of Law & District – 8:03 in her 60m semi final, went on to win final in 8.12. Then a 26:49 in the 200m, finishing well clear of the rest of the pack for gold.
*CBP and PB for Reuben Nairne in the pole vault at 4.81m.
*U20M long jump – Robbie Farquhar of Aberdeen took title with a PB of 7.26.
*Two British Records and CBPs for visiting athlete Emily Bond of New Shields Poly in U13 60mH – ran 9:21 in heats followed by 9:19 in final.
*Big PB for Fergus Ross of Harmeny AC to win 800m gold in 2:19 – almost ten seconds quicker than his previous best.
*Exciting 200m U20M final saw Finlay Waugh of Giffnock take gold in 21.95, Stewart Greenhalgh (Bromsgrove & Redditch) in 22.14 and Max Leslie (Edinburgh AC) in 22.48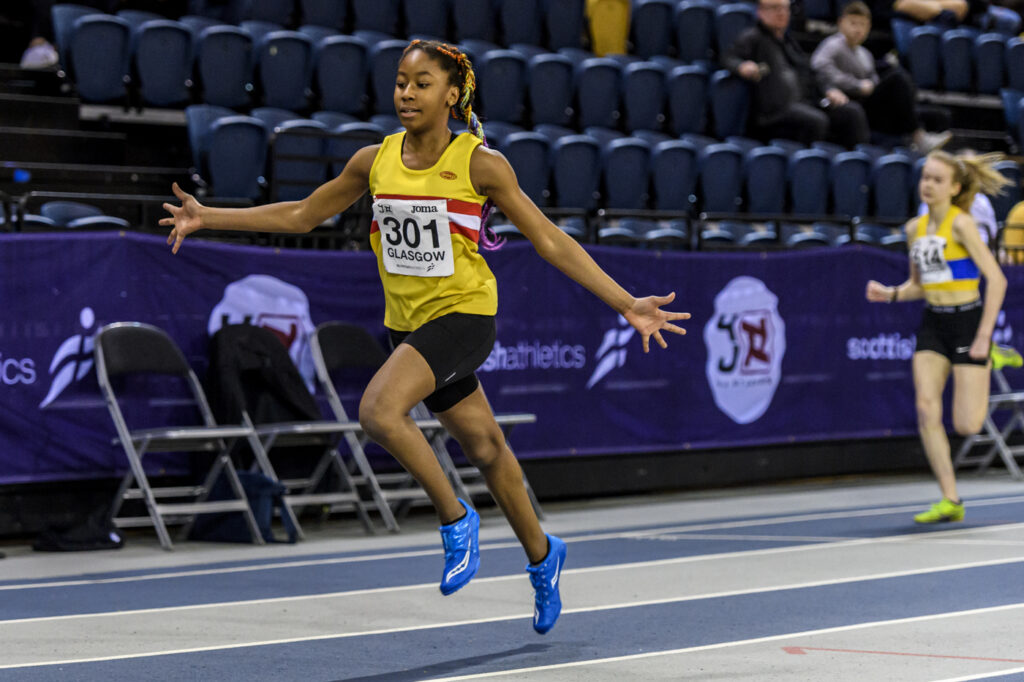 Track success at U13 level for Law and District AAC athlete Tehillah Ikechukwu Okonkwo
Tags: 4J Studios Age Groups, Emirates Arena, Stephen Maguire