Falkirk video footage; Cross Country GP
WATCH online on runjumpthrow.com on Saturday evening
It's the Lindsays National XC coming up in Falkirk on Saturday and once again scottishathletics will be pleased to present video footage with our partners from Vinco.
All roads lead to Callendar Park and although there are sure to be some challenges with the weather and the courses, no doubt there will once again be a special atmosphere.
We will look to capture that in film with coverage online on Saturday evening via Vinco's runjumpthrow.com website and then on our You Tube channel from Monday – with shorter highlights of each race.
We introduced drone footage for the first time in 2018 and are looking to do so again this weekend (although that could be subject to the weather conditions on the day).
The delayed transmission of longer-version highlights on the Saturday evening will start around 7pm.
Then, some 48 hours after the event has concluded, we plan to broadcast short-form highlights packages on our You Tube Channel – we call it scottishathletics TV! (Please subscribe here – it's free).
+++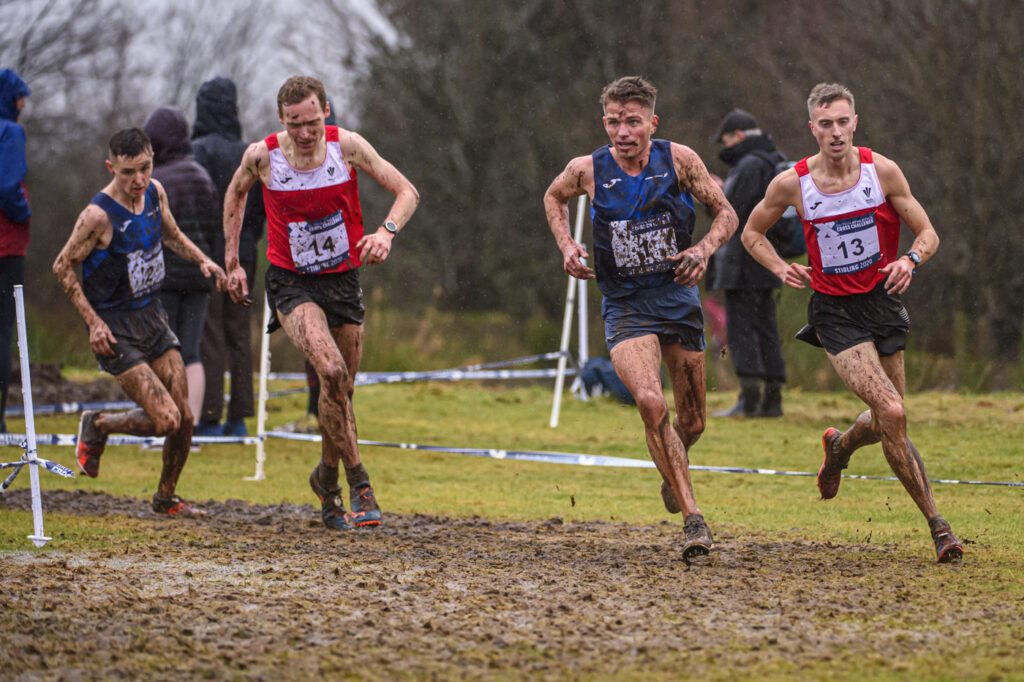 Jamie Crowe (on left) and Andy Butchart are first and fourth in our Cross Country GP after Run Stirling (photo by Bobby Gavin)
Scotland internationals Jamie Crowe and Annabel Simpson look to be among the favourites for the Lindsays National XC at Falkirk.
And the duo are the current leaders in the scottishathletics Cross Country GP which shares £4000 in prize-money for individuals via the performances of Senior athletes across six races.
The current table (see the download) follows on from the District XC Champs and the Inter-District XC Champs at Run Stirling and is thus after four events.
Central AC's Crowe has 172 points and leads from Kris Jones of Dundee Hawkhill on 133 and Lachlan Oates of Shettleston on 120. Andy Butchart of Central is fourth on 86 and Ryan Thomson of Cambuslang is fifth on 79.
Others in the top ten who could well be in contention on Saturday are Ben Greenwood, Tom Martyn, Cameron Strachan and Jonny Glen.
Fife AC athlete Simpson leads the Women's table with 186 points with Nynke Mulholland of Inverclyde AC on 103 and Kayleigh Jarrett of Shettleston Harriers on 95 points. Jenny Selman of Fife AC is fourth on 76 and Holly Little of VP-Glasgow is fifth.
Making up the top ten are Fiona Brian, Ginnie Barrand, Kerry MacAngus, Zoe Pflug and Moira Davie.
The final two events are Falkirk this weekend and then the Inter-Counties XC in Loughborough in a fortnight.
+++
Tags: